Week in Review: A new startup star on the horizon?
By Karamjit Singh May 8, 2015
KFit has wind in its tail, thanks to Joel Neoh factor
How affordable is broadband in Malaysia, compared with Thailand, Singapore?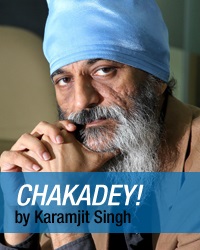 I WAS on Malaysian radio station BFM yesterday (May 7) for DNA's weekly Tech Talk segment, and I was telling Freda Liu, the host, that there are startups … and then there are startups.

Meaning, some startups are more equal than others. And KFit, an Asia Pacific-targeted fitness platform launched by Joel Neoh from Malaysia two weeks ago, surely fits this category.

How many startups can raise a few million in US dollars from family and friends (the latter including some who happen to be venture capitalists) just based on an idea? Joel Neoh can, it seems.

How many startups get interviewed by the Wall Street Journal and Bloomberg TV a day after officially launching their service? Joel Neoh can – in Hong Kong, no less.

How many startups can claim that they already have offers lined up for their next round of funding? Joel Neoh can.

How many startups can confidently predict they will probably have over 100 headcount within nine months, and not have to worry too much about attracting A-class talent? Joel Neoh can.

This is the advantage successful serial entrepreneurs have, and we in South-East Asia are now seeing it up close now through Neoh's comeback to the startup world, after spending five years managing Groupon's Asia businesses.

Despite the tailwind he enjoys, there is still no guarantee that Neoh and KFit can pry open consumers' wallets on a monthly basis, for their fitness pass to enjoy various gyms and sporting facilities in their cities. And there is no guarantee that he can make going to the gym cool and fun … and social.

But I can tell you that as a journalist, it is going to be a lot of fun watching him give this his best shot. Do you think he can make a difference in the fitness space in Asia Pacific?

Moving along from a nice to have product (gym membership) to an absolutely must-have product (broadband), do have a read of Goh Thean Eu's broadband affordability piece where he picks some fixed and wireless broadband plans from Malaysia, and how they compare with a few in Thailand and Singapore.

Draw your own conclusions then as to whether you are paying a reasonable amount for your broadband.

Have a restful weekend and a productive week ahead.

Editor's Picks:

How affordable are Malaysia's 'affordable' broadband packages?

The Star's own disruption play

Joel Neoh's KFit aims to make keeping fit fun, and social

Thailand's US$9.3mil Iyara VC fund targets developers

DNA Test: A middleweight fight for the 'Note' phablet crown

DNA Test: Sony's Smartwatch 3 moves from sports zero to stylish hero

Unfazed by storage revenue dip, EMC lifts lid on innovations

Previous Instalments:

Week in Review: Malaysia a second-tier hub, Singapore first?
Week in Review: The vision is just the first step

Week in Review: Protection, predictions and paranoia

Week in Review: It's R&D to us Asians, thank you

Week in Review: Abuses of power, and leadership changes


For more technology news and the latest updates, follow us on Twitter, LinkedIn or Like us on Facebook.
Keyword(s) :
Author Name :