Week in Review: Abuses of power, and leadership changes
By Karamjit Singh April 3, 2015
MOL's Ganesh and Digi's Albern face new challenges
Alleged unethical action leads to Google investigation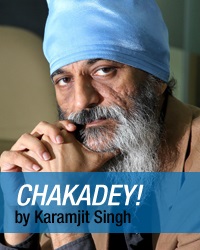 IT has been a week of 'twos' for me: Two leadership changes and two abuses of power.

Firstly, two CEO (chief executive officer) movements caught my attention. We brought you an exclusive interview with Ganesh Kumar Bangah on the reasons why he stepped down as CEO after 15 years. Then we ran a commentary on Digi.com Bhd's new CEO Albern Murty stepping into the hot seat after working his way up over the last 12 years.

When I first heard the news, issued through MOL Global's quarterly announcement, my initial thought was that it was linked to the very rough ride the company has had since its listing on Nasdaq in New York last October, which I attended. I also wondered whether he could really let go of control.

I got my answer when Goh Thean Eu and I met with Ganesh, and he revealed that the decision was made after several months of "serious consultation" with his team, major shareholders, and board.

The key question still for me though was, "Can he let go of control?"

The answer came immediately. "I am comfortable with letting go of control. You cannot say you are letting go of responsibilities if you are still making decisions," Ganesh told us.

With Ganesh now focused on setting the direction and strategy for MOL, and with two of his trusted executives promoted to co-CEO role, the next four quarters will tell us and his aggressive shareholders in the United States whether the move bears fruit.

And that one year-time frame will also likely be the period in which Digi's shareholders will decide if Albern is the right man to take Digi to the next level.

Remember, these are shareholders who have been pampered with a steady rise in share price and strong dividends, year after year.

12-year company veteran Albern, being a 'Yellow Man' through and through, will not expect nor ask for a honeymoon period as he adjusts to the role of CEO. He has to deliver immediately.

My cofounder Edwin Yapp is confident that he can: "I can't think of a better and more experienced candidate, who is already steeped in Digi's Telenor-derived culture, to take the company forward."

His appointment will have surely filled Digi staff with a sense of pride and self-belief that a Malaysian is finally running the company after an unbroken sequence of Scandinavian CEOs. They may not just execute and fulfill their tasks for the company only. There is probably going to be a little bit of "Let's do it for Albern" too.

Let's see how the weight of expectations, leadership and responsibility rests on Albern's slim shoulders.

On the weight of responsibility, Google, that online advertising behemoth with 90% of the market, surely carries an equally heavy role of acting in an ethical and fair manner in a market it totally dominates. It is aware of this.

Or, at least its founders are, with their 'Don't be evil' motto prominent int its Code of Conduct. Here is an extract:

"Don't be evil." Googlers generally apply those words to how we serve our users. But "Don't be evil" is much more than that. Yes, it's about providing our users unbiased access to information, focusing on their needs and giving them the best products and services that we can. But it's also about doing the right thing more generally – following the law, acting honourably and treating each other with respect."

But as A. Asohan's revealing exposé shows, in which an agency in Kuala Lumpur is alleging it had its account wrongly suspended and a Google staffer in Singapore had approached its client behind its back, the code is not always followed. And it can have serious consequences to small digital agencies that do business with Google.

I for one am looking forward to the update from Google on its investigations into this matter. I think Google owes this to all its agency clients, because if some sales staff feel they can bully or intimidate the smaller agencies, how long before they go after slightly larger, and then even larger, agencies? Do read the interesting reader comments in the article as well.

It may be an exaggeration to say "They are coming for you" to Google's agency clients, but sadly not if you are a journalist. We all know about the arrests of three editors, the chief executive and publisher of news portal The Malaysian Insider earlier this week.

As Asohan's commentary points out, they may indeed be coming for us online media. Based in Singapore she may be, but Gabey Goh has also chipped in with her thoughts on the matter.

It is time for all Malaysians to speak out on national matters – and it could be that you support what's going on or are concerned. It is your right to be heard: Exercise it or lose it.

Not surprisingly, this week's most read article was Arrests of journalists: Najib goes one better than Dr M.

Editor's Picks:

Arrests of journalists: Najib goes one better than Dr M

Opportunities and challenges that await Digi's new CEO

Tech Vision: Innovating to zero crime

Google investigating AdWords allegations in Malaysia, Singapore

Ganesh: MOL co-CEO move is for the 'long haul'

Babydash aims to dominate Malaysian market

Microsoft debuts smaller, more affordable Surface 3


Previous Instalments:
Week in Review: Asean startups, Malaysian companies want you
Week in Review: Can Joel Neoh get his startup groove back?

Week in Review: Make innovation rock for you

Week in Review: Bridging 'big tech' and 'little tech'

Week in Review: Telcos aiming to be the hub of our digital lives


For more technology news and the latest updates, follow us on Twitter, LinkedIn or Like us on Facebook.
Keyword(s) :
Author Name :