Week in Review: Garuda a digital catalyst for Indonesia?
By Karamjit Singh January 15, 2016
Airline's digital strategy by 2020 could pave way for other SOEs to follow
GrabTaxi's Seattle R&D: How many engineers does an app startup need?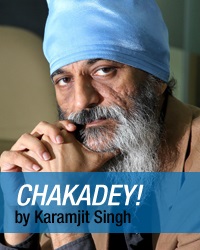 IT was all about Indonesia this week, wasn't it? The terror attacks in Jakarta would have cowed a lesser nation, but it was great to see its people rallying to the cause. Read Benjamin Cher's excellent piece on how technology played a part in this as well.

To our Indonesian readers and our team there, we would just like reiterate the sentiments of the #KamiTidakTakut (We Are Not Afraid) hashtag: Stay safe, stay strong.

But that's not the only reason Indonesia featured strongly on Digital News Asia (DNA) this week. There were good developments too.

The comment by Garuda Indonesia director of IT maintenance Iwan Joeniarto that the airline will become a full IT-based airline by 2020 reminded me of Catcha Group cofounder Patrick Grove's prediction that if a business is not digital by 2030-2035, chances are it will not be in business at all.

Garuda will thus be ahead of the curve come 2020. And thankfully, this digital transformation will include revamping its online reservation system – currently a painful experience for anyone who has tried using it.

Customers aside, Garuda shareholders too can eventually expect better news on the financial front as Garuda's transformation will boost productivity, efficiency and, ultimately, growth.

But Garuda's transformation will have a wider and deeper impact than just on customers, staff, and shareholders. As one of the most prominent state-owned enterprises (SOEs), its ongoing transformation is expected to have a ripple effect on the digital journey of other SOEs in Indonesia as well.

In fact, its adoption of a cloud-based office collaboration system to replace the traditional on-premises email system is pioneering work among SOEs. I expect many more to follow the same path as Garuda, once the clear benefits of this cloud-based system become evident.

And while we have written about how SMEs in Indonesia are lagging in their adoption of digital technologies, I expect their pace to pick up once the SOEs get their act in order, inspired by Garuda.

Less inspiring in Indonesia are its bewildering policy flip-flops and uncoordinated statements by various ministries and bodies.

For example, not many readers know that the startup and e-commerce sectors are subject to the nation's 'negative investment list,' known by its Bahasa Indonesia acronym of DNI (Daftar Negatif Investasi), which prohibits or limits foreigners from investing in certain sectors of the economy.

Clearly, foreign entrepreneurs have been undeterred by this, as evident by the number of them who have established operations in Indonesia, including the Malaysian-founded, Singapore-headquartered GrabTaxi.

And now, to boost e-commerce, the Indonesian Government is in the process of drafting a roadmap that will address six key areas, with one of them looking at opening up the sector to foreign investors.

I think this will be a litmus test of how serious the Indonesian Government is about actually wanting to become the world's largest digital community, rather than just talking about it.

How quickly the roadmap is finalized, and how defined and clear the accompanying policy changes and regulations are, will tell the international community how serious it actually is about becoming a digital nation. Good luck to them.

One more development that grabbed my attention was GrabTaxi establishing an R&D centre in Seattle. A. Asohan's story has more details, with GrabTaxi's vice president of engineering Arul Kumaravel sharing more background with DNA.

What I found interesting was his comment that its Beijing and now Seattle R&D centres allow GrabTaxi to tap engineering talents who wish to stay local and not relocate to Singapore.

This just speaks to me of how in demand world-class engineering talent is, that even a hot startup with the resources of GrabTaxi has to adapt its R&D strategy to this market reality.

And, at the back of my mind, I am wondering what else GrabTaxi would evolve into. After all, how many engineers does a transportation app company need?

Have a restful weekend and a productive week after.

Editor's Picks:

Social media: Vox populi when terror strikes

Indonesia moves to open up e-commerce sector to foreign investors

GrabTaxi sets up in Seattle, but ain't sleepless in Singapore

Digital transformation takes flight at Garuda

Is Malaysia ready for cognitive computing?

Cybersecurity: You can't stop the bad guys, so …

6 free photo apps for Android and iOS


Previous Instalments:

Week in Review: Watershed year, Netflix here

Week in Review: Or the year ahead, actually

Week in Review: A Christmas wish list

Week in Review: Racially-segregated IT retailing

Week in Review: Startup ecosystem, say 'hello' to politics


For more technology news and the latest updates, follow us on Twitter, LinkedIn or Like us on Facebook.

Keyword(s) :
Author Name :