Week in Review: Startup ecosystem, say 'hello' to politics
By A. Asohan December 11, 2015
Many entrepreneurs seem unaware of the political reality
That's a mistake, because politics is part of the ecosystem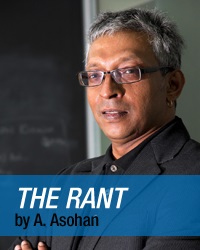 THERE was a bit of a kerfuffle on social media yesterday evening (Dec 10) after a Malaysian entrepreneur took offence, understandably, at a national Malay daily reporting on the annual general assembly of Umno, the country's dominant political party.
The Malay daily, in its usual race-baiting and hate-inciting language, was reporting on a delegate from the Umno Youth wing, who had in turn been complaining about the Malaysian Global Innovation & Creativity Centre (MaGIC), saying that the agency had failed to "serve our people" and was instead too focused on '
orang asing
,' or outsiders.
'Outsiders,' to this national daily, includes Malaysians who are not of a certain race. I am not going to dignify that report by giving details. There are just too many layers of wrong there.
The entrepreneur in question however, who
is
of that certain race, defended MaGIC well. He was also offended, rightfully so, because that Malay daily report painted a picture of needy entitlement and special privileges that essentially insulted entrepreneurs like him, who have scrapped and worked hard for their success.
That Facebook post of his got a lot of responses, mostly agreeing with him. What struck me first, however, was the number of people who seemed surprised by it all.
Welcome to politics, Malaysian-style.
What struck me second is that while most entrepreneurs and startup players can be excused for being unaware of the political pressure that had been building up against MaGIC for the past year or so, it seemed that even some of the inner circle at the agency had been unaware of it.
This, despite the fact that Digital News Asia (DNA) had brought up the issue as far back as
September 2014
, and even more so in
December
.
After that second story came out, MaGIC chief executive officer Cheryl Yeoh denied any such pressure, and on a certain Facebook thread, accused us (and me, as the writer) of being full of inaccuracies. Someone else on that thread challenged her to issue a rebuttal, but it never came.
Now
Yeoh is leaving MaGIC
. Personally, I feel that this is a loss to the Malaysian startup ecosystem. I know this will come as a surprise to many in the ecosystem because I wrote those pesky stories, and for many people, technology journalists are supposed to be evangelists for the people and entities they cover.
Sorry, it just doesn't work that way.
Again, what struck (a third time!) is a tech blog which covers the regional startup scene, in 'its story of our story' on Yeoh leaving, quoted another senior executive from MaGIC – who is also leaving – as denying there was any such pressure.
The only conclusion I can draw from this is either: 1) The senior team at MaGIC was completely unaware of the political pressure it was operating under; or 2) The government people involved with MaGIC sheltered the largely youthful team from the political reality, perhaps under the belief that they should be free to do their work without having to worry.
Well, that went south in a hurry. Entrepreneurs, learn from this: Politics can be dirty, irrational, bothersome, and a major distraction – but it is the reality we
all
operate under, in varying degrees.
It affects how the Government approaches startup programmes and – because the fiscal reality is subservient to the political reality – how it disburses funds and grants. It determines how free the Internet is going to be, and whether you should always be looking over your shoulders.
I am not saying you entrepreneurs should become political animals and play the game. But be aware: Politics
is
part of the ecosystem.
Editor's Picks:
Singaporean SMEs Part 3: The view up there
BlackBerry becomes relevant again with Priv
Corporate VC fund ADIF invests US$2.9mil in 6 startups
How AMD aims to get back in the black
Symantec's future guided by four priorities, says senior exec
Boosted by CIP 500 grant, Offpeak expands to new markets
Intelectasia gets CIP 500 grant to take 'Supernewsroom' regional
Previous Instalments:
Week in Review: 'Pay it forward' culture key to MaGIC's success
Week in Review: Digital is a crucial life skill
Week in Review: Keep your foot on the accelerator
Week in Review: Digital 'oomph' for Indonesian SMEs
Week in Review: Those website revamp woes
For more technology news and the latest updates, follow us on Twitter, LinkedIn or Like us on Facebook.
Keyword(s) :
Author Name :
By commenting below, you agree to abide by our ground rules.