Week in Review: Watershed year, Netflix here
By Karamjit Singh January 8, 2016
No mention of GrabTaxi's US$350m funding at Disrupt
Foreign students need to be tapped to replace talent leaving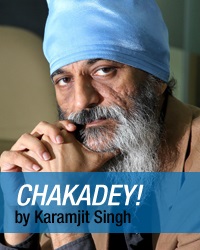 A BANKER called me as I sat down to punch out (it does not feel right to say 'pen') my first Week in Review column for the year. She was surprised that we had already organised a DNA Disrupt gathering so early in the year.

I told her the tech ecosystem was 24x7x365, just like her reliance on her smartphone!

The Disrupt discussion was really interesting for me as our panellists shared their high and low points of the ecosystem for 2015. We had Cyberview chief executive officer (CEO) Faris Yahaya; Malaysia Venture Capital Management CEO Jamaludin Bujang; and Proficeo Consultants cofounder and Malaysian Business Angels Network president Dr V. Sivapalan.

You can read the highlights from the conversation in Goh Thean Eu's article, but what struck me was that no-one mentioned any specific funding story or exit – not even the eye-popping US$350-million that GrabTaxi raised last August!

The ride-hailing startup launched in Kuala Lumpur in 2011 as MyTeksi, a name it retains in Malaysia, although it renamed itself GrabTaxi after expanding regionally and moving its headquarters to Singapore.

I do wonder why this piece of news did not make it as a highlight of the year.

But 2015 was described as a watershed year in terms of funding by Jamaludin, while Sivapalan felt that angel investing is finally picking up some solid momentum, with more individuals interested in investing in startups.

Sivapalan was also quite outspoken in highlighting the lows, with a particular concern over talent not coming back to Malaysia after their overseas education. He feels this loss is intensified by the poor quality of the education system in Malaysia – a classic double-whammy.

So what's the immediate solution? He wants it to be much easier for companies to hire international students studying in Malaysia.

Will lobbying efforts be successful in getting policy-makers to see the urgency of this situation for the tech ecosystem?

And of course, the panellists spoke about the strong impact Cheryl Yeoh made during her too-short tenure as CEO of the Malaysian Global Innovation & Creativity Centre (MaGIC).

Sivapalan credits her for helping put Malaysia on the global map as both a startup hub, and on the radar of international venture capitalists.

On the entertainment front, those complaining that Netflix is not available in Malaysia must be delighted at the announcement at CES 2016 that we are among the countries it has opened up its services to.

So what is the reaction of regional players like Hooq and iflix? Both claim to welcome the competition and are prepared to battle it out for your wallet.

So which service will you choose to satisfy your video needs?

Have a restful weekend and a productive week after.

Editor's Picks:
Mavcap budget to be slashed, looks to private sector

2015 a watershed year, with caveats

Hooq and iflix gird themselves for Netflix invasion

How digital fuelled Baba Rafi's globalisation

Beauty and wellness startup Bfab lands seed funding

Rocket Internet-boosted Helpling maintains growth

SEEK Asia appoints JobStreet's Suresh Thiru as CEO


Previous Instalments:

Week in Review: Or the year ahead, actually

Week in Review: A Christmas wish list

Week in Review: Racially-segregated IT retailing

Week in Review: Startup ecosystem, say 'hello' to politics

Week in Review: 'Pay it forward' culture key to MaGIC's success


For more technology news and the latest updates, follow us on Twitter, LinkedIn or Like us on Facebook.

Keyword(s) :
Author Name :