Week in Review: Or the year ahead, actually
By A. Asohan January 1, 2016
2015 was marked by challenges, but saw major developments on the startup front
2016 might be a year of consolidation, aggregation and rationalisation for startups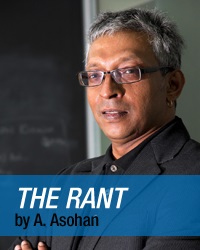 IT'S January 1, and while some of us are suffering from hangovers, most of us will be setting out New Year's resolutions and looking ahead.

Still, it is a good time for reflection. The year 2016 was marked by many economic and political challenges, especially in South-East Asia.

In Malaysia, the administration was rocked by controversy after controversy, including rising racial rhetoric.

In Indonesia, much of the euphoria of President of Joko 'Jokowi' Widodo coming into power had begun to dissipate as its people looked to execution.

In Singapore, the ruling party triumphed in a general election that saw the under-powered Opposition losing further ground, which can be a good or a bad thing depending on your point of view.

It's amazing, but despite all of this, it was a good year for the technology ecosystem. There were some cool technology developments in both the consumer and corporate space. The ICT industry may have been dampened by some macro-economic factors, but it proved resilient enough.

But it was truly a year for the startup community. More startups launched across more South-East Asian markets than ever before. Investors – local, regional and global – started to put their chequebooks where their mouths were. More government initiatives were announced, more entrepreneur-friendly policies were crafted.

The region also saw its first unicorn come out of the pages of mythology: The Malaysian-founded and now Singapore-based GrabTaxi became the poster-boy of the South-East Asian startup ecosystem.

So what will the new year bring?

My guess would be consolidation. And I don't mean some startups dying or being acquired or merged with others, although there would be a bit of that as well.

I think we will get a few more months of euphoria – more investments and funding will go through, at times at 'silly money' levels. More startups will launch with essentially the same value proposition that others had, but now "done right," their founders will say.

By the third quarter, some rationalisation will set in. The market will start to correct itself.

Part of this will be driven by impatient investors – especially those from more traditional businesses and with little tolerance for the, at times, self-perpetuating myths of the startup ecosystem. Catchphrases and catchwords like 'awesome' and 'digital disruption' can only go so far. They are going to ask to see returns, or at least time-tables for such returns.

Even the investors who are more in tune with the vagaries of the startup ecosystem are probably going to be more discerning too, after they see the umpteenth e-commerce or specialised online marketplace startup come knocking on their doors.

But most of all, it will come from users, who will be increasingly hard to reach in a very fragmented marketplace. How many different sites do you need to go to if you just want to buy something, whether it is a car, some clothes, a home or a gadget?

The early birds will have an edge, and the aggregators might just be having a field day, though.

Yup, I expect 2016 will be a CAR year: Consolidation, Aggregation and Rationalisation. But no, I have been wrong before so I will not be taking any wagers.

Whatever the case, have a great 2016, all of you!

Editor's Picks:

Apps for the new year

The Malaysian Government doesn't buy spyware? Yeah, right

Regulators should consider higher frequency bands for 5G: Ericsson

Shifting cultures: CIOs need to lead the charge

Helping startups get the coding base right

Halcyon days for Hadoop just around the corner

Are today's youth Digital Da Vincis of the future?


Previous Instalments:

Week in Review: A Christmas wish list

Week in Review: Racially-segregated IT retailing

Week in Review: Startup ecosystem, say 'hello' to politics

Week in Review: 'Pay it forward' culture key to MaGIC's success

Week in Review: Digital is a crucial life skill


For more technology news and the latest updates, follow us on Twitter, LinkedIn or Like us on Facebook.

Keyword(s) :
Author Name :