Week in Review: Startups can learn much from FashionValet's founder
By Karamjit Singh July 31, 2015
No complaining, no whining, all about winning
Larger competitors used to 'help' startups focus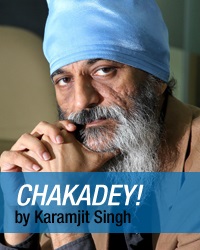 I was actually going to share my thoughts on the role Mohd Irwan Serigar Abdullah, Secretary General of the Ministry of Finance (MOF), Malaysia, is playing to promote the startup ecosystem in the country. But I won't because there is widespread anger, disbelief and disgust, especially from the middle class and above towards the Malaysian government and specifically its political leaders.

So, any positive opinions, right now will be lost and its messenger likely to be skewered like a shish kebab by Malaysia's very opinionated online community! So let me save those thoughts for calmer days and move on to my interview this week with FashionValet's co-founder Fadzarudin Anuar.

While you can read the article about his move into setting up a physical store and even watch the clip of me talking about it on Bloomberg TV Malaysia, what struck me was that the only mention of Zalora – the 800-pound gorilla in Malaysia and indeed the ASEAN region's e-commerce fashion play – came when Fadza, as he is called, said "Thank goodness for Zalora. They keep us on our toes."

And I remember thinking later about how interesting that remark from him was. With just a fraction of the resources that the Rocket Internet powered Zalora has, FashionValet seems to have done really well for itself with Fadza claiming they will hit the RM10 million revenue mark for 2015 in August.

He did not complain about the odds being stacked against him, nor did he demand that the government help him. His entire focus was on how he could compete and win with the resources he had. Startups can learn much from this young man.

Ambitiously, he is targeting to hit RM100 million in revenue in three years time.

Coincidentally, Khailee Ng of 500 Startups gave an engaging talk at the official launch of the MaGIC Accelerator Programme (MAP) this Tuesday (July 28) on the importance of founders being able to deal quickly with disappointments and refocus on building their companies.

Why is that critical? When you think about it, the only clear advantage FashionValet, and all startups have, is that entrepreneurial X factor that only founders can claim to possess. With FashionValet, double that X factor as Fazda's wife, Vivy Yusof is also a co-founder. And while the Zalora team has some "co-founders" they are really professional managers brought in by the formidable Samwer brothers in Germany.

In this sense, I'm really interested to see the outcome of Adeo Ressi of Founder Institute (FI) 'study' of what the true essence of an entrepreneur is. He told me two years back in Kuala Lumpur that he feels through the work of FI he will eventually be able to distill and come to identify the core traits, influences of what makes the tech startup entrepreneur special.

One thing they can all do is to get others excited about what they plan to do. And no surprise then that MOF's Irwan says, "the more I learn about entrepreneurs the more excited I become." And these are exciting times, when entrepreneurs like Fadza can look at their larger and better funded rivals and really say, 'Game On'.
Finally, this week's most popular article was Joel Neoh's funding strategy to maximize equity.

Have a restful weekend and a productive week ahead.
Editor's Pick:
Android flagship showdown: Motorola vs OnePlus

For its next number, FashionValet gets physical
Asia in the crosshairs of APT attackers: FireEye CTO
Oracle revenue falls, but Malaysia bucks the trend
Future-proofing cybersecurity: Of Mormons and moms
BlackBerry doubles down on security and privacy
Joel Neoh's funding strategy to maximize equity

Previous Instalments:

Week in Review: Corporate interest in the startup way

Week in Review: The impact vs cost question

Week in Review: The IoT roadmap and a connected future

Week in Review: Who killed Jaring … and why?

Week in Review: MyEG stops playing the VC

For more technology news and the latest updates, follow us on Twitter, LinkedIn or Like us on Facebook.
Keyword(s) :
Author Name :