BlackBerry doubles down on security and privacy
By Goh Thean Eu July 27, 2015
Not just the vision but the ability to execute it, says CEO
To tap into opportunities in the IoT and M2M space as well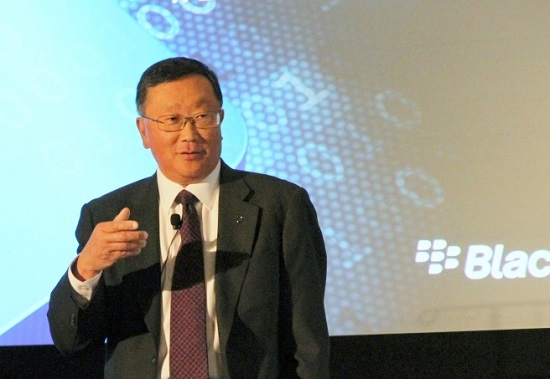 ALTHOUGH consumer-facing tech companies like Apple Inc and Google Inc are starting to penetrate the enterprise segment, BlackBerry Ltd believes its focus on security and privacy gives it an edge in that space.

"I have been with the company for about 21 months, and from Day 1, I recognised the fact that the company has some greatness in pursuing security and privacy," BlackBerry chief executive officer John Chen (pic, above) told the BlackBerry Security Summit in New York on July 23.
"We believe that we are the No 1 industry leader in not only having the vision, but also being able to execute it," he added.

Chen said that while security concerns for the individual usually revolve around privacy, for enterprises it is more about data and leakage, and information being stolen or reviewed by others.

Ontario-based BlackBerry is seeing increasing competitive pressure in the enterprise space, a roost it once ruled.
Last year, Apple announced a tie-up with IBM to develop apps for enterprise clients. Meanwhile, Google announced plans to incorporate Samsung Knox technology to strengthen the security of its Android operating system.

Boosting security, organically and inorganically


In a select group interview at the sidelines of the summit, BlackBerry chief security officer David Kleidermacher (pic) claimed that the company has solved some of the most challenging problems when it comes to enterprise security.

"Technology know-how is part of the DNA of the company and is everything we do," he declared.

"Apple is a great company, it has a lot of security … but fundamentally, it is a consumer company.

"Because we are laser-focused on the enterprise space, security has to be our No 1 priority.

"There are a lot of companies with great technologies out there – do they have the same attitude? I don't think so," he added.

Over the past 18 months, BlackBerry has been strengthening its security offerings – either by developing it in-house, or via mergers and acquisitions. According to Chen, the company had identified security as one of its major strategies about one-and-a-half years ago.
To do so, it looked at its BlackBerry Enterprise Service (BES) platform and its BlackBerry messaging (BBM) platform, and set out to fill in the security gaps.

"Just organically, last year we spent over US$100 million on creating more products on security. So I feel pretty good that all our operating units are focusing on security being the No 1 priority and principle," said Chen.

The company is also actively acquiring companies. On July 22, it announced it is planning to buy privately-held crisis communications solutions provider AtHoc Inc for an undisclosed price. The acquisition is pending regulatory approval and is expected to be completed in September.

In April, BlackBerry also announced that it will acquire data security firm WatchDox. Last July, it announced that it was buying German anti-eavesdropping solutions provider SecuSmart.

"Last year when we had this summit, we announced the acquisition of SecuSmart; and this year, also very coincidentally, we announced the acquisition of AtHoc," said Chen.

"So next year, there is not going to be any announcements because I can't follow that – it's too much pressure building up on me," he quipped.

M2M and IoT vulnerabilities
Chen said that cybersecurity has become a hot topic today.

"I was very amazed when I looked at the news that somebody had hacked a Cherokee Jeep ... [because] one to three years ago, if someone had done it in their living room and put it up on YouTube, nobody would have picked it up. This time, it was picked up by many media [outlets].

"It actually validates what we have been trying to do and what we have been believing for so long," he added.

At the BlackBerry Security Summit, the company had a live demonstration to illustrate how easy it is for one to remotely hack into a medical device like an infusion pump.
Its security focus will also help BlackBerry tap opportunities in the machine-to-machine (M2M) and the Internet of Things (IoT) space, company executives believe.

In 2010, BlackBerry acquired QNX, which specialises in middleware and development tools as well as operating systems for the embedded market. QNX is being aimed at the IoT space, especially in the automotive and healthcare sectors.
IDC predicts that the IoT market, which includes technologies and services, will be worth US$8.9 trillion by 2020, and BlackBerry chief operating officer Marty Beard believes that the immediate opportunities for his company are worth US$14 billion.

"These are the markets we know we will win and we are going to attack aggressively," he said, referring especially to the automotive and healthcare sectors.
BlackBerry is also looking into the development of a cybersecurity assurance standard.

"Currently, the world does not have a way to evaluate the security of connected devices (like the infusion pump)," said Kleidermarcher.

"We don't really have a standard written yet, but we have ideas on how we want to build it. We have a roadmap on what to do, but it will take time," he added.

Kleidermarcher said he believes that once the security standards for connected devices are in place, end-users would have more peace-of-mind, and this would spur the demand and take-up rate of connected devices.

Goh Thean Eu reporting from the BlackBerry Security Summit in New York at the kind invitation of BlackBerry Ltd. All editorials are independent.

Related Stories:

BlackBerry banks on BES10 to reverse its fortune

BlackBerry secures iOS and Android in the enterprise

BES12: The future of BlackBerry?

Beware wearables and IoT: Kaspersky on security risks


For more technology news and the latest updates, follow us on Twitter, LinkedIn or Like us on Facebook.
Keyword(s) :
Author Name :