Week in Review: The impact vs cost question
By Karamjit Singh July 16, 2015
MaGIC support for 500 Startups Distro Dojo programme brings it to KL
JFDI.Asia's Hugh Mason says will take at least 3yrs to judge impact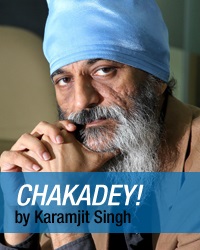 I WAS on a conference call on Tuesday (July 14) with Khailee Ng of 500 Startups and Cheryl Yeoh of the Malaysian Global Centre for Innovation and Creativity (MaGIC) to delve a bit deeper into the reasons 500 Startups is launching its latest seed fund-cum-accelerator Distro Dojo in Malaysia, and its hoped-for impact.

There's no surprise why Malaysia was picked. MaGIC agreed to foot part of the bill to have the startups and the mentors from the United States and Europe live and learn at its Cyberjaya office for six weeks, though not all the mentors stay the full six weeks, of course. Two anchor mentors however will be with the startups for the full 10-weeks. [Edited for accuracy.]

But I was surprised to know that other governments were willing to foot the entire bill to have such a programme in their country.

In its media statement, MaGIC described its financial commitments as an "administrative cost."

At Digital News Asia (DNA), our news sense immediately starts tingling when we see a vague description by a public agency to explain its cost commitments to a programme, no matter how good we personally think a programme can be.

And I definitely see this boosting our ecosystem, with 100 fast-growth Asean-focused startups not only coming into Malaysia for six-week periods over three years to sharpen their market traction and organisational capabilities, but to also meet and mingle with Malaysian-based entrepreneurs.

But still, the money question loomed big and so I naturally started out by asking Yeoh about how much it was going to cost MaGIC.

Not happy with the reply, I asked the question again when Ng, a former board member of MaGIC, chipped in and opined that focusing on the cost aspect would be missing the bigger picture of the potential impact of Distro Dojo on the Malaysian startup ecosystem.

That may well be true, but we still have a duty to ask those questions, just as we asked the Ministry of Finance questions over why it sold Jaring Communications Bhd for such a low price when there were other higher bids in the past.

And that is why we picked as our tagline 'Your Eye on the Tech Ecosystem.' Whether they are answered or not, we need to ask the questions – and mind you, this is not even a tough question!

Having said that, I agree with Ng. MaGIC was given a budget when it launched and it has to invest this in the best way it feels will move the needle for Malaysian tech and social enterprise entrepreneurs.

That budget was initially announced as RM50 million and then it was increased to RM70 million. To me, either amount is great news as it is money that will flow into the tech ecosystem. My hope is that it will raise the proverbial water levels and take all boats with it.

For Yeoh, who also harbours a strong desire to see Malaysia close the gap with Singapore, this is surely a significant step forward. One of many that I am sure she will be driving.

And this Dojo Distro programme will now bring a lot more successful Internet entrepreneurs from around the world to witness for themselves what is happening on the ground in Malaysia, and especially in Kuala Lumpur's startup scene.

As Ng shared with me, an entrepreneur who sold his company to Google was in Kuala Lumpur (KL) recently and remarked that he never knew they was so much activity in Malaysia's startup ecosystem. He had never been to KL before, only Singapore.

"We just have to bring these guys in here and let them [experience] for themselves what we have going on here [the Malaysian tech ecosystem]," says Ng, echoing what Yeoh has said to me in the past.

Whether this actually brings some real impact to the ecosystem over the three years remains to be seen.

"But don't judge them too harshly and too soon, as it will take at least three years before you see any meaningful impact from a programme such as this," says Hugh Mason, who cofounded JFDI.Asia in Singapore five years ago and helped run the MSC Malaysia Accelerator Lite programme in early 2014.

"We wish them all the best," he adds. As do I.

Editor's Picks:

What Malaysia bought from spyware maker Hacking Team

The data scientist market: Some thoughts and tips

500 Startups' Khailee Ng expects a 'feeding frenzy' in Asean

Advertisers and agencies lagging on mobility: BuzzCity

When mobile operator Maxis finally got … mobile

Garuda Robotics out to derive insights from drone feeds

Gamers, industry mourn the loss of Nintendo boss Iwata


Previous Instalments:

Week in Review: The IoT roadmap and a connected future

Week in Review: Who killed Jaring … and why?

Week in Review: MyEG stops playing the VC

Week in Review: Content wars heat up, on all fronts

Week in Review: Telco foul play, and a games catalyst


For more technology news and the latest updates, follow us on Twitter, LinkedIn or Like us on Facebook.
Keyword(s) :
Author Name :