Week in Review: Malaysian ecosystem still reliant on govt
By Karamjit Singh December 26, 2014
MaGIC dominates headlines with aggressive start
Other agencies like MDV, MyIPO play key roles too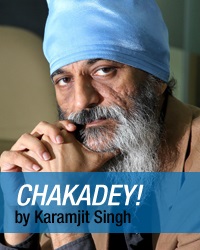 I GET this uncomfortable feeling when we write too much about how government agencies are playing a role in the Malaysian tech ecosystem. The feeling comes because I realise that even today, as we are on the cusp of 2015, that the ecosystem is heavily reliant on government to help it develop.

Too few of our tech entrepreneurs have become successful enough to contribute back to the ecosystem from a financial standpoint. That is why at Digital News Asia (DNA), you keep hearing of the same three entrepreneurs, Patrick Grove, T.S. Wong and Mark Chang. I am hopeful that at some point Ganesh Kumar Bangah will join this company, though he clearly has more important matters to handle now.

And maybe that is why Cheryl Yeoh, chief executive officer (CEO) of the Malaysian Global Innovation and Creativity Centre (MaGIC), is determined to help spark the creation of communities, using her preferred term 'cohorts,' among startups today, to help create a strong bond of brotherhood between them to increase their chances of success.

You can read more about that in the article I wrote and while this week we had three articles on MaGIC, including a commentary from A. Asohan, I want to focus on what two other agencies are doing, even though it is clear MaGIC has captured the attention of the ecosystem with the aggressive manner it has gone about its role, despite being eight months young.

In fact, in a recent conversation I had with him, JobStreet.com founder Chang was full of praise for the work and impact Yeoh and MaGIC were having on the ecosystem, despite some distractions.

That may be a biased opinion as Chang is on the board of MaGIC, but he is also a reserved person, so I found his praise quite noteworthy.

But the two other agencies are the 11-year old Malaysia Debt Ventures (MDV) and the Intellectual Property Corporation of Malaysia (MyIPO).

While quite a bit of its work has been around the technology sector, MDV last week announced the creation of a US$57-million (RM200-million) fund to focus on supporting entrepreneurs building companies around nanotechnology, advanced materials, robotics, and other high-tech niches.

And it has moved technology to the forefront of the sectors it is helping, with its tagline reading 'The Nation's Leading Technology Financier.' I will be bringing you my interview with its CEO Zubir Ansori Yahaya next week, on the reasons behind this new fund and greater focus on technology.

Hand-in-hand with helping entrepreneurs in high tech is recognising the importance of intellectual property (IP), and MDV has been operating a US$57-million (RM200-million) IP Financing Scheme since 2013 in its efforts to help accelerate the acceptance of IP as an asset class in Malaysia.

Good news for entrepreneurs is that there are still funds left to help you in monetising your IP here. You can ask Soft Space for help in how it did it.

This brings me to the other agency I want to highlight, MyIPO, because when you talk about IP becoming an asset class in Malaysia, the agency is the main driver here.

However, MyIPO has been on the fringe of what DNA covers and this is also mainly because we seldom hear IP in conversations with tech entrepreneurs here.

But last week I attended its monthly education and awareness talk, 'Teh Tarik with MyIPO.' Chris Leong, head of business development at Soft Space, was a speaker sharing some valuable tips with the audience of SMEs (small and medium enterprises), startups, inventors and service providers, on its experience applying for the IP Financing Scheme through MDV.

One key point Leong shared was how through the process Soft Space gained a much keener appreciation for the value of the IP that it had previously had, even though it has not applied for any software patents yet.

I was also struck by how open MyIPO is to working with the private sector. In June it launched a pilot IP Marketplace and wants the private sector to work with it to determine the model that this marketplace adopt. Because the buyers and sellers will mainly be the private sector, they should determine the model for the marketplace, says MyIPO.

I do hope those who are passionate about IP and realise the value it contributes to our ecosystem reach out and clasp the hand that MyIPO is extending to them.

Finally, our most popular article of the week is, 500 Startups' Khailee Ng steps down from MaGIC board.

Have a restful weekend, a productive week ahead and Merry Christmas!
Editor's Picks:
Ensogo lays off staff across the region

MaGIC out to create an intangible via e@Stanford

500 Startups' Khailee Ng steps down from MaGIC board

Cisco's blue ocean: Big data analytics at the edge

Malaysia third in Global Cybersecurity Index

MyIPO: IP marketplace model needs private sector input


Previous Instalments:
Week in Review: 'Tis not the season to be jolly

Week in Review: Startups need to broaden their horizons

Week in Review: Does Anthony Tan have the chops to win the war?

Week in Review: Will funding floodgates open in 2015?

Week in Review: Asking the right questions
For more technology news and the latest updates, follow us on Twitter, LinkedIn or Like us on Facebook.
Keyword(s) :
Author Name :