Week in Review: 'Tis not the season to be jolly
By Karamjit Singh December 19, 2014
Malaysia's Rev Asia, Ensogo Malaysia, EasyTaxi cut staff
DNA-TeAM Disrupt advises startups to raise money fast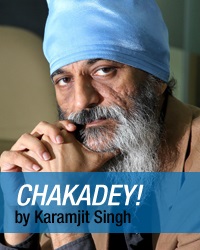 'SICK to the stomach' is one of those terms I would come across reading my John LeCarre spy and Wilbur Smith adventure novels in the days when I was a bookworm – sans the dorky bifocals, thankfully.

I then actually experienced that feeling myself back in 2010 when in my previous company, a small number of people were let go on the spot. Letters were handed to them in front of their colleagues, and with IT standing behind them, they were asked to leave.

It changed the 'feel' of the company and left me shaken and feeling physically sick that employees, at least one who had been there for over a decade, could be treated so poorly.

So I can imagine how staff, across Asia, of Internet companies who have lost their jobs and asked to leave the same day while others were given till the end of this month, feel.

And even those who are left are feeling. "Highly demotivated" is how an executive at Ensogo Malaysia (previously iBuy) describes the feeling of those who still have their jobs there.

'Tis certainly not the season to be jolly if you are at Ensogo, Rev Asia and now Easy Taxi.

The last is a big surprise as I thought Rocket Internet would have just gone out and raised more money to compete in this 'e-hailing' space. Looks like it has blinked in its face-off with the Malaysian founded, Malaysian-run, Singapore-incorporated, GrabTaxi.

Jon Russell, who covers the startup scene in South-East Asia for Tech Crunch, had some interesting thoughts. Do check out our Singapore editor Gabey Goh's story.

For the boards and management of these companies, economic reality has punctured their Internet bubble.

Whether you agree with their actions and whether they followed labour laws, management is doing what it feels needs to be done to better position the company. Brick-and-mortar companies do it all the time, the tech multinationals do it more often than most – and they all survive and thrive even.

So it will be interesting for me to see how these three companies perform next year – especially when it comes to hiring talent.

One senior tech industry executive was considering a job with the Catcha Group but told me his peers advised him not to join them as they cut people too fast. An isolated case, or its modus operandi?

Moving on, we had our last DNA-TeAM Disrupt of the year on Wednesday (Dec 17) and it was great to see so many new faces attend. It could have been because the venue was in Cyberjaya, with executives working in that smart city joining us.

The Malaysian Global Innovation and Creativity Centre (MaGIC) was the host and sponsor. One of the key points to emerge was that entrepreneurs thinking to raise money way want to lock-in their funding soon – within the next six months!

Two other stories also caught my interest and both revolve around big data. Singapore is moving ahead with the launch of its first data science academy, a partnership between a local polytechnic and two multinationals.

Meanwhile in Malaysia, Multimedia Development Corporation (MDeC) chief executive Yasmin Mahmood announced that it was beginning to execute on the country's Big Data Framework, which had received the Prime Minister's endorsement.

At the end of that story, contributing editor Edwin Yapp shared his thoughts on the framework.

Finally, this week's most popular story was Rev Asia culls titles, lays off staff.

Have a good weekend and a productive week ahead and Merry Christmas! Drive safe.

Editor's Picks:

Rev Asia culls titles, lays off staff

Disrupt: Raise funds in 6mths, or it might be too late!

Malaysia falling behind Indonesia in new tech adoption?

Malaysia's big data framework rolls out

Easy Taxi scales down Malaysian ops, layoffs begin

Celcom Planet partners with Exabytes Network

Xiaomi's phenomenal growth threatened by patent dispute


Previous Instalments:

Week in Review: Startups need to broaden their horizons

Week in Review: Does Anthony Tan have the chops to win the war?

Week in Review: Will funding floodgates open in 2015?

Week in Review: Asking the right questions

Week in Review: Is Malaysia ready to welcome them?
For more technology news and the latest updates, follow @dnewsasia on Twitter or Like us on Facebook.
Keyword(s) :
Author Name :