Week in Review: IP matters, to the tune of RM200m
By Karamjit Singh December 20, 2013
Expect awareness of IP to deepen among entrepreneurs
Startups should start making IP integral part of business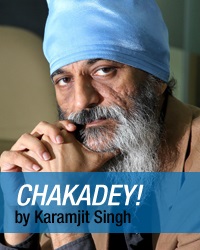 WITH the Dec 19 launch of the Intellectual Property Financing Scheme (IPFS) by Malaysia Debt Ventures (MDV), and with RM200 million (US$61 million) available to be tapped till December, 2014, I expect intellectual property (IP) will rapidly move up the agenda for most technology-based companies.

I know it clearly has with policy-makers, who now realise that the path to an innovative and creative nation has to include a strong IP element to it.

Hopefully entrepreneurs will start to look at IP as an asset that can help them compete better in the market, or even act as a barrier to entry for competitors. That's when the awareness of IP moves from just the acknowledgement that it is important, to a realisation that IP can actually be a strategic weapon.

Right now, for smaller tech companies, especially those that fall under the small and medium enterprise (SME) category, I suspect there is a mere awareness of IP being something that is important to the business. This awareness is unlikely to be transformed into action in terms of actually applying for IP protection, be it for even a trademark, probably the easiest IP asset to apply for.

I became aware of the importance of IP back in 2002 when I had Renuka Sena, current CEO of Proficeo, write a series of articles on it for the print publication I was with. Renuka was then a founding partner in IP firm Mindvault. Still, I wonder how many entrepreneurs today are deferring the decision to invest in IP?

However, the launch of the IPFS has me really excited about the value of IP, especially since I now know that at some point, I can use that DNA IP as collateral for any financing I may need to secure.

And for those of you further in your journey and who already have some form of IP, take note of what Cheah Swee Chong, COO of InfoConnect said. InfoConnect is one of three companies which have been able to use their IP as collateral to raise financing.

In InfoConnect's case it was a trademark that it was able to collateralise to the tune of between RM6 million and RM7 million. What's interesting is that Cheah says the company is now able to shorten its time to market by 50% on a software solution it is developing.

As Cheah tells me, thanks to the money InfoConnect has been able to borrow against its IP, it can pour more resources into the software project and have it ready in two years, versus the expected three to four years.

Now, InfoConnect has been around for over 10 years and has a stable of blue-chip insurance companies as customers; yet even it finds it hard to raise financing. So this IPFS scheme will really be able to help a lot of companies speed their development and market penetration efforts.

Oh, and that's the great thing about the IPFS: It does not restrict how the companies can invest the money they receive.

And for all you entrepreneurs who are just starting out, think really hard of how you can include IP as a differentiator to your startup. Even if you will not be able to tap this RM200 million, if the outcome of this IPFS is positive, I expect you will see further support in 2015.

Finally, this week's most popular article was the one on ex-Maxis executive Mohamed Fitri Abdullah taking over as Mesiniaga managing director.

Editor's Picks:

US$61mil financing for IPRs launched

Shopping online with TrustedCompany

Disrupt: No joyride for bumiputera firms either

After 16 years, Skali's listing on the horizon

Malaysia is No1 in affordable broadband amongst emerging nations

Two MSC companies unite on customer experience front

Japanese startup in KL raises angel funding


Previous Instalments:

Week in Review: MSC Malaysia messaging goes amiss?
Week in Review: The right kind of sexy

Week in Review: Sexy sells, even in a tech portal

Week in Review: What YOU can do about the funding gap

Week in Review: A game changer? Get an advisor first!


For more technology news and the latest updates, follow @dnewsasia on Twitter or Like us on Facebook.



Keyword(s) :
Author Name :