Week in Review: Bank CEO joins What's Next conference lineup
By Karamjit Singh August 28, 2015
Teh Maimunah of Hong Leong Islamic Bank in 'provocateur' role
Ganesh Kumar Bangah to talk about disrupting the banking system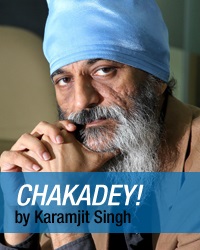 IN my promise to keep our inaugural What's Next conference 'real' so that the sharing from speakers can be useful to attendees, I am excited to share that the dynamic chief executive officer (CEO) of Hong Leong Islamic Bank, which has total assets of RM23.3 billion as of June 2015 with RM200 million in net profit, has joined the lineup. [RM1 = US$0.24]

Teh Maimunah is dynamic, outspoken and candid. At a recent CEO panel that I was moderating with her as a panellist, she admitted that she was terrified of what she saw happening around her, with consumers becoming increasingly comfortable with the concept of money as a digital product and not necessarily being anchored at a bank.

"I thought to myself, 'Hey, some of these people could be our customers. What if they start thinking of and getting comfortable with transacting much larger amounts than I see happening today'," she shared.

So how did she fare in trying to translate this fear into a possible business impact on the Hong Leong financial group – "a traditional family-run business" – as she pointed out?

Has it been slow to respond? Is it still in the "let's brainstorm this" mode? Has it set up a unit, slapped it with the title 'Digital Banking,' won some digital awards to boot, and still exchanging smug looks at how fast it has responded to this so-called threat – leaving Maimunah pulling at her immaculately groomed hair?

Because, not waiting in the wings but already at the gates, are digital-savvy entrepreneurs like Ganesh Kumar Bangah, founder and executive chairman of Nasdaq-listed MOL Global Inc, who has built a digital-based business which accepts digital currency while marrying this to a strong physical component as well. The model is called O2O or online-to-offline.

Ganesh will be talking about this model, its next iteration and, more importantly, why he feels nimble digital-based companies like his have a great opportunity in grabbing an ever larger share of a market that has been the domain of the traditional banks.

His biggest weapon? The slowness in which traditional banks move to adapt. In her role as 'Provocateur' at the What's Next conference, Maimunah will either agree or (I hope) disagree with with Ganesh.

Get your tickets now to be part of what will be an exciting conference that talks about how technology is disrupting businesses by influencing how consumers (your customers) are behaving today or will behave in the near future.

Editor's Picks:

South-East Asia's IoT market ripe for the picking: Pundit

Big data analytics key to addressing fraud at the root

Ricoh Malaysia on its 'do or die' transformation

Fitbit's long-term sustainability and the abandonment issue

Video leads the way in mobile advertising growth: Report

Only cockroaches and startups left when unicorns become extinct

LG announces Rolly Keyboard, updated G Pad Android tablet ahead of IFA 2015 expo


Previous Instalments:

Week in Review: GrabTaxi has left the SEA ecosystem

Week in Review: What's next for disruptor Tony Fernandes?

Week in Review: The startup and brick-and-mortar mashup

Week in Review: Startups can learn much from FashionValet's founder

Week in Review: Corporate interest in the startup way


For more technology news and the latest updates, follow us on Twitter, LinkedIn or Like us on Facebook.
Keyword(s) :
Author Name :