Edwin Yapp: My Fave 5 of 2018
By Edwin Yapp January 8, 2019
GPUs, machine learning advances; impact to analytics begins to take shape
Digital payments is a tough nut to crack; Malaysia still fragmented, cash still sticky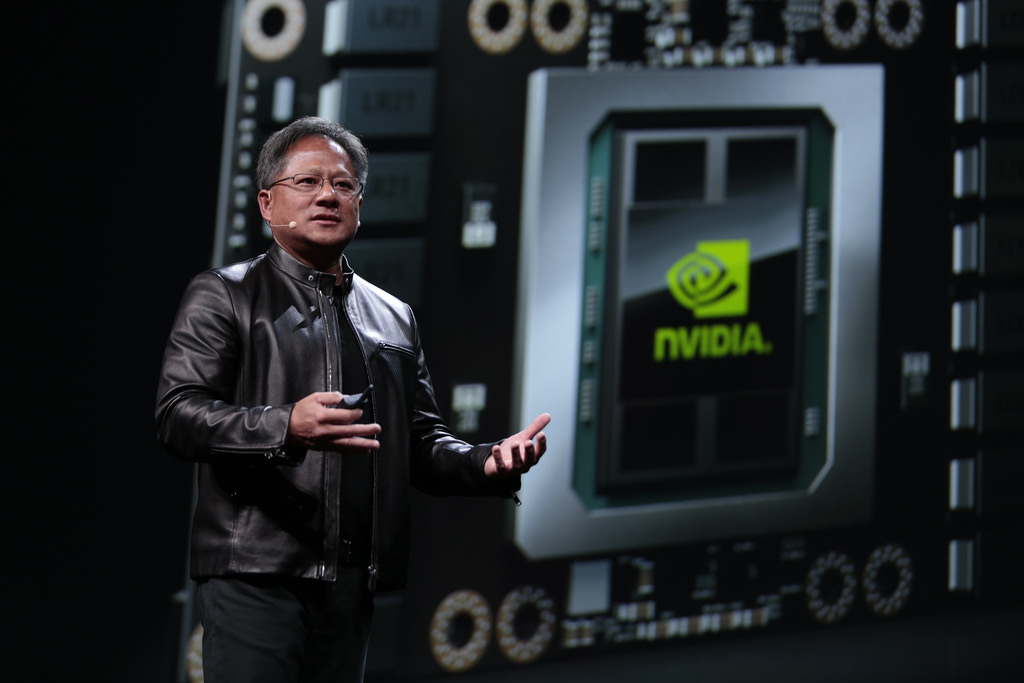 IT'S that time of the year again as Digital News Asia (DNA) looks back on the favourite stories written for the year. I've come up with the following five, arranged topically from the many that flowed from my keyboard this year.
GTC 2018: Nvidia's bet on AI, machine learning paying off
The world's largest graphics processing unit (GPU) company Nvidia Corp has stamped its mark on this sector of the industry and continues to be a leader in the market, despite some misgivings of late.
At its annual GTC conference in San Jose in March 2018, chief executive officer and co-founder Jensen (Jen-Hsun) Huang (pic, above) showed his confidence on stage, balancing his persona as a technology visionary while being a consummate salesman at the same time.
Huang's confidence stems from the fact that GPUs are now being used more intensively than ever before, driven by the rise of virtual reality (VR), high-end ray-tracing needs, artificial intelligence (AI), deep neural-net learning and autonomous vehicles.
Bolstered by these advancement, GPUs – which may have begun life as specialised cards that accelerated graphics – now power the most advanced use cases today in information technology.
"It couldn't have come at a better, more important time," Huang said at the conference. "All of these new applications are coming up at a time when we need supercomputers to make them work.
In a open session spent with journalists from all over the world, Huang fielded a wide range of questions, and this story gives a snapshot of topics covered.
That said, Nvidia's share price has plummeted in the last quarter, having dropped as much as 54% since 3Q, making it the worst performer in the S&P 500 over that stretch, according to CNBC.
Concerns focused on oversupply and under demand for GPUs due to the fall of bitcoin mining, rising operational expenses, and rumours that Softbank may sell its stake in Nvidia. Still, there are some who remain upbeat but the days ahead are expected to be an uphill climb.
Deep learning maturing in analytics field: Teradata
Speaking of AI and deep learning, a yearly highlight for me is to speak with Dr Stephen Brobst (pic, above), chief technology officer of data analytics company Teradata. The highly regarded computer and data scientist is always an insightful executive to speak to, as he isn't your typical top brass in an IT firm.
Often dressed down in jeans and tucked-out chequered shirt, Brobst isn't shy to speak his mind. The year before last, he told me that customer analytics is still very much lacking in banks. Last year, he suggested that deep learning is beginning to see more maturity in the analytics field.
Brobst said machines today are able to recognise problems merely by listening to sounds, akin to how an experienced human mechanic is able to spot problems in a car engine just by recognising the sound of the problem.
"In high-tech manufacturing, there are cases in which recorded sound waves from machines are fed into a deep learning software that has been taught how to 'recognise' when something is wrong," he explains. "Using this method, the company is able to predict when a breakdown happens before it occurs."
Brobst is pretty sure that advances in non-linear mathematics and breakthroughs in using mapping algorithms to GPU (graphics processing unit) technology using multilayer neural network implementations, or deep learning techniques, has helped tremendously.
"The theory of deep learning has been around for 50 years but the computation capabilities weren't feasible then. Only now can we use this technique in a scalable and affordable way," he said, arguing that GPUs today allow companies to do analytics on a scale and budget not possible before because of the highly parallel processing nature of GPUs.
That said, companies wanting to take advantage of this need to hire the right talent, notably a person who has the role of a chief data officer (CDO).
"A good CDO understands the value of data but at the same time does not get caught up with the nitty-gritty details of technology," he explained. He must not be afraid to experiment or get into technology and take calculated chances by exploiting technology."
"He or she must also be able to understand how to innovate with data, manage portfolios and take risks when necessary and not be afraid to do so to reap rewards."
Despite late entry, GrabPay to cash in on mobile wallets
This list of stories would be complete without mentioning one of Asia's largest unicorns, GrabTaxi Holdings Pte Ltd.
On June 26, the ride-hailing king of Southeast Asia launched its much-anticipated GrabPay mobile wallet in Malaysia, and was very confident that it will succeed despite being a late entrant into an increasingly crowded marketplace.
Speaking to the media during the launch on June 26, Ooi Huey Tyng (pic, above), managing director of GrabPay for Malaysia, Singapore and the Philippines, said its confidence was based on the fact that Grab has an active install base, high app usage and brand awareness.
"Our app is being used every day and our users are already familiar with it," she said. "The next step then is just to use the same app with a familiar user interface to make payments. This is our differentiator," she declared.
While it's hard to deny that Grab has the presence and the budget to push GrabPay forward, the market seems to be pretty fragmented with too many players in such a small space.
Earlier in January, rival player, Axiata Group's Boost launched its eponymous mobile wallet, and today claims to be the largest player in Malaysia. And three months before that, rival startup Fave – formerly known as Groupon Malaysia and a brainchild of Joel Neoh – launched its mobile wallet FavePay, signalling its intention to stake a claim in the payments game.
Besides Boost and FavePay, traditional banks such as CIMB Bank Bhd have Touch 'n Go and CIMB Pay while Maybank has MaybankPay, which it claims is the first mobile wallet in Malaysia.
Meanwhile, older technology companies are trying to branch out, namely, Kipple from Green Packet Bhd, while non-financial players are trying to enter the payment game in the form of AirAsia Bhd's BIGPay.
Then there is an issue of trying to displace cash altogether, something that according to IDC Financial Insights research manager, Sui-Jon Ho will continue to be a daunting task.
So it remains to be seen how digital payments will pan out in the coming year.
Digital payment adoption a challenge in SEA: Google-Temasek study
The challenges facing GrabPay and other mobile wallet players nicely dovetail into the fourth of my top five stories.
According to the latest iteration of Google-Temasek's yearly study, the usage of digital payments amongst Internet consumers in the region still faces several significant impediments despite the booming Internet economy growth in Southeast Asia.
Head of Temasek Holdings Investment Group Rohit Sipahimalani (pic, right) told journalists that while latest research noted that Southeast Asia's Internet economy has grown by 44% and is valued at US$72 billion in 2018, up from US$50 billion in 2017, the actual usage of digital payments is still dismally low.
"[What's more] is that digital payment services account for an even smaller share of the overall transaction value, anecdotally in the low single digits for most Internet economy players.
"That is remarkably low," he stressed. If you compare this with China, everyone uses either WeChat Pay or Alipay for both online and offline merchants," Rohit said, according to a survey of six countries comprising Malaysia, Singapore, Thailand, Indonesia, the Philippines and Vietnam.
Asked by DNA what must be done to spur growth, Rohit argued that there is a big issue surrounding merchant acceptance [in this region], which is difficult to overcome.
What is needed, Rohit suggested, is for large players to make huge investments in order to build the ecosystem. There must also be regulatory changes to allow more interoperability within ecosystems in different countries.
"You also need one or two dominant players to develop standards for this to take off," he stressed. "Partnerships between the leading players could help to address this."
Edotco commits to digital transformation wave
My final story is a focus on local telco infrastructure player edotco Group Sdn Bhd, where director of group operations Muniff Kamarudin (pic, above) told me that his efforts to transform the company over the past three-and-a-half years into a more digital one, are finally reaping benefits.
edotco began life as a spin-off business from Axiata Group Bhd in 2013. The Axiata subsidiary's mandate is to own, operate and manage the passive network infrastructure of the Axiata Group as a business and will have subsidiaries in most of Axiata's markets.
What was interesting was how edotco was trying to future-proof its organisation's core business by using drones in tandem with machine learning to replace traditional site surveys using skylifts.
From doing site surveys in lieu of skylifts to network assessments and revenue assurance – these efforts are increasingly being done by automation and software. Everything from taking photographs and videos and other measurements such as antenna azimuths and tower height data are done more and more by drones.
The drones are also used to do network assessment or the inspection of network assets or maintenance assessment such as to find out what is missing, evaluate maintenance issues such as rusted screws, and whether antennas are in their correct positions and azimuths, Muniff added.
"We are already in the midst of doing this and we plan to carry out 100 cases in 2018 beginning with Malaysia. "Over a period of time, we have plans to use machine learning to automatically capture such defects and flag them as such without human intervention. We are not there yet but this is our ambition moving forward."
Keyword(s) :
Author Name :