Emerson Network Power launches SmartCabinet
By Digital News Asia February 17, 2015
Fully-integrated plug-and-play IT solution in a single rack
Able to handle high density compute loads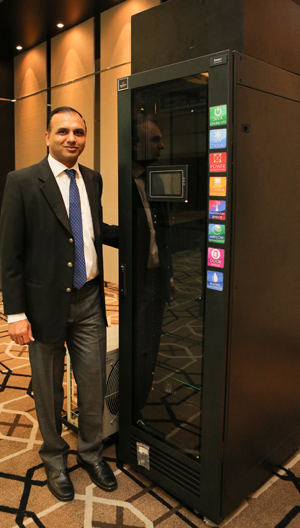 EMERSON Network Power, a software, hardware and services solutions provider, has introduced the SmartCabinet in South-East Asia.
Designed for small computer rooms with limited floor space, the SmartCabinet is composed of a single rack that is said to meet all the requirements of a traditional data centre by combining power protection, thermal management, power distribution unit and infrastructure management and monitoring in a simple packaged solution.
It is pre-configured, pre-installed, and factory-tested to ensure system compatibility and is ready to use from Day One.
According to Hitesh Prajapati (pic), senior director, Strategic Accounts, Emerson Network Power in Asia and country manager, Emerson Network Power in Malaysia, the SmartCabinet is able to handle high density compute loads without overheating and costly shutdowns. It is said to provide significant gains in energy efficiency, space utilisation and bottom-line costs.
"With its compact yet fully-integrated design, the SmartCabinet improves reliability, availability and remote management while significantly cutting speed of deployment, resulting in better savings," he added in a statement.
The SmartCabinet comes equipped with Emerson's industry-leading advanced online double conversion rack-mounted uninterruptible power supply (UPS), providing the highest-level of protection within the cabinet to guarantee sustainable and stable operations.
It also comes with a built-in rack-mounted air-conditioning system, allowing cold/hot air to circulate within the rack for better temperature and humidity control while operating 24/7. The integrated thermal management solution inside the rack is claimed to provide 100% protection against dust, significantly reducing the risk of equipment breakdowns and expanding the lifespan of the IT equipment.
The solution's built-in monitoring system allows users to efficiently monitor the status of their critical equipment even while off-site.
The solution also has a uniquely-designed emergency cooling fan that expels hot air in the event of a system breakdown, ensuring that it remains running while waiting for maintenance personnel to arrive on-site.
Related Stories:
Data centre future: It's about management and the core
Emerson Network Power boosts DCIM team in Asia
Emerson, Schneider leaders in Asia's data centre infra market: IDC
For more technology news and the latest updates, follow us on Twitter, LinkedIn or Like us on Facebook.
Keyword(s) :
Author Name :