Facebook wants to connect the 'other' 150mil Indonesians
By Masyitha Baziad October 9, 2015
Not just about knowledge sharing, but also economic opportunity
The three challenges are connectivity, content and cost
Untuk membaca berita ini dalam Bahasa Indonesia, silahkan klik di sini.

THE Internet is a great medium for sharing knowledge, disseminating information, and increasingly, providing economic opportunities – which is great for the 2.5 billion people on the planet already connected, but not so good news for the billions who are not.

It is the responsibility of all stakeholders, both public and private, to connect as many people as possible to the Internet, argued Facebook Inc's vice president of Business Development, John Lagerling.

"Around 2.5 billion people in the world are already connected to Internet, but unfortunately there are 150 million people in Indonesia who still do not have data connectivity at all," he told the Indosat IDByte 2015 conference in Jakarta on Oct 2.

PT Indosat Tbk, a member of the Doha-headquartered Ooredoo Group, was the first operator in Indonesia to join Internet.org, the 'Internet for All' initiative launched by Facebook founder Mark Zuckerberg in August 2013.

Internet.org aims to make Internet access available to 'the next five billion people,' which was also pretty much the focus of discussion at Indosat IDByte 2015.

But beyond connecting the people, the next task would be education and creating awareness of the benefits of the Internet in building the economy of communities, as well as the opportunity for a global-scale trade.

"Before e-commerce [took off], many Indonesians knew the Internet only from Facebook – many of them even began their business via Facebook," said Lagerling.

He cited as an example Batik Kultur (Batik Culture), a local batik business founded by a young woman named Dea Valencia.

Dea is the owner of, as well as the designer for, her brand. She was just 17 years old when she started her business via Facebook a few years ago.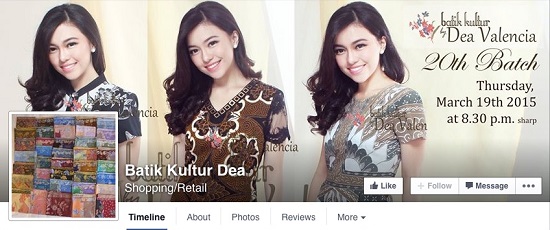 Now, Batik Kultur (pic above) has more than 7,000 customers from Indonesia, as well as from Germany, Hong Kong, the Netherlands, Norway, the United Kingdom and United States.

Other successful Facebook-based businesses are Brodo, a brand of local shoes from Bandung; and SaleStock.


"Internet connectivity made these success stories possible," said Lagerling (pic).

For its part, Facebook is committed to connecting as many people as possible to the Internet, he said.

Although the internet.org facility is currently available only to Indosat customers, the US social network giant wants to provide more free Internet connectivity in cooperation with other operators, he added.

"Such initiatives should not come only from Facebook, but from all telecomunication operators, vendors and service providers. This is a common responsibility," he declared.

Three challenges
Lagerling said there were at least three challenges in trying to accelerate Internet connectivity in many countries, including Indonesia.

The first is infrastructure. Installing fibre would not be the best way to meet this challenge because it is expensive and has limited coverage. Companies and governments need to think about more economical ways to build a reliable infrastructure.

Lagerling said there are many sophisticated new technologies that can be used to reach more people, more cost-efficiently, citing laser satellites and solar-powered drones.

Satellite laser technology addresses the cost and coverage problems, and is also durable. In its Connectivity Lab, Facebook is building a laser-based communication system using drones and satellites that can direct and transmit data from space.
Lagerling pointed to the 'Aquila' drone (pic above) that Facebook announced in July. Aquila, Latin for 'eagle,' has the wingspan of a Boeing 737 but weighs only as much as a car.

Aquila can fly for three to four months at an altitude of 60,000 to 90,000 feet, or above the altitude of commercial aircraft that typically fly at altitudes of 30,000 to 40,000 feet.

At this altitude, it can provide Internet reach across 50 kilometres, at 10 gigabits of data per second, or 10 times faster than the speeds available in the market today, he claimed.

More local content
The second challenge of bringing Internet connectivity to all, according to Lagerling, revolves around relevance.

An internal study conducted Facebook showed that in developing countries, as much as 50% to 70% of those who are not Internet users do not even know that the Internet exists, he said.

If people are not aware of Internet, how does one attract them to use it? Or to even pay to use such a facility? People must be given reasons to connect to the Internet.

Lagerling argued that there must be an incentive, in the form of local and locally-relevant content – content that is relevant enough to the community that its members would not mind paying for it, and available in languages that local people understand.

The key here would be developers – they should be able to create content (including apps) that has relevance to the community, in the local language.

Currently, a lot of content on the Internet does not support local languages, Lagerling said, referring to Wikipedia, which is available in 52 languages, as an example.

"If you want to embrace the whole of society that is at least 80% of the entire world, content should be available in 92 local languages," he argued.

In fact, internet.org's Innovation Lab, a collaboration between Ericsson and Facebook collaboration, was designed to help developers understand how their apps will work in different parts of the world.

The lab's test environment mimics a variety of network conditions, giving developers a way to ensure their apps will run even in very remote areas, according to Facebook.

Affordable connectivity

The third and final challenge is getting telecommunication service providers to roll out affordable connectivity, an issue closely related to infrastructure.

Based on data collected by Facebook, 34% of the people in the world live on US$2 or less per day. Therefore, the price of Internet access should depend on the economy of the individual markets being targeted, Lagerling said.

Currently, only 34% of Internet users are able to purchase data access of 500MB per month. If the quota was smaller and the speed slower, or about 250MB per month, more people would be able to afford it – Facebook estimates around 50% of Internet users. A 100MB quota per month can mean access for 80% of Internet users.

That means only a few people can afford higher-bandwidth and faster Internet access. "This is something we have to think about, together," he said.

Related Stories:

Facebook's 'Internet for all' – Asean challenges
Ooredoo's Indosat and Facebook launch Internet.org in Indonesia

GSMA joins Alliance for Affordable Internet

Emerging markets report fundamental life changes from connectivity

Indonesia aims to beat Malaysia in Internet access by 2019


For more technology news and the latest updates, follow us on Twitter, LinkedIn or Like us on Facebook.
Keyword(s) :
Author Name :