Review: The Samsung Galaxy S21 Ultra, a refinement of a working formula
By Tan Jee Yee March 19, 2021
Pros: Highly versatile camera; superb screen; S Pen integration; great performance
Cons: No microSD slot; no Snapdragon 888 SoC for Malaysian version
MY TWO weeks with the Samsung Galaxy S21 Ultra feels almost wasted. Here is this powerful device I received for review during the midst of another movement control order (MCO) period, when I was largely at home.
I couldn't use it to capture the distinctive architecture of Putrajaya, or even impress relatives during Chinese New Year (which was effectively cancelled due to the Covid-19 pandemic). The smartphone stayed largely on my desk like a caged bear, restrained and unrealised.
It feels like a waste, because the Galaxy S21 Ultra is a smartphone for creators. It has a highly versatile camera system that is packed into a powerful device that is suitable for work, play, and whatever you need smartphones for. It has features you need, and features that feel extraneous.
It is, in principle, a Galaxy S device in all of its pomp and excess. It also feels familiar: More of a refinement of last year's S20 line-up rather than an innovative outing. I do, however, consider this a good thing.
By polishing the rough edges of the S20 Ultra and adding in its own sheen, the S21 Ultra sparkles on its own. As far as expensive, wallet-bleeding flagships go, it hardly disappoints.
Yet at the same time, the refinements only serve to highlight the things that are missing on the S21 Ultra. There is no microSD slot, no wired charger and headphones included in the box.
Perhaps these are minor problems in the grand scheme things. But for a device that costs more than US$1,200 (RM5,000), what's missing can feel magnified.
[RM1 = US$0.242]
The premium feel
At the very least, the S21 Ultra feels like a RM5,000 device. The smartphone features an aluminum frame with a Gorilla Glass Victus back, and it feels appropriately solid and tough. It's also rather weighty, which combined with the relative bulkiness of the build, makes the S21 Ultra a hefty smartphone.
It's not the slimmest flagship, but it does look pretty good. I rather liked the sleek industrial look, and the black version I had looks fairly suave. The glass back, which is now matte, feels good to the touch. The smartphone is rather slippery though.
The camera island has grown even bigger, with very distinctive lenses. Some may find it awkward. I think it's a genuinely fine attempt at accentuating the camera system rather than hide it. The S21 Ultra is already an ostentatious phone, at any rate. The large camera island only sells it more, IMHO.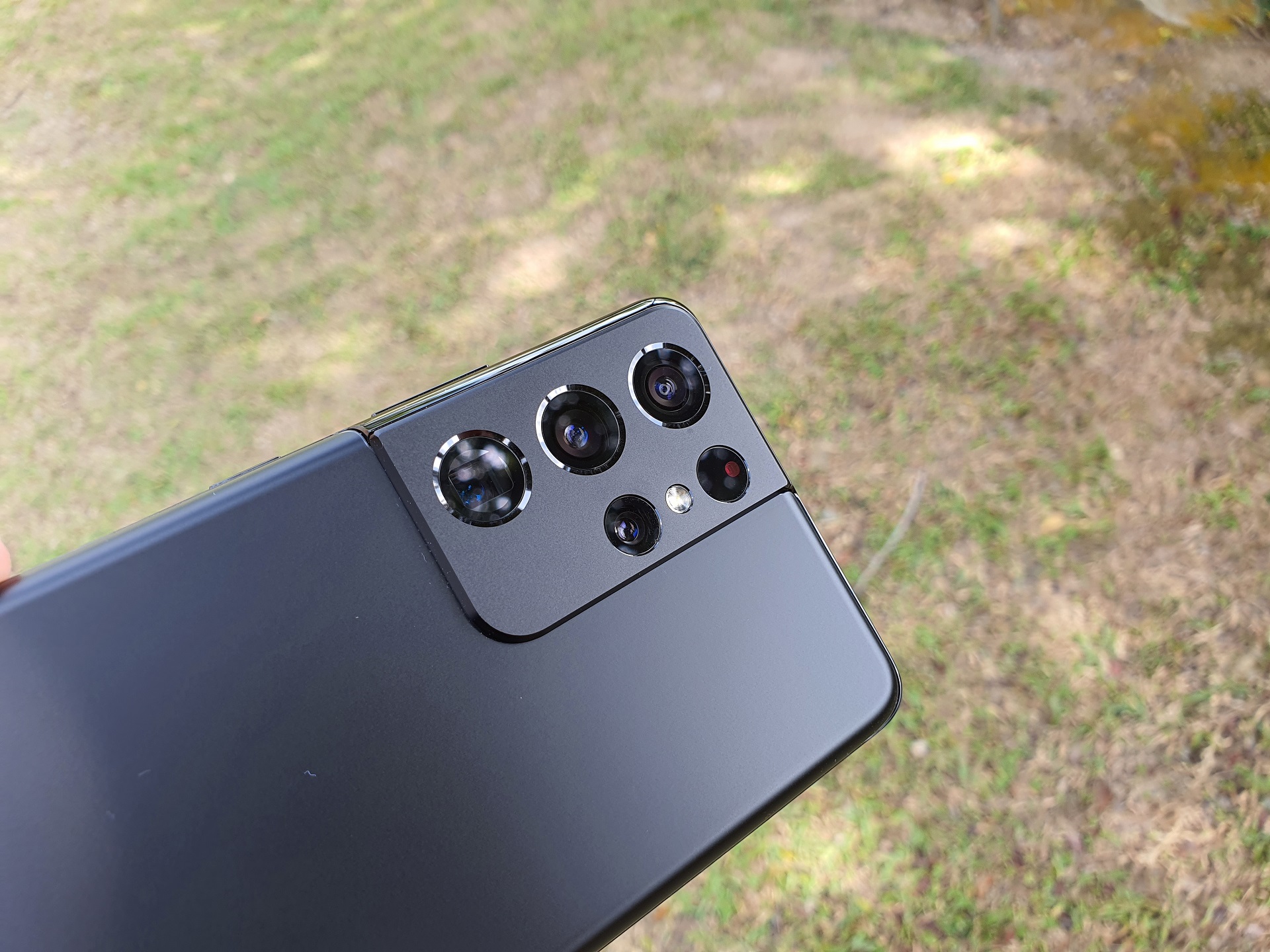 The front is a lot more magical. The Galaxy S21 Ultra sports a Dynamic AMOLED 2X screen, which is as premium as it gets. This is a 6.8-inch 1,440p OLED with 120Hz adaptive refresh rate, which means that you can set the S21 Ultra to display at 120Hz at all times you're touching the phone, dropping to 60Hz a couple of seconds after your last interaction.
It has a gorgeous screen, displaying expectedly sharp, colourful and bright images that is visible even under direct sunlight. The 120Hz refresh rate and HDR+ support makes it great for videos and gaming.
The original S20 Ultra had a limitation where the 120Hz refresh rate only works at 1,080p resolution. Here, on the S21 Ultra, it works on 1,440p.
The S21 Ultra features a stereo speaker setup. It works well – it's loud, the vocals are clear, and it has just-right amount of bass.
Cameras to love
The S21 Ultra features one of the most versatile camera systems yet. This is a quad-camera setup, starting with a 108MP main shooter coupled with a 12MP ultra-wide angle camera. What's truly unique here is that it features two 10MP telephoto snappers, for proper 3x and 10x optical zooms.
Having two telephoto zoom lenses add a lot more versatility to an already complete (by most smartphone standards) camera system, ensuring great-looking shots at varying zoom levels.
The main shooter produces 12MP photos by default, which look great with plenty of detail and solid colours. You can, of course, opt for a 108MP image.
In full resolution, I find the images tend to drop in detail quality, but you can manually downsize the huge 108MP photo for even sharper and more detailed images.
As for the ultra-wide photos, they look good as well – the colours appear accurate with solid contrast, though it doesn't have much in terms of fine detail. The ultra-wide has autofocus, too, so you can use it for wide close-ups, which is neat.
Both zoom snappers produce great photos too, and I can't find any differences in quality between both. The colours are accurate and the contrast good. The selfie camera at the front is a 40MP snapper that's similar to the S20 Ultra's. It's excellent, providing plenty of detail and spot-on colours.
The cameras perform well under low-light and night shots as well. The main camera produces great night shots, with good sharpness and exposure. Shoot in night mode, and you get photos of even better clarity.
The wide-angle camera is pretty decent at night as well, though it doesn't produce the best details. Both tele shooters also produce decent night shots, with accurate colours and surprisingly low noise. Night mode works on all cameras, so use them if you can: they do improve the shots tremendously.
The Galaxy S21 Ultra is also superb for video. It supports 4K video capturing at 60fps across all five cameras, including the selfie shooter. You can even opt for 8K video at 24fps with the primary camera.
I didn't shoot a lot of video with the S21 Ultra, but 4K@30fps video looks great to me, while 4K@60fps appear a little softer to my eyes.
What's cool is Director's View, a mode shows you live images from all four cameras at once, so you can pick which one to use for recording. Good for figuring out the right camera for different situations without needing to swap between them.
Power and pomp
Those that care about the specific parts inside their smartphones will be disappointed to know that the Malaysian version of the S21 Ultra sports an Exynos 2100 SoC instead of a Qualcomm Snapdragon 888, which is what powers the US version.
There are more detailed benchmarks that showcase their respective differences, but on a day-to-day usage, I think the Exynos 2100 provides the power and performance needed for both work and play.
I have no issues running multiple apps, using split-screen mode and playing Genshin Impact at native resolutions.
The S21 Ultra uses a 5,000mAh battery, which is the same as its predecessor. Since the S21 Ultra rocks a 1,440p display with 120Hz, I expected the battery life to be only nominal at best.
Surprisingly, the device offers a pretty enduring battery life – a full day of web browsing, some gaming, some Netflix and lots of social media time still nets me about 30% of juice left by 11pm.
Not too shabby.
You can expect the S21 Ultra to be a productivity device. With Samsung DeX, for instance, you can use the phone as a computer and add a monitor and keyboard to it, either wirelessly or over HDMI. More interestingly, the S21 Ultra is the first Galaxy S device to support Samsung's S Pen.
You do have to purchase the S Pen separately and there's no slot for the stylus on the device like you would on a Galaxy Note device, but there are cases for that.
I tried using my Note10+'s S Pen on the S21 Ultra and it pairs up instantly by just tapping the device on the screen. The S21 Ultra supports basic S Pen functionality from Screen-off Memo to Screen Write and Screen Translate. What it lacks are Air Actions, which is arguably superficial.
Final words
Adding S Pen functionality to the S21 Ultra is just icing on a very tall cake. This tall cake also costs a pretty RM5,899 for the 512GB variant. As mentioned, the S21 Ultra doesn't support microSD storage expansion, and there's no charger included.
The good news is that there are multiple charging options available: there's 10W+ wireless charging, and the phone also has Wireless PowerShare, allowing you to charge other devices wirelessly. But seeing the small fortune you pay for the device, these little omissions stand out tremendously.
But I suppose they are minor losses in the ultra-scheme of things. The Galaxy S21 Ultra is a proper flagship device – powerful, versatile, and will likely last you years into the 5G near-future. It's hard to see smartphones as 'investments,' seeing how quickly each iteration outstrips one another.
I'd say, however, that the S21 Ultra is a sound investment for the times ahead.
Related Stories :
Keyword(s) :
Author Name :