Millions of Asean jobs at risk from automation: UN body
By Benjamin Cher July 8, 2016
Some industries seem unaware that technology is creeping up on them
Many of them employ large numbers of women workers

MILLIONS of jobs in the Asean (Association of South-East Asian Nations) bloc are at risk from automation and similar new technologies, according to a United Nations (UN) body.

Vietnam (70%) faces the highest percentage of workers at risk from automation, followed by Cambodia (57%) and Indonesia (56%), according to the UN's International Labour Organisation (ILO).

The ILO did not have access to national labour force data from Malaysia or Singapore, so those two countries are not listed in these particular findings.

"In the region, you have an average of 56% to 57% of all jobs that are automatable," Gary Rynhart, senior specialist with ILO's Bureau for Employers' Activities, told a recent media briefing in Singapore after the release of the ILO's Asean in Transformation: How Technology is Changing Jobs and Enterprises report.

The report is based on two Asean-wide surveys of more than 4,000 enterprises and 2,700 students, and interviews with over 330 stakeholders. ILO then included publicly available statistics before building its data models.

The agency looked at five key industries: Automotive, textiles, clothing and footwear, electrical and electronics, business process outsourcing (BPO), and retail.

Another alarming finding is that there are a "number of sectors heavily dependent on female employees, and they are quite susceptible to automation," said Rynhart, also a co-author of the report.

READ ALSO: The Fourth Industrial Revolution: It gets worse for women

Vietnam (86% of jobs affected) and Cambodia (88%) are at the most risk in the garments and textiles industries, while the Philippines (89%) sees the highest risk in BPO, Thailand (73%) in the automotive industry, and Indonesia (85%) in the retail sector.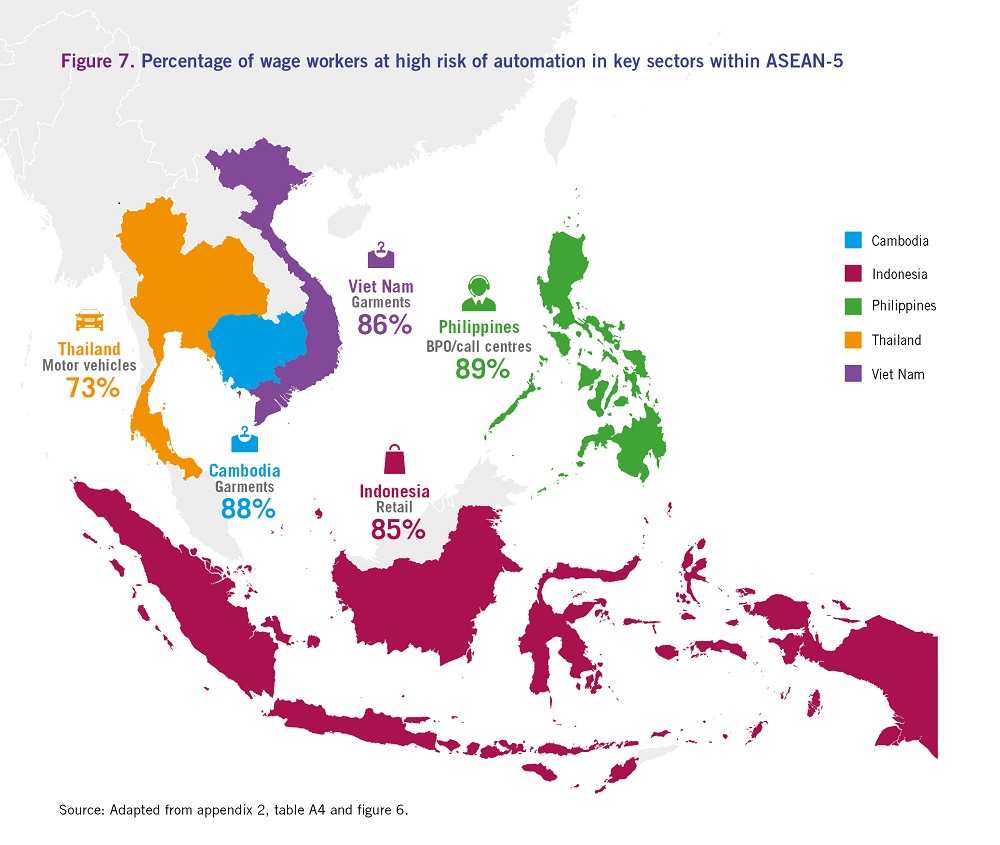 Next Page: Fighting off robots, and that SME issue again

Keyword(s) :
Author Name :