Speedhome's CEO bakes social stand into startup and is rewarded by investors
By Karamjit Singh July 16, 2021
Raises US$1.7mil in Series A for regional expansion, strengthen tech
Using multiple data points to overcome racial bias in rental market
"I'd say this exercise is 75% really making a stand on racism, and probably just 25% out of self interest/Speedrent. It is totally fine if you do not wish to rally behind this but I would take it as an offence if you think I'm trying to use your platform for cheap publicity."
In a startup ecosystem where founders keep their heads down, focused on building the business without taking to the pulpit to promote any cause dear to them, Wong Whei Meng (pic), founder/CEO of Speedrent Technology Sdn Bhd which operates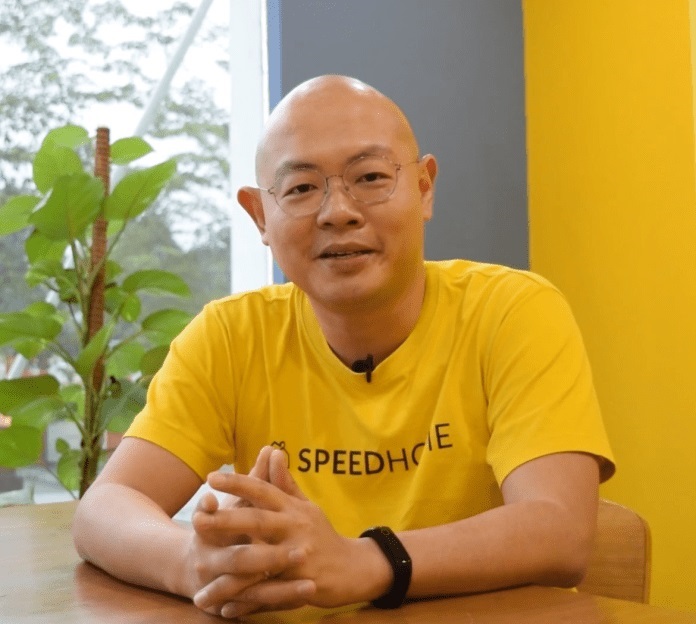 Speedhome, an online zero-deposit rental platform, has no problem with taking a stand for what he believes in, which includes standing up to established market forces.
In the latter, he issued a press release in April 2018 admonishing the Malaysian Institute of Real Estate Agents (MIEA) for wanting to suppress proptech startups, and advising the group to focus instead on clamping down on the issue of illegal property brokers. The MIEA had made some police reports against proptech startups back then.
The above quote was from an email Wong sent to some media, including DNA, in Nov 2018 when he was about to launch an ECF campaign that subsequently raised RM2.5 million via PitchIN a few months later.
Initially looking to set the minimum investment at RM5,000 he intended to bring it down to RM50 to allow more people to invest in his startup, then called Speedrent, as a proxy in the stand against racism.
But he also saw a commercial upside for them. "I strongly believe that the returns can enable tens of thousand people to make their down payment for their first home."
Last week Wong took a big step towards making this possible, when he closed his Series A at US$1.7 million (RM7 million) with leading insurer Allianz Malaysia Bhd and regional venture capital firm Gobi Partners as investors with Gobi being lead investor.
Gobi partners even referenced this cause in its comments about the investment. Its chairman, Thomas G.Tsao shared, "We are very impressed with Speedhome's strong growth and ability to become a market-leading platform. In addition, its proprietary tenant behaviour data set and AI capabilities enabled a more transparent, more accessible and equal-opportunity compared to the existing perception-biased rental mechanism."
Wong emphasizes that his equal-opportunity focus in not an attempt to differentiate their product but rather is a reflection of the core value of the business, Equality. "We strongly disagree with the current perception-based rental mechanism where a person is judged by race, religion, sexual orientation and any other form of bias."
To counter this, he relies on algorithm. Tenants are required to provide bank statement, payslip, and consent for Speedhome to access their financial data as its first layer of screening. A set of internal data points are used to further evaluate the person's creditworthiness. "The data is then processed by our proprietary machine learning to make the decision which can happen in less than 10 seconds for approval or not. No human intervention; hence reduced perception-based bias," he explans.
Part of the funding raised will be used to beef up an already large tech team numbering around 35 people. With the pandemic accelerating widespread adoption of technology Speedhome is planning to launch a new product in Sept, leveraging on IOT, he says.
In hindsight, the investment by Allianz is not surprising as both parties have a collaboration going back to 2017, when they jointly developed what has proven to be the key feature of Speedhome, its Zero Deposit and Landlord Insurance – a win-win solution that removes a financial burden for tenants, while offering downside protection for property investors.
"Digital partnerships are very much part of our strategy at Allianz Malaysia as we look towards capitalising on new opportunities and new markets. However, more importantly, we are equally driven to support our local startups like Speedhome, and currently have over 50 active digital partnerships across various sectors. Speedhome has been a standout
digital player in the property rental industry, whose innovative ideas have enhanced the way we do business. We are very excited to continue to support them and play a role as they continue on their impressive growth trajectory," said Zakri Khir, Chief Executive Officer of Allianz Malaysia.
Setting a high bar for Speefhome
Closing a Series A round does not tend to see founders set themselves too high a bar, as there is still a long way to go but Wong choose to do so, declaring not only that he intended to expand regionally to 10 other metropolitan cities over the next five years, but also that he aimed to become a Southeast Asian PropTech unicorn.
He plans to start with Bangkok, before going on to Manila, Jakarta, Taipei, Ho Chi Minh, Hanoi, Melbourne, Sydney, Hong Kong, and Singapore.
Confidence boosted by the investment, Wong says "the funding will help us kick-start our regional expansion and accelerate efforts towards making Speedhome as the region's super app for property investors."
Bangkok was chosen as the first market to expand to as it shares a similar rental culture to Malaysia, he says. "Thus we believe our Zero Deposit model would work well there too." Another plus point is that Bangkok is the second-largest city in Southeast Asia with a high-density population and job opportunities. Wong believes their business model for rental will thrive with these two elements present. "Most renters are those who migrate to a new city for job opportunities."
Despite the economic downturn, Speedhome responded with the introduction of its Virtual Viewing and Homerunners services that addressed the restrictions posed by the various Movement Control Order (MCO). It claims to have recorded more than 160% year-on-year growth in Gross Written Premium (GWP) contribution to Allianz Malaysia in 2020 compared to 2019. This growth was driven by strong consumer demand for Zero Deposit rental homes that allowed qualified tenants to save a large amount on rental deposits.
Speedhome claims that it has helped tenants free up a total of RM37 million over the years through zero deposit rental. To date, it has over 575,000 app downloads, over 128,000 listings and over 700,000 tenant enquiries in total. With consumers more conscious of their spending habits, Wong expects this number to grow further in 2021 as they shift to Zero Deposit rental homes to increase their cash flow. An increasing number of landlords have also turned to Speedhome, joining the Zero Deposit trend in exchange for a better rental yield. The platform also enabled landlords to secure a tenant fast while protecting their rental properties through insurance better than conventional deposits.
Gobi's Tom is bullish over Speedhome's future. "We see great things ahead for Speedhome, and are optimistic about the company's ability to perform well in the Malaysian market."
For Wong, while Bangkok becomes a new market he has to focus on, Malaysia is still a market with a lot of opportunity to capture. "The perception-based rental mechanism still runs deep in Malaysia, but people are starting to embrace the fact that perception can be tackled. We strongly believe that our more scientific approach to screen a person compared to gut-feeling, leveraging hundreds of data points, will increasingly resonate in the market."
Related Stories :
Keyword(s) :
Author Name :