Challenges going regional, and why you should do it anyway
By Lum Ka Kay October 22, 2015
It's a value-add, and allows you to feed on your entrepreneurial hunger
But beware of partnership, scaling and legal challenges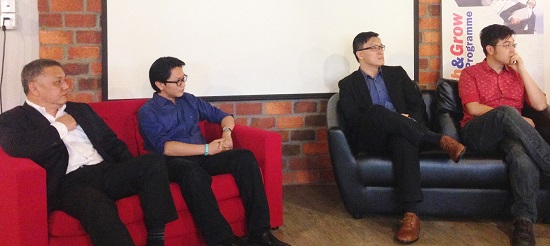 COMPANIES should not be asking themselves whether they should go regional, just when and how, according to a panel of entrepreneurs and industry pundits.

"There's only so much the Malaysian market can give you. You will have to venture out of it sooner or later," said Hitachi eBworx Sdn Bhd strategic business development director Andrew Goh.

"Going regional is a value-add to your company. [It] is … very attractive to exceptional talents who are interested in working with companies with a regional presence," he said at a panel discussion organised by Proficeo Consultants, the programme manager of Cradle's Sdn Bhd Coach and Grow Programme (CGP).

Hitachi eBworx is a Malaysian financial information technology solutions provider that was acquired by Hitachi in 2012.

The panel discussion, titled Tips, Tricks, Challenges and Lessons in Going Regional, was held in Kuala Lumpur on Oct 20, and was moderated by Proficeo cofounder and chief evangelist Dr V. Sivapalan.

"You're going to benefit tremendously from going regional," said MediaBanc Group Sdn Bhd founder Alan Lim.

"The impact of bringing your company into a foreign country, the exposure and experience – all these will [create] a tremendous synergy for you and your company," he added.

MediaBanc is a media intelligence organisation which has a presence in Malaysia, Indonesia, Thailand, Singapore, the Philippines and Vietnam. It was acquired by Isentia Group Sdn Bhd in December 2011.

Sometimes, going regional isn't even an option, Flexiroam cofounder Jason Khoo argued, especially if you are a listed company.

The Kuala Lumpur-based company listed on the Australian Securities Exchange (ASX) on June 16.

"It was in the IPO (initial public offering) prospectus, so how could we say no to going regional?" Khoo quipped.

"But jokes aside, I would always say 'yes' to going regional. … you shouldn't just be a 'jaguh kampung' (village champion)," he added.

Challenges, and overcoming them
The panellists were not blind to the enormous challenges entailed when a business goes regional.

Among them are finding good partners, circumventing local restrictions, ensuring sustainability, and language and cultural barriers.

On the first, Evenesis founder and chief executive officer Yusno Yunos cautioned that "there isn't a 100% ideal partner for you out there."

"And bear in mind that it takes a long time to build trust to ensure your potential partners are reliable.

"It's all about the follow-up work, and the best thing to do is to be there, physically, in order to find the right market and the right partners," he said, adding that he often flew within the region to catch up with potential partners.

Hitachi eBworx's Goh concurred, saying that having local partners gives entrepreneurs a more in-depth understanding of the market.

But it can get tricky, and he advised those who are going regional to be more careful of who they trust.

Goh also cautioned entrepreneurs to not go overboard in scaling their business.

"Closing a deal is easy – what comes after that, which is the post-production stage, is the hard part. Customers will start calling you up for follow-up questions and if you fail to deliver, your business isn't going to sustain itself.

"Having said that, you have to realistic because there is no use having a presence in different countries when you cannot cope with it," he said.

Finally, never underestimate language and cultural barriers, said Lim, who added that this is why he first established MediaBanc in Malaysia, then moved on to Singapore, Indonesia, and the Philippines, followed by Thailand and Vietnam.

"I stopped at Vietnam because it's an entirely different market, just like Thailand. If I go beyond that, I don't think I'll be able to cope with all the cultural differences," he said.

Never underestimate the value of having a good lawyer on board either.

"Be prepared to deal with legal issues, and to deal with such issues, you will need a good lawyer," said Lim.

Identifying the right time


Entrepreneurs often wonder when would be the right time to go regional. The answer to that million-dollar question apparently is: Whenever you're ready.

"Be ready and just go. If not now, then when?" said Evenesis' Yusno (pic).

"Go regional to measure yourself, to see where you are among all the competitors within the region. Keep your travelling cost low, but be ready to attack the market aggressively," he said.

Entrepreneurs should be excited about venturing beyond Malaysia, he said. Going regional is the time for startups to feed on the hunger they have.

"Have the vision and hunger, but at the same time, be mindful of your finances," Yusno said.

Risk is a big part of entrepreneurship game, said Lim, but he urged entrepreneurs to focus on their business objectives.

"Any obstacle is secondary to your objectives for your business," he said.
Goh, Lim and Yusno are CGP coaches, while Khoo is a CGP 'graduate.'

AEC free flow of … what?


The Association of South-East Asian Nations (Asean) has been gearing up for the implementation of the Asean Economic Community (AEC) bloc at the end of this year.

The region's governments have been promising a freer flow of investments, products and talents across South-East Asia.

However, Proficeo's Sivapalan (pic) said he has not seen much progress in this area.

"I don't think any of the Asean countries have done much to actually allow this so-called freer flow of investments and talents across the region.

"There's more on the taxation side, for goods and services, so you can get certain rebates.

"But in terms of investments and structuring companies, so far we have not really seen any changes because the infrastructures are still the same.

"Perhaps there might be some changes in the future, but so far we have not seen any. It's all on paper, but realistically, I don't see much going on," Sivapalan added.

Related Stories:

Outsourcing M'sia to local players: Go regional, or drown in the AEC

Pikom to propose special Asean Economic Community task force for ICT

Startup consolidation and the recipe for regional success

Free flow of trade in Asean: We have the technology


For more technology news and the latest updates, follow us on Twitter, LinkedIn or Like us on Facebook.
Keyword(s) :
Author Name :