Property portal Lamudi raises US$19mil to grow in Asia, Latin America
By Digital News Asia February 12, 2015
Merges its Asia and Latam businesses to form one company, Lamudi Global
Funding boost by APACIG, Holtzbrinck Ventures and Tengelmann Ventures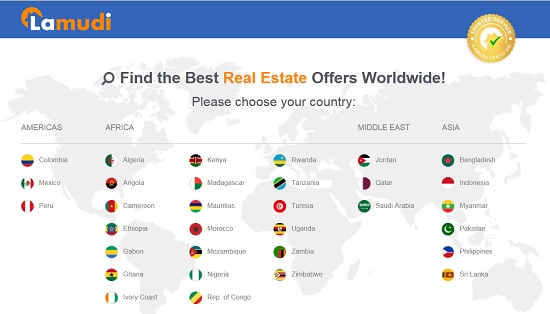 BERLIN-based real estate network Lamudi said it has raised €16 million (US$19 million) in investment to grow its operations in Asia and Latin America.

Lamudi received the multimillion-dollar investment after merging its businesses in the two regions to form one company, Lamudi Global, it said in a statement.

Three investors have backed the business: Asia Pacific Internet Group (a joint venture of Rocket Internet and Ooredoo); Holtzbrinck Ventures (the investment arm of the German publishing group); and current investor Tengelmann Ventures, a division of international multi-sector retailer Tengelmann Group.

"Since Lamudi's foundation, our goal has been to build the biggest real estate platform in emerging markets," said Lamudi global cofounder Paul Philipp Hermann.

"In less than two years, we have created a comprehensive online database for house-hunters that stretches from the Philippines to Peru.

"This significant injection of funds is a great vote of confidence in Lamudi's business model and speaks volumes about the demand that exists for online property search in emerging countries.

"We will use the investment to improve our product on both desktop and mobile, while further consolidating our leading position across Asia and Latin America," he declared.

Launched by Rocket Internet in October 2013, Lamudi is a global property portal operating exclusively in emerging markets. Since its launch, it has expanded to cover 32 countries in Asia, the Middle East, Africa and Latin America.

Lamudi claims to now host more than 550,000 property listings in Asia and Latin America alone.

In April 2014, Lamudi received €5 million (US$7 million) in funds from Tengelmann Ventures and other undisclosed investors to boost its Asian operations.

In 2014, it released its Android and iOS apps in a bid to meet the growing demand for mobile property search in emerging markets.

Related Stories:

Rocket Internet property portal Lamudi gets US$7mil for Asian ops

Singapore property rental portal 99.co makes official debut

'Mobilising' the Malaysian rental market with myRent

PropertyGuru: Yesterday Singapore, today SEA, tomorrow … ?


For more technology news and the latest updates, follow us on Twitter, LinkedIn or Like us on Facebook.
Keyword(s) :
Author Name :