Samsung's Galaxy A8 sports a slender body with big features
By the DNA Test Team September 14, 2015
SAMSUNG Mobile has extended its presence in the ultra-competitive mid-range segment of the market with its Galaxy A series of smartphones that kicked off with the release of the A7 last year.
It was a fashion-oriented approach and came with a price tag significantly below its Galaxy S and Note cousins. This year's Galaxy A8 follows much of the playbook from the original Galaxy A7 with updated hardware to meet current standards.
Look and Feel
This is Samsung's slimmest smartphone ever, and at just 5.9mm on the side, it is more svelte than Samsung's flagship Galaxy Note5 and rival iPhone 6 Plus.
However, it's not a small device by any means, considering it is still a phablet with a 5.7 inch display.
Available in black, white and gold, the device definitely exudes a premium feel, with its unibody lined with chamfered edges machined from aluminium, while the back plate and parts of the bezel are made of high quality plastic.
Due to its size, the top of the Galaxy A8 is unadorned, save for two narrow plastic bands interspersed between the aluminium for better signal reception.

And like most Samsung models, you'll find the power button on the right side and volume keys on the left. These buttons are also made of aluminium but their edges felt a little too sharp for our liking, though.
The SIM card slot is also positioned on the left. Our review unit, a Malaysian variant (with a 'Duos' suffix in the name) is a dual-SIM unit but this device is available in single SIM variants in many other regions.
The SIM card housing lets you choose between using a second SIM or a micro SD card of up to 128GB in size, but not both.

On the base of the A8, you'll find a micro USB port as well as a 3.5mm audio jack. If you usually plug in your headphones at the top, you'll have to get used to this new orientation, then.
Consistent with the company's new design philosophy, the back plate of the A8 is non-removable (and therefore the battery is also non-removable) and consists of a single slab of polycarbonate punctuated by the Samsung logo near the middle and the rear camera lens above that, flanked by a mono speaker and a flash.
The placement of the speaker mitigates the usual problem of speakers placed on the top or bottom edges of the phone getting muffled by your hands when held in landscape mode.

The front has Samsung's usual hallmarks including a front-facing 5-MP camera, a capacitive back and menu button and an unusual bonus at this price point – a home button that doubles as a fingerprint reader.

Overall, the A8 is well crafted and is a showcase of the company's engineering prowess in being able to cram a 5.7-inch screen in a phone this slim and compact.

The only flaw, if we could call it one, is the protruding camera lens assembly out back, necessitating some care when you place it on flat surfaces, lest you scratch it, but again this design is consistent with Samsung's flagship models.

Dazzling display and camera chops

The 5.7-inch Full HD display of the Samsung A8 is larger than its predecessor but retains the Super AMOLED (Active Matrix Organic Light-Emitting Diode) technology that Samsung is famous for.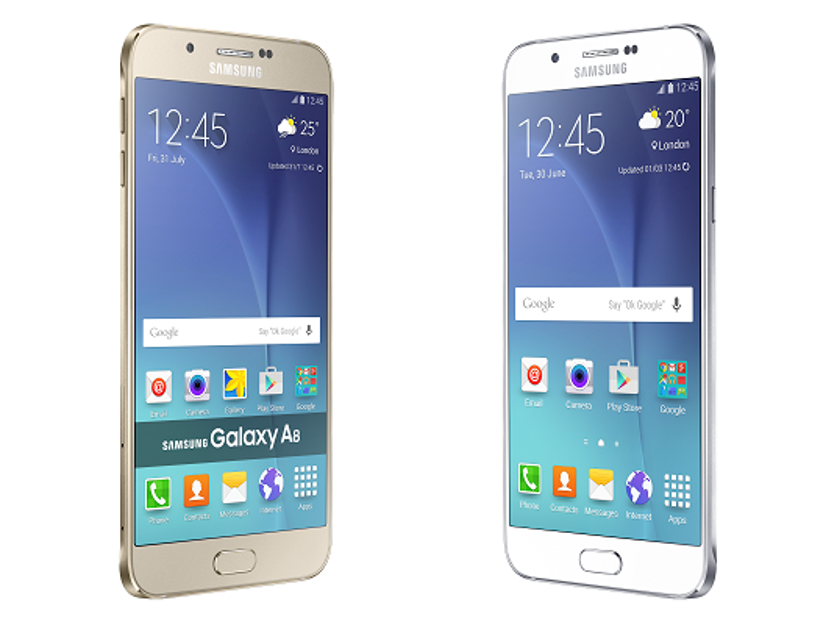 Due to the larger size, the pixel density has been slightly reduced at 386ppi (pixels per inch) compared to the A7's 401ppi, but that doesn't take away from the fact that it remains vibrant with bright and saturated colours, delivering sharp and crisp texts.
Samsung's recent models allow you to tweak the colour settings on the display with up to 4 different menu settings, and on the A8 it's no different.

By default, the display
(pic above)
is set to 'Adaptive' which automatically tweaks the colour range, saturation and sharpness according to the content on the screen.
You could also opt to set it to 'AMOLED cinema' (for movie playback), 'AMOLED photo' (for viewing images), or simply 'Basic' that mutes the colours down a notch or two for more realistic tones.
As for imaging, Samsung has clearly delivered the goods here.
The rear camera on the Galaxy A8 has a 16 megapixel sensor with an impressively bright f/1.9 lens (great for low-light shots), along with auto-focus and an LED flash. It lacks the Optical Image Stabilisation (OIS) feature found in the Galaxy S6, but for a mid-range Samsung model, we didn't expect it to be included.
The front camera is endowed with a 5 megapixel sensor and a similar f/1.9 lens. Both the front and rear cameras are capable of capturing up to 1080P video.

Samsung seems to have integrated a lot of the functionality and user interface tweaks from the S6 flagship into the camera software, including a number of shooting modes, but the most important trick it has up its sleeve is you can immediately access it by double clicking the home button.

On top of Auto mode, it also comes with (pic below) Panorama mode, a Pro mode that lets you adjust the camera settings separately, a Continuous shot mode (for burst shots), a Night mode and a HDR (High Dynamic Range) mode for high-contrast lighting situations.
The front camera also comes with a Wide Selfie mode that stitches a panoramic shot to include more subjects into the frame and an Interval shot mode that snaps four pictures in sequence for you to pick from.

Shots taken in well-lit conditions such as outdoors offered good details and colour rendition in Auto mode. HDR mode offers better results in areas with more challenging contrasts, like areas shrouded in shadow. There's still some noise with pictures taken in low light conditions, but that's kept under a tight leash.

As you can see with the photos below, this mid-range phablet has benefited from the imaging algorithms which have gone into the company's flagship products, and that's a good thing.
Full of power yet not power hungry

Our Galaxy A8 came with the octa-core Exynos 5430 chipset, backed by 2GB of RAM (memory) and 32GB of on-board storage (with 25GB of usable space).
In terms of memory capacity it loses out to contemporaries like the Huawei Honor 6 and One E9+ which both pack more RAM, although 2GB is more than enough to run more than a dozen apps at a time without any problems. Still, it feels like a wasted opportunity to future-proof the product.
When it comes to audio performance, the unique placement of the sole speaker ensures that it's audible when in use, be it in landscape or portrait mode. It is able to offer quite a bit of volume, although clarity and fine details seem muted. More than enough for casual listening and the odd video or two, but not beyond that.
The smartphone runs on Samsung's latest version of TouchWiz user interface over Android Lollipop 5.1.1 and has, based on feedback in prior versions, removed a huge chunk of bloatware leaving it fairly clean as user interfaces go.

But that doesn't mean preloaded software (or bloatware as some reviewers would say) have been banished. Bundled by default is the Line chat app and a slew of Microsoft apps including OneNote, Skype and OneDrive, along with a free 100GB of storage for two years.
Samsung has also provided a Smart Manager (pic above, right) app that helps to get a handle on and manage your remaining battery life, storage space, RAM and hardware security in one convenient app, if you find these utilities convenient.
By default, Samsung's security solution for enterprises, Knox is disabled. Enabling this means installing a secure partition on the device for corporate data, but the trade-off is an extra second or so to the boot-up time. This usually isn't necessary for most mainstream users unless privacy is a big concern.
As for the fingerprint reader, we're happy to report that it is responsive and effective and helps to shave off a few seconds of access time to unlock your phone.
Overall, the Galaxy A8 handled everything we threw at it, providing smooth, relatively lag-free experience with web browsing and e-mails, as well as the occasional gaming indulgence like Clash of Clans and Candy Crush Saga.
Mind you however, it is not the fastest phone on the block - but we believe its grunt is more than sufficient for all but the most demanding power user.
Battery life on the A8 is a bright spot, with its built-in 3050mAh battery. Using a single SIM, it lasted a good day and a half with average use of e-mail, phone calls, Skype and web browsing, although your mileage will vary if you use a second SIM card or more processor intensive apps.
As it stands, Samsung's Galaxy A8 is a successful update of the A7, offering a fingerprint sensor, a larger screen, more storage and better cameras.

Granted, its specifications may pale in comparison to the Huawei P8 and HTC One E9+, but what it offers rates relatively well with contemporaries in its price range.

The HTC One E9+ for example offers a 2K display (2560 x 1440 resolution) and a 20 megapixel camera at a slightly higher price point – but it doesn't come with a Super AMOLED display nor a fingerprint reader.

If you place a premium on the Samsung brand and its stylish looks, while staying within the sub-RM2000 / S$650 budget, the Galaxy A8 is well worth a look.

Keyword(s) :
Author Name :