Malaysians need their MPs to be on the ball come Oct
By A. Asohan March 23, 2015
Amendments to two cyberlaws more wide-ranging than initially thought
MPs have to remember that their duty is to the people, not to their parties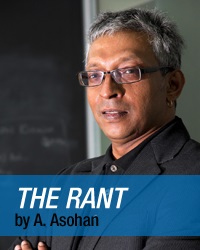 A MAJOR announcement was made last week in Parliament that would have probably slipped the notice of most Malaysians, but which may have dire repercussions for freedom of expression on the Internet.

In responding to a question by Bung Mokhtar Radin, the Member of Parliament (MP) for Kinabatangan, Communication and Multimedia Minister Ahmad Shabery Cheek said that amendments to the Communications and Multimedia Act (CMA) 1998 and Malaysian Communications and Multimedia Commission Act 1998 are expected to be tabled in October, or early next year at the latest.

The fact that these two laws are being amended is not news: The minister had first announced this surprising development after he had abruptly ended the tenure of former Malaysian Communications and Multimedia Commission (MCMC) chairman Mohamed Sharil Tarmizi at the end of December last year.

Ahmad Shabery had said then that the amendments were necessary to decouple the role of chairman from that of chief executive officer, but until now has not explained how this would "enhance governance" within the industry regulator.

This came when he announced the appointment of former Telekom Malaysia Bhd chairman Dr Halim Shafie as MCMC chairman.

Then, it had looked as if the amendments would be purely an administrative affair.

Not any longer, going by last week's news.

In response to Bung Mokhtar's question, the minister said that the amendments would involve improving administrative, preventive and enforcement measures when it comes to "monitoring cyber activities" and to "curb the abuse of Internet use."

"The amendments … are necessary to update the existing laws and give more bite in enforcement, including penalties and better preventive efforts, in a more holistic approach," Ahmad Shabery said, according to a report in the online version of English daily the New Straits Times.

Both Bung Mokhtar and Ahmad Shabery are from the ruling coalition, the Barisan Nasional (BN). The former has been an unwavering critic of the MCMC and Sharil's chairmanship, describing the Commission as a "toothless tiger" for not cracking down hard on online dissent, or any criticism of the Malaysian Government on the Internet.

Indeed, many industry players suspect that Sharil was shown the exit for not 'cooperating' sufficiently with the government of the day. For his part, the former MCMC head has always argued that ensuring the Internet is not censored is one of the bedrock principles on which Malaysia is building its digital economy.

Ahmad Shabery's surprising announcement last week came as the attention of most Malaysians and their MPs were taken up by the passing of hudud or Islamic laws in the state of Kelantan, as well as on-going concerns such as the Goods and Services Tax (GST) that goes into effect on April 1, and even more exposés of controversial debt-ridden sovereign fund 1Malaysia Development Bhd (1MDB).

Which is why Malaysians MPs, whatever their political affiliation, must be aware of what's brewing and must be prepared to give the proposed legislation due process and consideration.

Do not be caught by surprise as you were in 2012 by the controversial amendment to the Evidence Act 1950, which was passed to counter online sedition and defamation.

That amendment, under Section 114A, holds Internet users liable for any content posted through their registered networks or data processing devices. It overturned the burden of proof: The owner of a site or device is now presumed guilty and has to fight to prove his innocence.

The amendment was gazetted by then de facto Law Minister Mohamed Nazri Abdul Aziz, who originally tabled the Bill in Parliament for its first reading on April 10, 2012, together with a raft of other new legislation. It was passed by the Dewan Rakyat on April 18 with barely a debate, having passed under the radar of most MPs.

Despite vehement protests by civil advocates, industry associations and the people of Malaysia, the law is now in effect, and as noted by lawyer and Digital News Asia (DNA) columnist Foong Cheng Leong, is being applied inconsistently over many court cases.


In his reply to Bung Mokhtar last week, Ahmad Shabery (pic) pointed out that existing 'offline' laws already apply to the Internet world, such as the Sedition Act. Of course, the same could have been said of the defamation laws in the country, but that didn't stop the Government from bulldozing through Section 114A.

And if Barisan MPs believe it is their duty to vote along party lines, and not according to the wishes of their constituents and the people of Malaysia, they need to be reminded of their duties, which was what their colleague Tengku Razaleigh Hamzah did last week.

The MP for Gua Musang said that "all elected reps have to make a decision if they want to fulfil the pledge they made when they were first elected as a member of this Dewan, or if they are willing to relinquish their right to powers outside the Dewan Rakyat."

"The decision has to be a fundamental decision for the people. It is a historic decision if they want to serve and bow to the needs of the people or if they want to be with the party leadership," he said, according to The Malaysian Insider, adding that they should make their decisions based on their conscience.

Razaleigh, affectionately known as 'Ku Li,' said that the Parliament is the institution responsible for the wellbeing of the country and its citizens. As members of Parliament, federal lawmakers have taken an oath to serve the country as well as uphold the Federal Constitution in the interest of the people.

"Let me remind you the pledge is not for any parties or their leaders," he added.

It was considered a hard-hitting speech by some, but really, what Malaysia's longest-serving lawmaker did was nothing other than give his fellow MPs a lesson on Parliamentary Democracy 101.

That there is something fundamentally wrong with a system in which party loyalty takes precedence over service to the people and the nation can be seen by the effort by several civil society groups which have been asking for parliamentary reforms.

They have even suggested that each parliamentarian be given at least one research assistant, which would allow them to make decisions based on feedback, data and intelligence, instead of according to instructions by party leaders.

Now, we have no idea currently what form these upcoming amendments to the Communications and Multimedia Act (CMA) 1998 and Malaysian Communications and Multimedia Commission Act 1998 will take.

For all we know, it may be common sense amendments meant to plug holes and strengthen these two laws so that justice can be served more fairly and effectively.

But I wouldn't bet on it.

In a well-functioning democracy, MPs would be given ample time to collect feedback and do their own research on any proposed legislation. It didn't happen with Section 114A.

But it needn't happen now with these two 'cyberlaws' either. Prepare yourselves, is all I'm saying.

Related Stories:

Block Facebook? Why not go the whole nine yards?

#Stop114A: It's no longer about the law, it's about government

Internet censorship: You've already won, Dr Mahathir


For more technology news and the latest updates, follow us on Twitter, LinkedIn or Like us on Facebook.
Keyword(s) :
Author Name :