Disrupt #27: Hot enterprise tech trends of 2015
By Karamjit Singh January 15, 2015
Panellists to predict what large clients will invest in
Which tech verticals will see strong uptake from market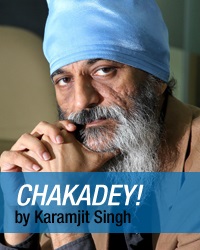 GETTING a feel for the corporate tech market, or enterprise market as it is more commonly described, is not that difficult.

The month of December brings out the research houses and tech multinationals in full force as they strive to project themselves as thought leaders by sharing their predictions of what some of the key tech trends in the market will be in the following year.

For the tech research companies, it is lucrative because both the tech and large non-tech companies need to keep their fingers on the pulse of the fast moving tech industry.

For the non-tech companies, no executive in their tech units wants to have to explain to the bosses why they missed out on investing, be it from a skills perspective or from purchasing, some key tech tools critical to the competitiveness of the company.

Digital News Asia (DNA) itself has carried some of the predictions by tech vendors and consultants. But what we are going to do with next week's DNA-TeAM Disrupt panel discussion is going to be more fun.

At Disrupt #27: Tech Trends for 2015, we are bringing you key executives who have their fingers on the pulse, from an enterprise view. They pretty much know which technologies are going to see some investments in, and why.


While I can't tell you who the other two are, as they need to finalise their busy schedules, I am happy to announce that our first panellist is Hitachi Sunway Information Systems group chief executive officer and director Cheah Kok Hoong (pic).

Hitachi Sunway was formed in early 2013 as a joint venture between Hitachi Systems Ltd, a wholly owned subsidiary of Japan's Hitachi Ltd; and Sunway Technology, a privately owned entity of Malaysia's Sunway Group.

Participants can expect to hear some interesting anecdotes from Cheah, who known for being a straight-shooter, and brings with him three decades of industry experience. He is also the current chairman of the National ICT Association of Malaysia, or Pikom.

Tech entrepreneurs may find it useful getting to know Cheah, as he will know the tech needs of the Sunway Group, one of the largest conglomerates in the country.

DNA-TeAM Disrupt is a monthly panel discussion and gathering organised by DNA and the Technopreneurs Association of Malaysia (TeAM), with the Malaysian Business Angels Network (MBAN) as a supporting partner.

This month's DNA-TeAM Disrupt will be held on Wednesday, Jan 21 from 5.30pm to 7pm at the Wisma N2N Auditorium, Tower 2, Avenue 3, Bangsar South, No 8, Jalan Kerinchi, 59200, Kuala Lumpur.

To RSVP for the event, click below:
Related Stories:

The '6Cs' to disrupt IT marketplace in 2015: 451 Research

Top 10 trends for business intelligence in 2015

Forrester's top tech predictions for APAC in 2015

TeAM and DNA out to 'Disrupt' the ecosystem


For more technology news and the latest updates, follow us on Twitter, LinkedIn or Like us on Facebook.
Keyword(s) :
Author Name :