The bold, the brave, the inspiring…meet the 2020/2021 batch of Digerati50
By Karamjit Singh July 4, 2020
Highest number of female entrepreneurs in current Digerati50 edition
Malaysia's Digital Economy will be built on back of its tech entrepreneurs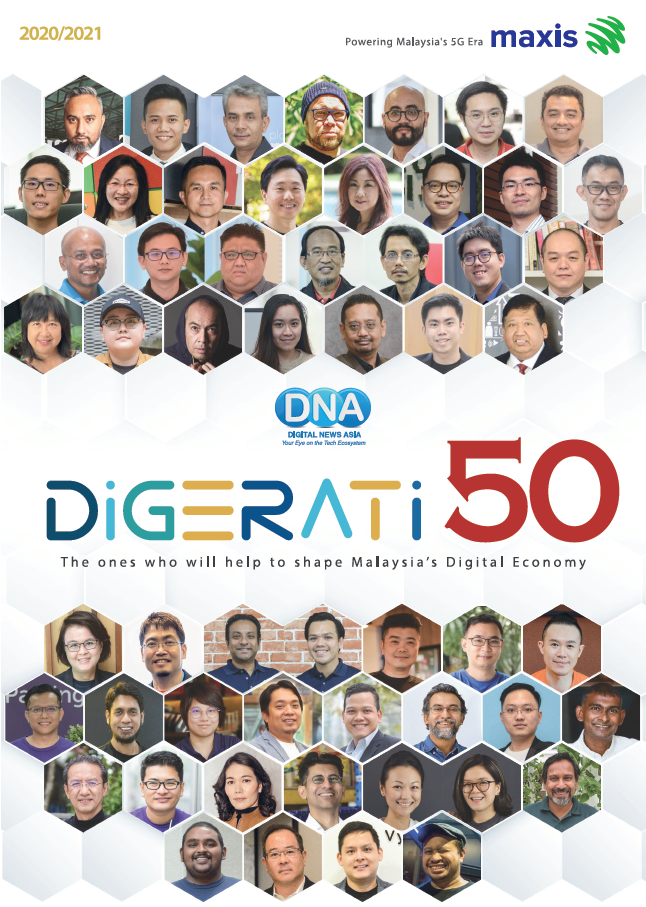 DNA is pleased to present the 2020/2021 batch of its Digerati50, which is always a fun project for us. Identifying 50 Malaysian or Malaysia-based entrepreneurs whom DNA feels will help shape our Digital Economy is challenging and stressful but, ultimately inspiring. We truly have some world-class tech entrepreneurs in the country as you will find in the following pages.
But as I highlight in each of my past Founder's Note, the list is not definitive. Even though DNA is a tech media and is familiar with the tech ecosystem of Malaysia, there are some entrepreneurs who like to keep their heads down and just focus on building the business and there are probably many whom we still do not know about. Power to them!
Readers need to know that none of the entrepreneurs were told they were being considered by DNA as a Digerati50. This ensures there is no commercial influence when we make our picks. This is sacred to us.
While we call this our Digerati50, we don't stick to only choosing 50 individuals. But we try to pick only one person and where there is more than one founder, we have gone with the CEO as our pick. The one exception is with Asia Mobiliti, where the CEO, Prem Chandran, is a Digerati50 alumni through another venture. But cofounder Ramachandran Muniandy, a former pastor, mind you, fully deserves our vote. And in instances where the founders are of different nationalities, we have opted for the Malaysian. Still in this batch, there were four instances where we picked both founders.
[An earlier version had the wrong name for Ramachandran and his company Asia Mobiliti. The errors are regretted.]
There is no right and wrong way to do this but I just want to share how we have picked the people you will read about.
Our theme for Digerati50 since our inaugural issue in 2014/2015 has always been, "The Ones Who Will Help Shape Malaysia's Digital Economy". We believe this theme will still be relevant even for the 2022/2023 edition as Malaysia strives to build a strong Digital Economy on the shoulders of its entrepreneurs. And DNA is really pleased to note that that we have our highest number of female Digerati50 in this edition at almost 20%.
Go Gorgeous Geeks!
Another key point about Digerati50, besides the fact that none are aware they have been picked, is that we only come up with our Digerati50 once in two years. The reality is that Malaysia does not have a deep enough pool of tech entrepreneurs coming up with bold, crazy, aggressive ideas whom we can feature yearly.
It's a daunting task as we try to pick entrepreneurs whom we feel are building something meaningful, taking on hard challenges and wanting to build better products and services. And Covid-19 has certainly made every entrepreneur's life that much more challenging. Entrepreneurs will not face a more difficult time than now but there is always light at the end of the tunnel.
As Aaron Sarma (entrepreneurs are profiled alphabetically), who kicks off our 4th Digerati50 edition, tells me, "I'm telling entrepreneurs they have to do everything possible to survive this extreme event and come out standing in 2021. Those who can will find a market with fewer competitors and will themselves be battle hardened to take on anything." Indeed, do anything and everything you can to survive and then kick it up to thrive once life settles into a new rhythm, living with Covid-19.
It is tough out there for sure, but don't think there are no opportunities. Listen to what Mark Zuckerberg said in May 2020. "I've always believed that in times of economic downturn, the right thing to do is keep investing in building the future. When the world changes quickly, people have new needs, and that means there are more new things to build."
Cynics may dismiss that view, coming from someone with immeasurable resources at his disposal but don't discount human ingenuity, positive thinking and entrepreneurial instinct to identify and tap opportunities.
This edition of Digerati50 is also different in that we have not picked any technocrats. Put that down to the political situation, with a third government in place over the last two years. Each administration wants to pick its own candidate to head the various agencies.
Moving on to our featured Digerati50, these are not picks based on revenue, though this time around we have an AI company that claims to have US$500 million in annual revenue. The founders of Skymind are two childhood friends from Perlis. Malaysia's tiniest state now has something other than mangoes to shout about.
We have some super talented and passionate animators in our picks as well, and I urge you to purchase their games and watch their shows.
And then there is Kamarul Muhamed, founder and CEO of Aerodyne Group who is proudly flying the Malaysian flag on the global stage, recognized as one of the top three drone service companies in the world. This is the highest a Malaysian technology company has been ranked in any category. Fly higher, Kamarul!
There are many interesting and inspiring stories in the subsequent pages. I trust you will enjoy them as much as we have enjoyed bringing them to you.
As the hard copies are already out some Digerati50 have already called to express their thanks and one said he was honored. In truth, the honor and the privilege to bring their stories to readers, is all ours.
We thank them all for being brave and bold in launching their ventures and fighting tooth and nail to overcome obstacles (or as one Digerati50 alum elegantly put it, "I've been through so much shit over the past 5 years") to grow the business, to create knowledge worker jobs, to expand regionally, to own Intellectual Property and in doing so, help build out Malaysia's Digital Economy. They inspire us.
DNA will also publish each of the 50 profiles in alphabetical order, once a week, starting on Sat July 11, so watch out for those. Many of the profiles will be longer than the ones in the print edition where due to design considerations, we capped each article at 700 words. That was tough to do!
To all digital disruptors out there ... Chakadey!
---
Digerati50 2020 is proudly sponsored by Maxis...Powering Malaysia's 5G Era
For reprint inquiries please email: [email protected]
Note that hard copies of Digerati50 have been distributed via The Edge Malaysia, to their Klang Valley subscribers only and to individual retail stores (Not at the book store chains or MyNews).
Keyword(s) :
Author Name :