Digerati50: The Disruptor, The Inspirer
By Karamjit Singh April 8, 2017
Never, ever, underestimate the potential of your staff
It's about the idea. It's about the passion. It's about implementing it.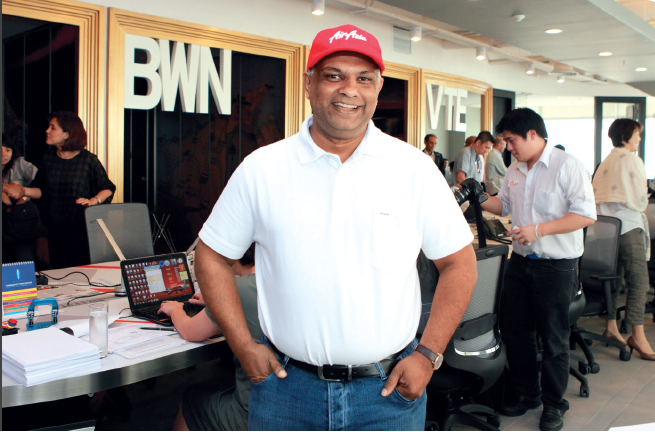 Digital News Asia (DNA) continues its series that profiles the 50 influencers who are helping shape Malaysia's Digital Economy, from Digerati50 2016-2017 (Vol 2), a special print publication released in February 2016. The digital version of that publication can be downloaded from the link at the top right corner of the page thanks to the sponsorship of Telekom Malaysia Bhd, Malaysia's convergence champion.
For information on customised reprints email [email protected]
SURE, AirAsia cofounder Tony Fernandes turned the airline industry on its head by making flying affordable to all, but aviation is a traditional industry and hardly one that comes to mind when one thinks of the digital economy.
But here's the thing: The outspoken entrepreneur has already made an impact in shaping the digital economy. After all, most Malaysians' first experience with e-commerce was probably buying AirAsia tickets online, a fact that many technology entrepreneurs have readily acknowledged.
AirAsia's business model – built on web technologies – pretty much disrupted not only the airline industry, but the travel agency business as well. It is something he has must have kept in mind with the other company he cofounded, Tune Group, which has ventures in the hotel, insurance, music, financial services, education, and other sectors.
Having seen the potential of digital technologies to transform traditional businesses and also create new ones, in April 2015 he and his partners launched Tune Labs, a startup incubator and accelerator. The vision? To help "unleash the full potential of Southeast Asian entrepreneurs."
"It has always been a personal goal of mine to promote and grow the startup scene in Southeast Asia," says Fernandes. "There's a lot of talent in the region which, to date, has lacked the access and opportunities that have been readily available to budding entrepreneurs in the West," he adds.
With AirAsia's success regionally, Tony has also inspired many young entrepreneurs (directly or indirectly) to overcome their inferiority complex and pit their business ideas against larger rivals. One example is the group's mobile communications business Tune Talk.
"Tune Talk wasn't my idea. It was Jason Lo's idea. We funded him. He created Tune Talk," says Fernandes. Besides inspiring young entrepreneurs, he is also known for being willing to provide opportunities to hardworking and bright employees. Over the years, numerous AirAsia employees have walked up to him and told him their plans and aspirations. Without hesitation, he encourages them to pursue it.
As a result, the company has cabin crew and on-the-ground staff who eventually passed the necessary tests to become qualified flight pilots. While Fernandes played a role in turning these dreams into reality, he stresses that this was only possible because of the company's flat organisational structure.
"I truly believe that the biggest assets besides the idea is your people. After all, it is the people who deliver your idea. Never, ever, underestimate the potential of your staff," he says.
Speed of execution is another Fernandes trait. In his keynote address in Digital News Asia's inaugural What's Next conference in September 2015, he spoke about AirAsia venturing into e-commerce. Four months later, BigDutyFree.com was soft launched – a portal that allows customers to buy duty-free products online and have the items delivered to them when they get on the plane.
While he has many useful tips and advices for aspiring entrepreneurs, his key message is: It's all about the passion. "Don't let anyone tell you that you can't do it. I came from the music business. I knew nothing about planes.
"To all entrepreneurs out there, you don't need to know everything about what you want to do. It's about the idea. It's about the passion. It's about implementing it.
"Dreams do come true, don't worry about failure. You've got one life, make the most out of it, and nine times out of 10, if you have the passion, you will find a way to work through it."
For more technology news and the latest updates, follow us on Facebook, Twitter or LinkedIn.
Keyword(s) :
Author Name :