VSP 5000: Hitachi Vantara's New 'Biggest', 'Most Reliable' Enterprise Array
By Dzof Azmi October 24, 2019
Target market includes fintech companies, manufacturing plants & govts
Maximum capacity of 69 PB, read-write speed of 21.7M IOPS, eight 9's availability
Hitach Vantara has announced the Virtual Storage Platform 5000 series (VSP 5000) as a new storage solution they are calling the "World's Fastest Enterprise Array". Forty percent faster than products offered by their closest rivals while offering twice as much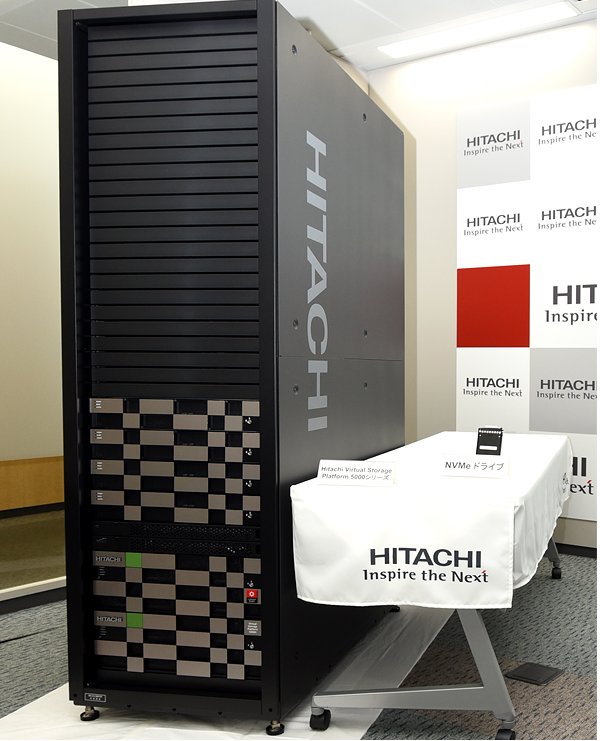 capacity and clearly a bit of an overkill.
The product boasts a read-write speed of 21.7M IOPS, a maximum capacity of 69 PB (the densest individual drive available will be 30TB), and a latency of 70 microseconds, along with "eight 9's" availability (99.999999%). "If you're keeping score, that's the biggest, that's the fastest, and that's the most reliable," boasted Dan McConnell, Hitachi Vantara SVP of Product Management for Enterprise Infrastructure at the recent Hitachi Next 2019 conference in Las Vegas earlier this month.
The VSP 5000 also comes with a 100% data availability guarantee (as with all VSP models), and is packaged with the Hitachi Ops Center Administrator template that aims to simplify management and streamline workflow, through use of automation.
Cheaper than the cloud?
Does such a high-end device still play a role in enterprise outside of dedicated data centers, given the current trend of companies moving operations to the cloud? KC Phua, Hitachi Vantara Technical Director for Data Management & Protection, APAC believes the decision may not be as straight-forward, and that the climate currently was more towards a hybrid solution.
"The economics of going to the cloud is not as simple," said Phua, referring to the fact that cloud providers have a recurring monthly charge as well as a quota. "It's cheap to put (data) there, it's very expensive to bring it back and process it."
"Most of the time the cost of administrating one terabyte of data does not justify the cost of going into the cloud," he concluded.
Performance Fit For Fintech, Manufacturing, and Governments
So who would be using so much data that is so mission critical to their needs? Phua anticipates financial institutions and fintech companies, manufacturing (especially given the vast amount of data to be generated by IoT), and even governments, with Singapore given as a specific example.
In fact, Phua revealed that one bank had already purchased a solution even though it was before the launch, and he believes there's an even greater demand from Fintech companies. "I would argue they need this capability more than traditional banks," he said. "They have to look for a more robust system than a traditional bank. Fintech needs this infrastructure to be alive 24 hours by 7".
Still, ownership of the VSP this sort of performance and reliability doesn't come cheap. For example, 100 TB of space will cost between US$600,000 and US$800,000. Phua explained that in fact enterprises will buy multiple units of the same system because of disaster recovery solutions. For example, the requirement in China is for banks to have it span three data centers in three different cities.
"It's expensive," said Phua. "But it's serving a far greater good, for their needs."
Related stories:
Keyword(s) :
Author Name :