Singapore unveils task force to boost semiconductor industry
By Benjamin Cher October 14, 2015
Lion City has neighbours with cheaper electricity and labour
Three key recommendations around innovation, R&D and talent
THE Singapore Semiconductor Vision (SSV) 2020 task force has been unveiled, with its mission to boost the city-state's position as a global semiconductor manufacturing hub.

Global industry association Semiconductor Equipment and Materials International (SEMI) and the Singapore Semiconductor Industry Association (SSIA) will spearhead the task force.

Other members from the public and private sector are the Agency for Science, Technology and Research (A*Star), Singapore Economic Development Board (EDB), Applied Materials SEA, GlobalFoundries Singapore, and Micron.

"We see Singapore's semiconductor industry [as being] in a position of strength and [of] continued importance to the economy," Lim Kok Kiang, assistant managing director of cluster group engineering at EDB, told a media briefing on Oct 13.

Singapore had managed to attract semiconductor companies like Fairchild, National Semiconductor and Texas Instruments early on, according to Lim.

Semiconductor manufacturers accounted for S$51.6 billion (US$36.8 billion) of Singapore's manufacturing output, and the Lion City as a leading location for advanced semiconductor manufacturing, he added.

Singapore currently produces 6% of the world's 300mm wafers, but challenges abound, with its electricity (1.6 times) and labour rates (2 times) significantly higher than neighbouring countries.

"To ensure the continued success of Singapore's semiconductor industry, it is critical to enhance public-private partnership," Lim said.

"The SSV 2020 task force is a major step in the right direction," he added.

The task force have come up three recommendations for the semiconductor industry, focusing on innovation; research and development (R&D); and talent. Individual working groups have been formed to address each area.

Global competitiveness through innovation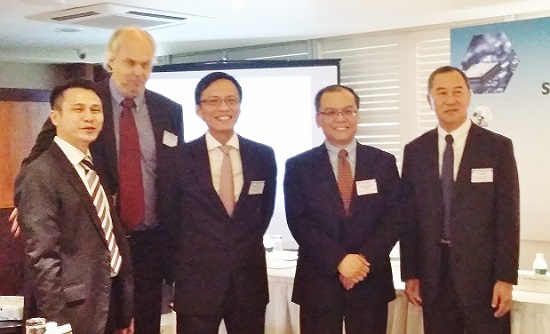 The task force's first recommendation is to maintain global competitiveness through innovation. The priorities for the working group in this area is to see a 25% increase in energy efficiency and productivity over the next five years.

In this regard, two R&D projects have been identified for potential industry-wide implementation. The first is an autonomous robot that would be equivalent to deploying four operators in a wafer fabrication plant.

"One of the top reasons we use automation is for productivity," said Ang Kay Chai, special vice president of GlobalFoundries' Singapore operations, who is leading this working group.

"You have to convince the shopfloor employees to accept these robots and change our workflow to use these robots," he added.

Meanwhile, the working group tackling energy efficiency will set out to identify opportunities to reduce energy consumption of participating companies by 5% per year.

Public-private R&D partnerships

Singapore has always enjoyed a vibrant and productive research sector, with a strong tradition of A*Star working together with companies in the industry, according to Kwong Dim-Lee, executive director of the agency's Institute of Microelectronics.

The R&D working group will look into a public-private platform to engage and strengthen links between A*Star and the industry's R&D programmes.

Besides a public platform, A*Star and other government agencies will lead an annual technology conference which will identify the short- to mid-term needs of the industry, and to then focus research efforts to meet these needs.

The third priority would to evolve the current public-private R&D partnership model to create a unique competitive advantage to create and capture value, according to Applied Materials South-East Asia president Russell Tham.

He said that there were two factors that would determine which areas to focus on.

"One is a more formalised and structured industry consultation that will help A*Star and the public sector identify which areas should be focused on, as Singapore can't be everything to everybody," he said.

"Two is to evolve partnership models to maximise value capture in Singapore," he added.

EDB's Lim added that to seize new opportunities available for the industry, the integration of new technology is even more crucial, and the R&D partnerships need to be more deliberate.

"This is a reinforcement to do more rather than say it has never been done before," he said.

Next-generation leadership
The third and final recommendation is to develop talent, both current and future. The task force is looking to groom top talent, defined as those with the career potential to become a senior manager in a multinational corporation with international responsibilities.

The priorities for the working group would be to set up a Semiconductor Leaders Accelerator programme for 'high-potentials,' or employees who have been identified as having the potential, ability and aspiration for leadership in a company.

The task force aims to partner EDB and the Workforce Development Agency (WDA) to develop an industry-wide leadership programme, with a target to groom 150 such leaders over the next five years.

It also aims to increase student engagement and scholarships to attract such talent, and will partner EDB and WDA to develop initiatives to increase the hiring rate among graduates.

Singapore's semiconductor industry has gone through both the personal computer (PC) and mobility boom. With the Internet of Things (IoT) set to be the next big thing, more will need to be done to ensure the nation's position in the global semiconductor industry.

EDB's Lim was optimistic, however. "While there may be challenges in the near-term, we are confident that our mid- to long-term outlook remains positive," he said.

"By supporting the Singapore semiconductor industry to invest in productivity, innovation and talent, we can ensure that Singapore remains competitive," he added.

Related Stories:

50 years on, Moore's Law still rules: Intel exec

Raising the level of Penang's E&E cluster

Global Foundries' Singapore head to helm SEMI regional board

Be more strategic in R&D efforts, urges CREST chief


For more technology news and the latest updates, follow us on Twitter, LinkedIn or Like us on Facebook.
Keyword(s) :
Author Name :