Covid-19 accelerated online shopping, consumer spending: iPrice
By Digital News Asia March 16, 2021
Overall website traffic of online shopping platforms increased positively
2020 consumers in SEA spend average US$32 per order, 19% higher than 2019
THE e-commerce industry in the six largest Southeast Asian markets is set to continue growing as it will likely reach US$172 billion in value in 2025, according to Google, Temasek, and Bain company.
The Covid-19 pandemic, of course, has accelerated this. But just how much of the region's e-commerce industry was affected? E-commerce aggregator iPrice Group's latest findings show the shifting trends of the region's industry, the company said in a statement.
The Map of E-Commerce Yearend Report 2020, which was conducted in collaboration with SimilarWeb and AppsFlyer, uncovered three major changes in Indonesia, Singapore, Malaysia, Vietnam, Thailand, and the Philippines.
Firstly, it found that 2020 has signified strong customer confidence in e-commerce retail despite mobility restrictions and mounting concerns over the global pandemic.
The report reveals that the overall website traffic of online shopping platforms increased positively across all countries year-over-year. This can be seen mostly in Singapore, which experienced a surge of 35% compared to 2019, followed by the Philippines (21%), Vietnam (19%), Malaysia (17%), Thailand (15%), and Indonesia (6%).
Data also showed that online department stores' web traffic experienced a 52% average increase from Q1 of 2020. This, iPrice noted, could be a tell-tale sign that most countries in the region flocked to online department stores instead of physical stores due to social distancing.
Shopee topped the list as the most-visited e-commerce websites in SEA in 2020, garnering traffic over twice more than second place Lazada.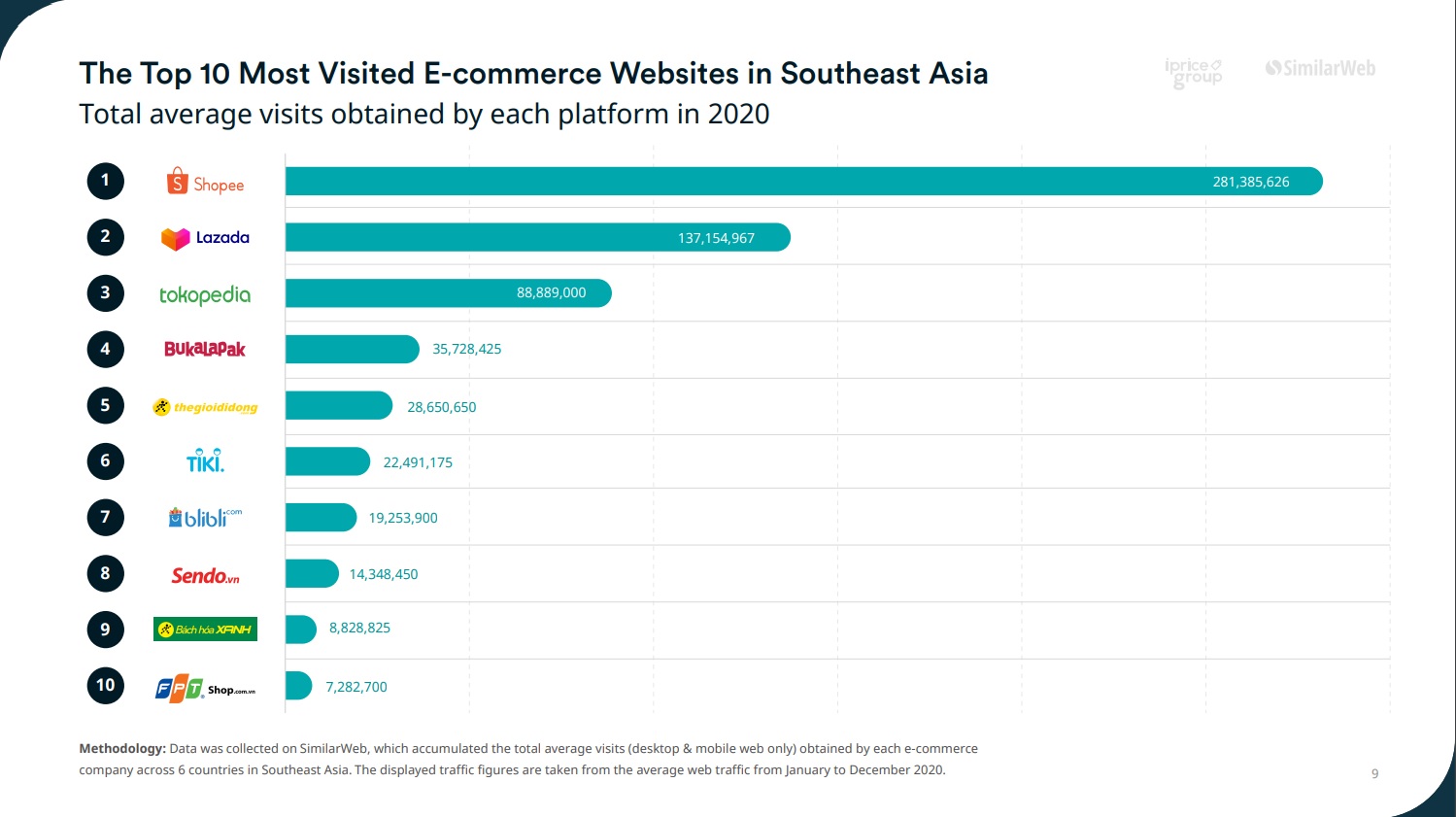 It's not all successes though. Some e-commerce sites' web traffic has taken a beating due to the pandemic. For instance, platforms that offer cosmetic products showed an average web traffic decrease of 35% from Q1 to Q4 2020, iPrice noted. Meanwhile, fashion and electronics sites also experienced a slight decrease of 14% in traffic in the six aforementioned countries.
iPrice said whilst demand for essential goods is necessary, Covid-19 has broadened the online demand of Southeast Asian consumers for non-essential items such as fashion, electronics, health and beauty, and sports and outdoors that has seen an uptake online spending instead.
Southeast Asian spending
Although fashion and electronics sites saw a slight decrease in web traffic, the average basket size for these categories significantly increased.
iPrice Group's platform found that consumers in Southeast Asia spent an overall average of US$32 per order in 2020, which was 19% higher than 2019's. Singapore and Malaysia saw the highest average basket size of US$61 and US$41 respectively in 2020.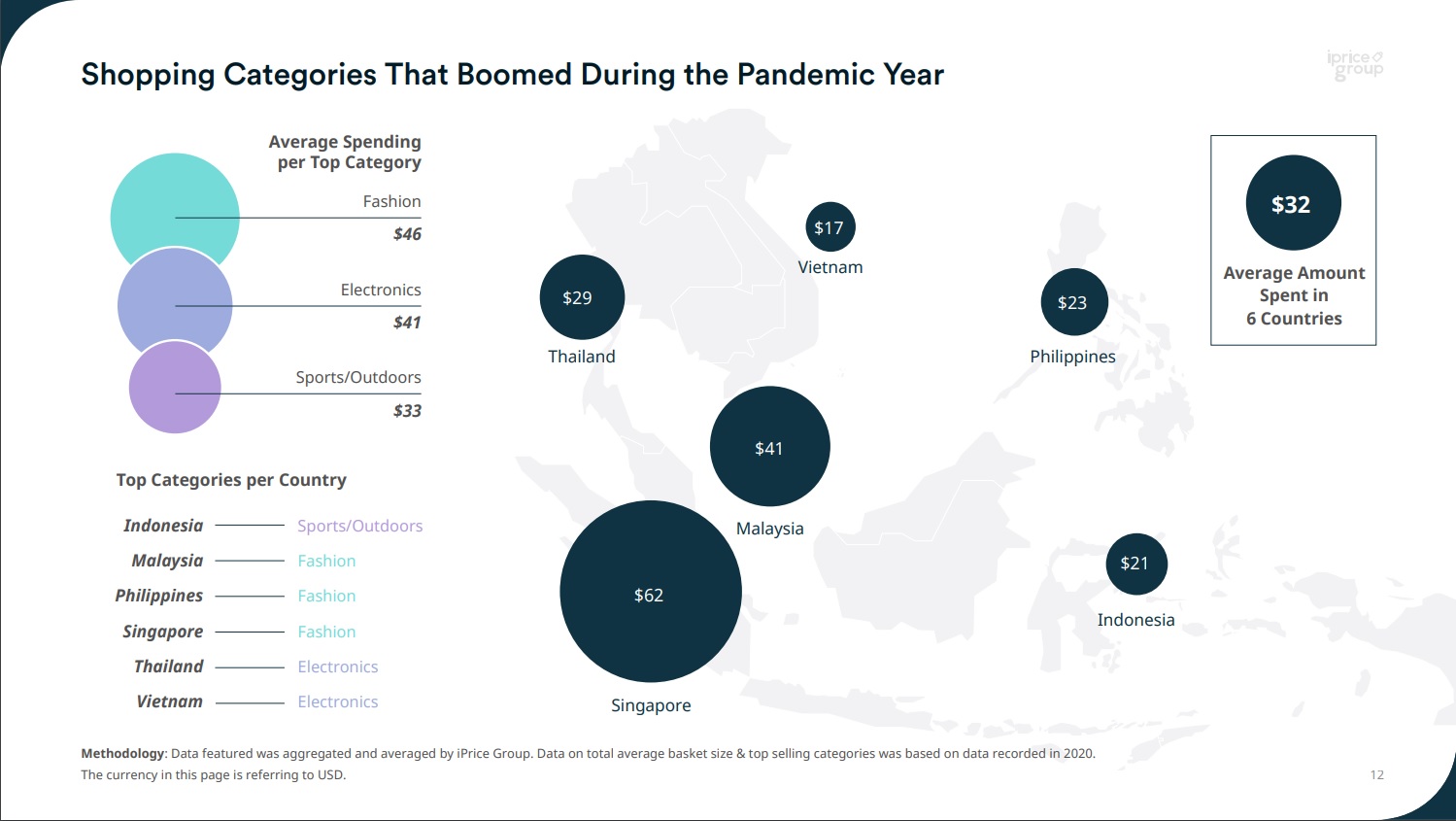 E-commerce apps gained higher install rates. Mobile attribution and market analytics platform AppsFlyer and iPrice analysed over 12.4 million installs and found that there was a 2% average increase of organic installations on iOS & Android's shopping applications from January to June.
Among many things that led to users installing shopping applications were lockdown periods and online sales, iPrice noted.
With lockdown measures were imposed in Indonesia, Malaysia, and Singapore, people installed and tried different shopping apps between March and April. This also coincided with various online sales events such as Ramadhan, while people were being held indoors, iPrice noted.
Meanwhile, the Lunar New Year and Songkran festival also showed a surge of installations in Vietnam and Thailand from January to February.
Major e-commerce companies across the region have also rolled out other marketing campaigns that drew customers through gamified features on the app, as well as free shipping and discounts. Superstars such as K-pop group Blackpink, actor Lee Min-ho, footballer Cristiano Ronaldo, Singapore's e-commerce ambassador's Phua Chu Kang, and others also contributed.
The success of organic installs has not gone unnoticed as the study also recognised six out of 10 Southeast Asian users are still using mobile shopping apps as their primary channel.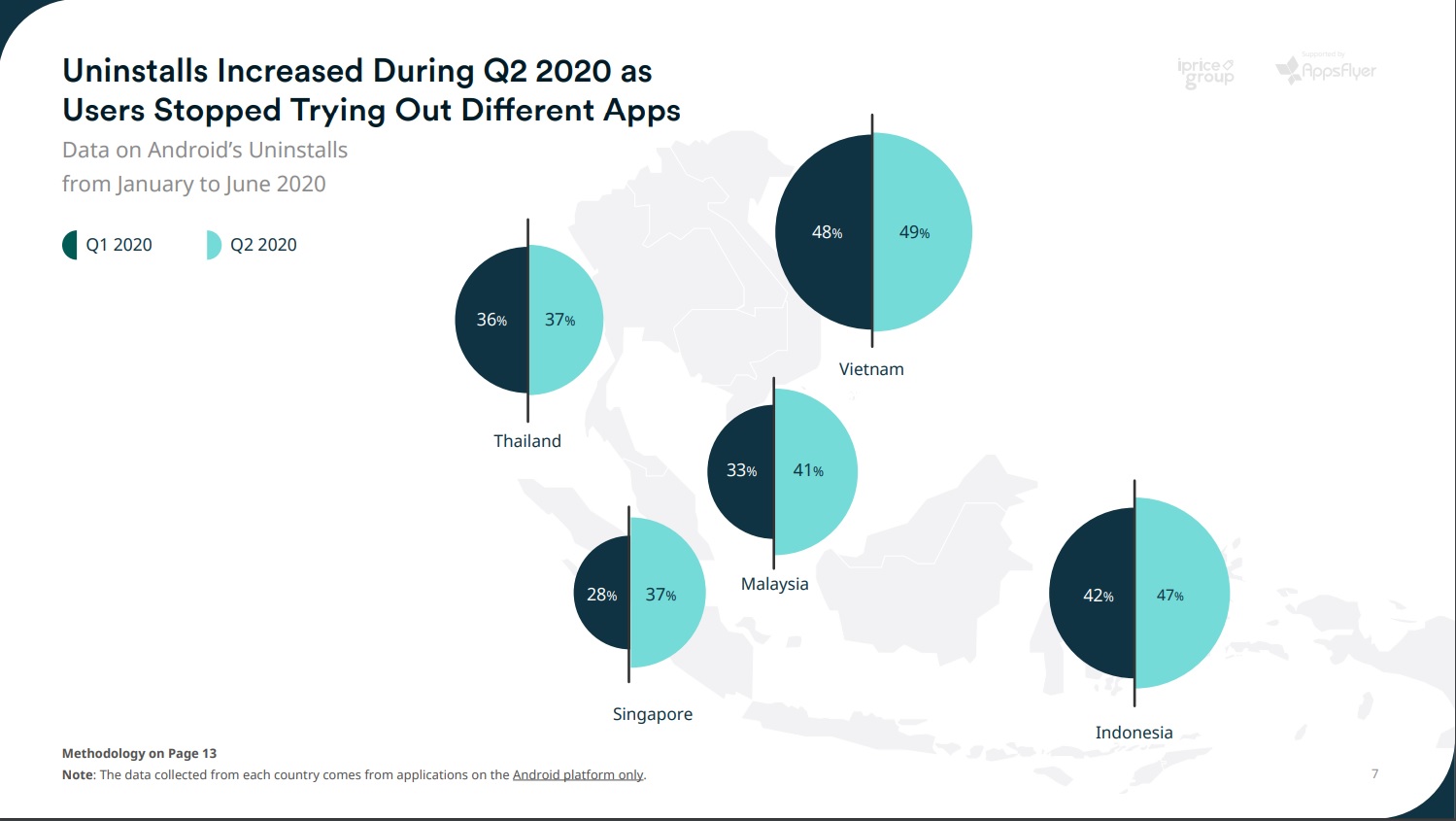 That said, iPrice's data reported that there was an increasing rate of uninstallation in five countries. The highest average uninstallation was led by Vietnam, Indonesia, Malaysia, Thailand, and Singapore with an increase of 49%, 47%, 41%, 37%, and 36% respectively.
It added that this proves Southeast Asian users are more selective of shopping apps by uninstalling apps they don't use as the pandemic continues on.
Related Stories :
Keyword(s) :
Author Name :