Telstra names its muru-D Singapore 'class of 2015'
By Digital News Asia August 19, 2015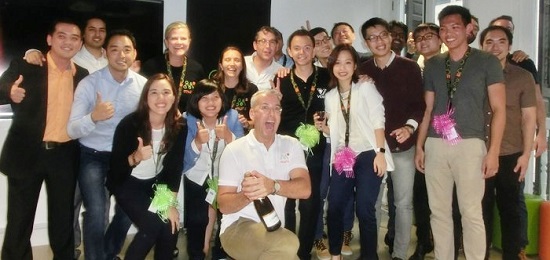 TELSTRA-backed startup accelerator muru-D announced its inaugural class in Singapore, which attracted applications from 15 countries, including Chile and Russia.

Participants in 'class #1,' as Telstra calls it, come from diverse industries, with businesses in healthcare, consumer applications, financial services, law, mobile payments and advertising services represented, with founders from Russia, Singapore, Thailand, the Philippines and Vietnam.

"muru-D is a strategic commitment for Telstra to expand its global footprint and nurture the rapidly expanding South-East Asian startup community," said Telstra Software Group president and muru-D cofounder Charlotte Yarkoni.

"Each company that comes into muru-D is an exciting, potential disruptor in a rapidly changing marketplace, and that is of critical importance to Telstra," she added.

The muru-D accelerator provides each startup with S$40,000 (US$28,400) in seed capital, Telstra said in a statement.

In addition to the funding, muru-D provides an opportunity for the founders to access six months of business support, a collaborative workspace in Singapore's central business district, and introductions to world-class mentors, coaches and investors.


"Building on the successful launch of muru-D in Australia in 2013, we had very high hopes for our inaugural push into South-East Asia from here in Singapore – and we were not disappointed," said muru-D cofounder Annie Parker (pic).

"We were blown away by some of the ideas coming through the muru-D doors, which showcased the very best technology innovation and creativity from across the region," she added.

The nine startups selected for muru-D Singapore class #1 are:
Related Stories:

Telstra's muru-D accelerator makes Singapore debut

'Toolbox' on Singapore startup ecosystem shows it's soaring

Microsoft expands BizSpark programmes for startups in Singapore


For more technology news and the latest updates, follow us on Twitter, LinkedIn or Like us on Facebook.
Keyword(s) :
Author Name :