RinggitPlus.com and SaveMoney.my announce March merger
By Digital News Asia November 25, 2014
Newly-incorporated company from the two teams
Both sites will continue to focus on their specialities however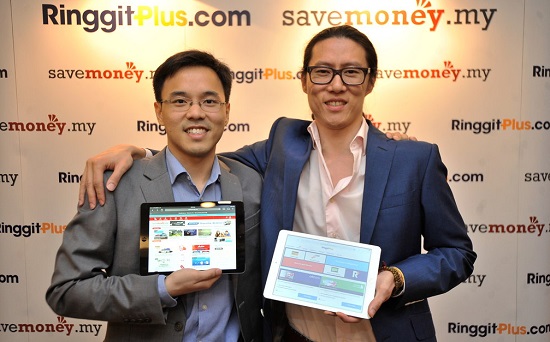 FINANCIAL comparison and application website RinggitPlus.com and personal finance education website SaveMoney.my have officially announced a merger which they said legally took place in March.

The merger followed an informal partnership between the founders of the two sites from April 2013, the two parties said in a statement.

With the merger, Saving Plus Sdn Bhd was incorporated from Ascension Lab Sdn Bhd, the company behind RinggitPlus.com, and Saving Experts Sdn Bhd, the company behind SaveMoney.my.

The two teams are now operating under one roof to help Malaysians get more from their banks and insurers.

SaveMoney.my remains focused on helping users make the most informed personal finance decisions, while RinggitPlus.com will help them find and apply for the best financial products and promotions, the two parties said.

"I came to depend on financial comparison sites for all my banking and insurance products during my stint overseas," said Siew Yuen Tuck, executive director for business development Saving Plus and founder of the site.

"I found that similar services were lacking in Malaysia – which has a financial landscape dominated by large banks and insurers. This made me realise that there was a gap I could fill – empowering Malaysians to make the smartest and best informed financial choices, plus offering them exclusive deals," he added.

Siew said one of the main reasons behind the merger was to help Malaysians through the entire process of researching and applying for financial products.

"Consumer rights awareness in mature economies is very vibrant – including in areas such as personal financial products," said Saving Plus chief executive officer Liew Ooi Hann.

"In Malaysia, there isn't sufficient awareness training and financial education for consumers. They see financial products advertised everywhere but tend to lack the ability to evaluate them critically.

"I was inspired to set up SaveMoney.my [to help] consumers get the information and insights they need to manage their personal finances," he added.

Siew and Liew said they see incredible growth opportunities for Saving Plus locally and across the region, and are planning on raising growth capital to help execute their vision and plans.

The company is on track to deliver over RM3.3 million (US$1 million) in revenue in Malaysia this year, they claimed.

Collectively, RinggitPlus.com and SaveMoney.my reach over 500,000 adult consumers every month in Malaysia alone, they added.

The group also provides personal financial education to Malaysians through its monthly SaveMoney magazine, which they claimed has a circulation of 50,000 in the Klang Valley. They have over 120,000 members and will generate more than 100,000 product applications this year, they added.

Related Stories:

US$4mil 'richer,' iMoney now ready for next phase

Exciting days ahead for fintech startup Loanstreet

KL-born Nova Founders gets US$50mil from HK's Pacific Century Group


For more technology news and the latest updates, follow @dnewsasia on Twitter or Like us on Facebook.
Keyword(s) :
Author Name :