Review: Suunto 9 multi-tracker watch for the serious trekker
By Edwin Yapp January 29, 2019
Good quality, long battery life adventure smartwatch
Lacking in syncing, display and notification features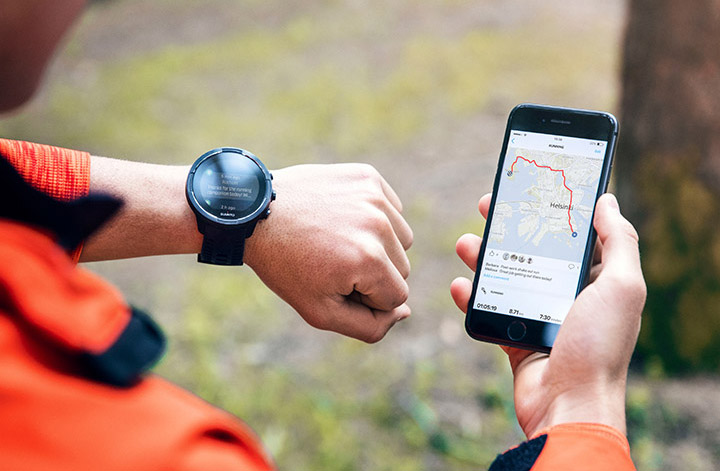 SMARTWATCHES have been around for many years and over time, we've witnessed different categories of them entering the market. For many, names such as FitBit, Apple Watch, Samsung Gear and Xiaomi Mi Band are the more popular brands that have dominated the headlines.
However, there are also specialist smartwatch makers and one segment of the market not mentioned as much as the rest is the sports adventure-hiking-type variants the likes of Garmin, Casio and Suunto. In today's review, we look at Suunto 9, a specially-designed smartwatch for hikers and adventurers.
Headquartered in Vantaa, Finland, the company has a rich history, having been set up in 1936 by outdoor enthusiast, Tuomas Vohlonen, who invented the first liquid-filled compass. The word Suunto, pronounced 'Soon-toh,' comes from the Finnish word meaning 'direction,' signifying the company's pedigree in providing navigation and path-finding tools.
The company got into sports watches in the 1990s, and one of its most endearing models was the Suunto Vector, said to be the first high-end, outdoor digital watch that gave readings for altimeter, barometer and compass functions.
Design and build
The Suunto 9 is well-built, has a solid body, firm straps and a massive screen size that's clearly designed with the outdoors in mind. It measures 50mm in diameter compared with my Samsung Gear Sport at 42mm, or the Samsung Gear S3 which many consider to be big at 46mm.
The large screen size is understandable as users would use it to view their maps and waypoints when trekking or hiking. On the right side of the watch are the usual buttons; one at the 2 o'clock whilst the other is at the 4 o'clock position. There is a main function button at the 3 o'clock position.
All the buttons feel solid to the touch and have a good tactile feel. The 300 x 320 touch screen is sensitive enough for the most part but sometimes when your fingers are damp during or after a workout, the sensitivity is not as good.
If there's a downside, it is that I find the screen brightness not up to par with other brands. Under full sunlight outside, the screen is hard to see even at 100% brightness settings. Brightness when indoor is better but not by much. I also found it hard to read the screen details when running. The screen is also not as vivid as the rest of the field and the colours, to me, look dull and unexciting.
Another downside is that the watch isn't as intuitive as other brands. I found that I had to refer to the manual to get instructions which isn't the case for other smartwatches I've reviewed. Also, just trying to remember what moves to get to say the 'home' screen takes a fair bit of learning.
The screen dims automatically when not in use to save power and this was a sore point with me as there is no auto-wake action like I have with my Samsung Gear Sport. As a result, you'll have to manually wake the screen by tapping the screen or button.
The 24mm straps are solid and fairly comfortable to wear over long periods of the day. It has enough holes on the straps even for the largest of wrists. But 24mm isn't as common as the 22mm straps so getting alternative straps may be a tad more difficult than usual.
As for watch faces, you can choose from eight different ones, which show anything from time, step, count, sunrise/sunset and battery life. Do note that I didn't find a whole lot of variety of watch faces, unlike Samsung's App store. But given that this is more of an adventure/trekking/hiking watch, function over style is to be expected.
Battery, features and performance
The Suunto 9 is an adventure watch packed with features. The full specifications can be found here. It has the basic altimeter, barometer and compass, GPS, optical heart rate, steps counter, it's water resistant up to 100 metres and boasts a long battery life. It has over 80 sports modes and offers interval training that is tied to pace, time and heart rate.
Speaking of heart rate, a wrist-based optical heart rate suffers from inaccuracies due to movement of the hands while exercising and/or trekking. But when I tested this feature, I did find it fairly accurate, compared to the static heart rate sensor I was using, to within five to 10 heartbeats.
As for hardcore training and outdoor activites, I must confess that I just gave it a cursory look over as I'm not much of a serious runner let alone a triathlete. Based on my quick tests, I was able to read the altimeter and barometer, as well as speed, pace, cadence, calories burnt and distance covered. Some more common exercise modes also worked as advertised
Navigation features were also good. You had the usual features such as real-time trails, point of interest navigation, route planning and finding and a route library that you can sync to your watch.
For swims, there are also tracking features for open water as well as pool settings. The accuracy tested was OK, but there were times when I found that the laps I made were overestimated. Also, wearing such a big watch is a chore when swimming due to the weight caused by the big screen which had good visibility albeit still being a little dim for my liking.
All information captured by the Suunto 9 can be matched to the companion Suunto App, found on AppStore or Google Play. Here you can set your training goals, track your activity history, et al.
I did however, experience synching issues with the app and the watch. At first, I thought it was again a steep learning curve for me, but alas, it wasn't about that.
Secondly, I found that there was no way to do a hard reset on the Suunto 9 unless I download the app onto my Macbook and use it to wipe out past data and do a factory reset. All I could do was a soft reset on the watch itself, which was also the problem I had when trying to set up the device after another reviewer had used it.
Lastly, I was quite frustrated with the notification function on the Suunto 9. At best, it gave rudimentary alerts when a message came through but I couldn't see multiple messages in the form of a thread as I could with other smartwatches. Perhaps this isn't a biggie with adventurers but it sure was frustrating for me.
Perhaps the bestselling point of this adventure watch is the Suunto 9's battery life. With normal usage, I went almost a week (five to six days) with one single charge. If more features are used such as the GPS for waypoint tracking, obviously the lifespan will diminish. But for the most part, one charge can get you quite far and would be handy if you went on an overnight camping trip or did serious triathlon training.
Charging was via a specialised charging port which can be connected to a standard USB 2A charger. It took just under 1.5 hours to get from 10% to 90%. The specialised charging port is magnetic in nature and this allows full waterproofing in the Suunto 9.
Conclusion
The Suunto 9 is definitely quite a well-built watch for adventure-type buyers. Its solid package coupled with long battery life definitely attest to this. But i find that it's in the softer details that it fails such as the software app and synching capabilities. Along with this is the steep learning curve needed to use the device and the less than stellar display resolution and brightness.
Given it's RRP of RM2,299, the Suunto 9 is an investment and not for the casual buyer. Do however check out the competition in this arena in the likes of Garmin and Casio.
Related Stories :
Keyword(s) :
Author Name :