Review: Jabra Elite 45e: Cut the cords and get exercising
By Chong Jinn Xiung August 27, 2018
Made to survive workouts and stay on top of busy days
Thrives on great voice call quality and audio listening capability
WHEN it comes to wireless headphones, there are so many out in the market that it can be pretty confusing choosing the right one for your needs. Given that more and more modern smartphone-makers are choosing to ditch the old headphone jack, this has given rise to more users scrambling to find a good pair of wireless headphones.
Jabra has long been in the business of producing wireless audio products and are eager to fight to satiate the hunger for wireless headphones.
Enter the Elite 45e, Jabra's latest generation of wireless earbuds that are distinctively made for sports and everyday wear.
Let's see if the Elite 45e truly holds up as an everyday wireless earbud for any occasion.
Design
If you have been looking at wireless headphones for a while now, you will definitely be able to pick out two distinct groups. There are the true wireless types that are akin to the Apple Earpods and Jabra's own Elite 65t that are two independent earbuds that you just plug into your ears.
Then comes the 'wired' type that have two earbuds on each end tethered together by a single loop wire. It is a familiar around-the-neck design that many other brands make and the Elite 45e falls under the latter category.
There are some thoughtful design choices made by Jabra, the wire is a flexible memory wire that retains it shapes giving it a contour that curves around your neck.
On both sides of the Elite 45e are a battery and button control pad that is balanced in terms of weight so that it sits nicely centred and doesn't become lopsided when you walk or run.The headphones sat comfortably and hardly moved during a jog thanks to this.
Having made communications products in the past, Jabra emphasises on clear voice quality by including two microphones on the Elite 45e that are positioned to pick up your voice better.
It is nice to note that Jabra included some additional buds and wing tips to fit almost every type of ear. We liked how the wings provided a firm grip within the ear to keep it in place when performing rigorous activities.
However, we must say that the headphones were getting a bit uncomfortable after wearing them for longer than an hour. It didn't matter which earbud or tip we changed to, it didn't feel right.
Speaking of activities, the Elite 45e has an IP54 rating that protects it from rain, sweat and dust. Honestly, though this is the lowest water protection rating, so while you can't take it for a swim, it will survive a very sweaty workout session.
Another nice touch to the Elite 45e is the use of magnets on the sides of each earbud that snap the two together to turn off and unpair the headphones when not in use to save power. Parting the two earbuds establishes contact very quickly and it came in very handy on a hectic day of moving about.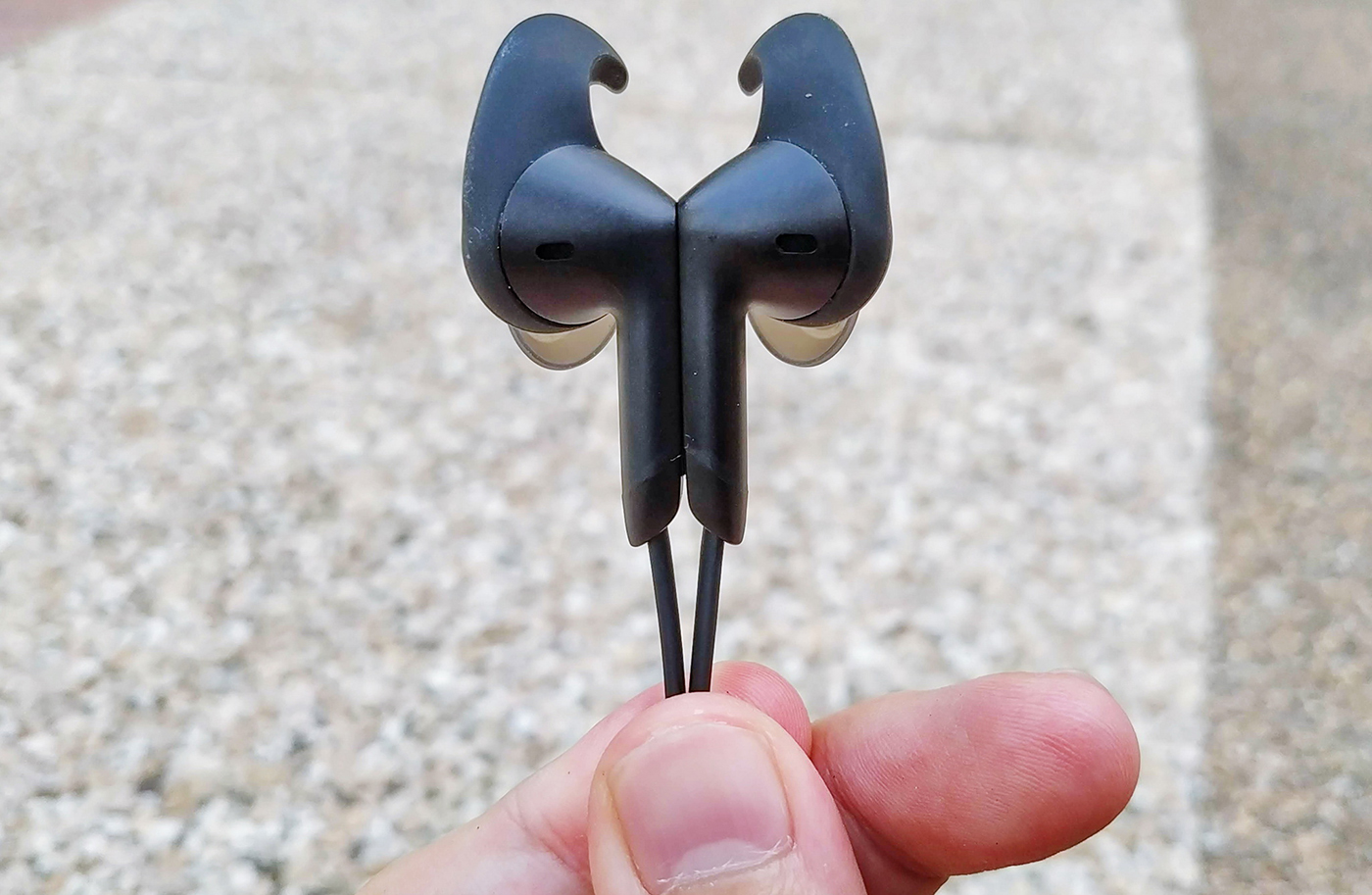 Performance
The Elite 45e is more than the sum of its design components of course. Audio performance is what we are all here for. So is it any good?
The short answer is that the Elite 45e is not going to blow your socks off. They are perfectly serviceable for listening to music and podcasts as you work out but if you are looking for a rich audio experience, this pair of headphones may not satisfy your thirst.
Jabra's downloadable Sound+ app gives you some leeway with managing your equaliser preferences but it isn't going to dramatically enhance your listening experience.
The soundstage is disappointingly average given its price range. It lacks depth and diversity to give individual instruments space to shine.
Also, bass-heavy tracks like Daft Punk's Instant Crush were rather flat and did not stand out.
Where it really shines, however, is in the mid-tones that make them really good for voice-heavy programmes like a talk show.
As mentioned earlier, the Elite 45e prides itself on its clear call quality. This noise cancellation is achieved through the use of multiple microphones, something that is more common on higher-end headphones. By listening to the surrounding environment, the headphones are better able to block out external noise.
In terms of battery life, Jabra claims the Elite 45e can run for up to eight hours of usage under a single charge. In reality, it is able to get about six hours. Still pretty respectable and more than enough for listening in a single day.
The downside to using this active noise cancellation feature is that it eats up a lot of battery life, reducing its usage time to about four hours. It really comes down to striking a balance between the need for noise cancelling versus longer battery time.
Still, it is good to note that you can get an hour's worth of battery from just a short 15-minute charge.
Conclusion
So here comes the big question. Is the Elite 45e worth it? Yes, if you are an active gym goer who needs a pair of headphones that doesn't tangle up as you workout. Bonus points if you particularly enjoy listening to podcasts or audiobooks because the voice quality is excellent.
However, the Elite 45e falls short of being the perfect wireless headphone simply because its audio quality is not going to blow everyone away. So if you are very picky about your music, then you might want to give this a skip.
That being said, the Elite 45e sits at a nice price point of US$99 (RM399) and is relatively affordable for a wireless headphone. It has some really nice design choices especially it's magnetised earbuds that pair and unpair with ease to save battery and it is perfect if you don't absolutely need a pair of true wireless headphones.
Related Stories:
Review: Jabra Elite 65t: High quality, affordable wireless option
Jabra introduces new range of Elite headphones, earbuds
Jabra's Elite Sport brings wireless freedom to gym goers
For more technology news and the latest updates, follow us on Facebook, Twitter or LinkedIn
Keyword(s) :
Author Name :