Pride Amid the Pandemic #2: Tech Leaders Who Defy Conventional Wisdom
By Gopi Ganesalingam November 25, 2020
Covid continues to linger, while prolonged presence leaves businesses with Hobson's choice
Building a foundation and culture that is anti-fragile amidst tough economic times
Digital! Digital! Digital!
This is the second of my two-part series on visionary thinkers and the emergence of radical innovators in these extraordinary times. As expressed in my previous piece, the intent of these stories is to provide a hearty boost of motivation to local tech entrepreneurs to plough-on with their innovation endeavours, unleash their leadership prowess and muster the courage to stride on the road not taken.
As it appears, COVID-19 continues to linger and its prolonged presence leaves businesses with Hobson's choice - an old British expression implying 'only one option', which is to go digital. If your organisation is still toying with the idea of digitalisation, I implore you to expedite your efforts, as the pandemic has devoured far too many entrepreneurs who adopted the 'wait and see' approach.
Staying ahead of the tech curve is not as daunting as many deem it to be. Coincidentally, this article coincides with MDEC's Malaysia Tech Month 2020 (MTM 2020) a month-long curation of the very best in digital and technology keynotes, workshops and discussion panels – a perfect start for entrepreneurs who are seeking first-hand enlightenment on ways to incorporate digitalisation into their businesses and potential tech partner to work with.
MTM 2020 is open to all with zero participation cost. MDEC welcomes you to connect with the brightest minds in digital and tech, partake in high-value networking opportunities and learn about game-changing technologies in the region's fast-growing digital economy.
Now, here is my pick of two more homegrown tech entrepreneurs who are making waves beyond our shores.
Baskar Subramanian, CEO of Mobi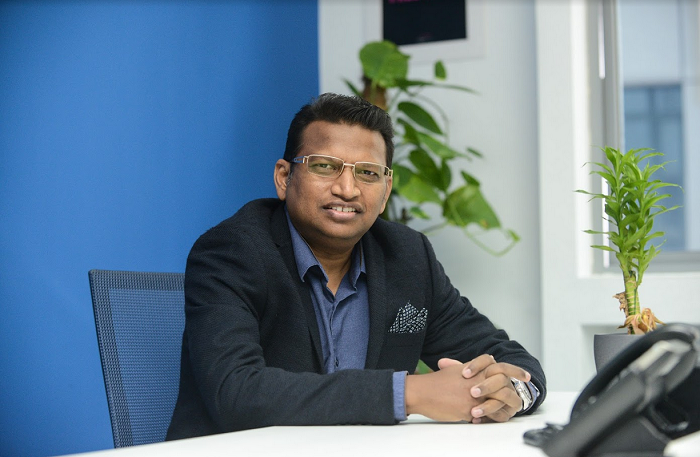 Barely six years in the market, Mobi (previously known as Mobiversa) has become a remarkable fintech company that serves thousands of businesses with its digital payment solutions. Mobi is identified by IDC as one of the Top 10 fastest growing fintech players in Malaysia and is the youngest company to be registered with the Central Bank of Malaysia. With offices in Malaysia, Singapore, Indonesia and India, they are ready to take on the rest of Southeast Asia under the helm of CEO and cofounder Baskar (pic), who is known to have a flair for creating disruptive technologies.
While all sounds fine and dandy for Mobi today, its business nosedived 80% a few months ago due to the pandemic. Mobi's niche market of enabling digital payments for online travel agents and partnerships with reputable hotels came to a standstill, as the hotel and tourism industry was the worst hit by travel bans.
But the economc dip did not deter Mobi from continuing to serve the discerning needs of their clientele. Recognising the urgent need for businesses to collect payments from customers they could not meet physically, Mobi launched a checkout product - EZYLINK. Simply put, EZYLINK is a payment link that businesses can send to their customer via email, SMS or even WhatsApp as a prompt for payment. The transaction can be completed effortlessly in a few easy steps.
Just a week into the movement control order (MCO), EZYLINK was developed, from the designing process to coding and even testing it on the fly. The entire go-to-market strategy was conceptualised and launched remotely. This, I must add, is an impressive feat for a team that gave it their fullest whilst operating from home, which became a defining milestone for Mobi.
Fast forward to August 2020, 30% of Mobi's transaction value came from EZYLINK, with over 300+ merchants acquired during the various phases of the MCO. When prodded to share some words of wisdom for entrepreneurs who are chugging to ply their trade, here's what Baskar had to offer:
Transparency trumps adversities
From its inception, Mobi has professed and inculcated a culture of honesty. This has earned not only the trust of the team but confidence from investors in the CEO and the organisation, particularly during adverse times.
Best companies grew over a crisis
Where there is commotion and confusion, there lies an opportunity to strike. In crisis, it is important to not go into survival mode quickly, as that conserves resources and shuts our mind to look for opportunities. Be valiant!
Pick a growth-centric customer segment
Every industry would have verticals that will grow exponentially after Covid-19. Seize this opportunity to gather insights and trends on these lush opportunities via free emailers from Bloomberg, Fortune and McKinsey. This effortless exploration will lead to fruition for your business in the new normal.
Fong Wai Hong, CEO, Storehub
Homegrown tech startup, StoreHub, has been helping retail and restaurant business owners automate their growth since 2013. Starting off with an all-in-one tablet-based Point of Sale (POS) system to help business owners manage and grow their store from a single platform, it is today serving more than 15,000 entrepreneurs across Southeast Asia with its cloud-based offering that includes a powerful QR loyalty cashback program, QR table ordering system for restaurants and cafes, and an easy-to-adopt eCommerce platform.
With a regional team of 325 people based at multiple offices across Kuala Lumpur, Bangkok, Manila and Shanghai, Storehub has performed over US1.2 billion transactions to date and continues helping entrepreneurs leverage technology to tap Southeast Asia's 360 million digitally-connected users.
The face behind Storehub is Fong Wai Hong, an 'accidental' entrepreneur who stumbled into e-commerce after managing a successful eBay business with his uncle more than a decade ago in Melbourne. Having been through the grind, Wai Hong and team spends a considerable amount of time coaching and advising small business owners, from bubble tea stores to Muslimah fashion, on inventory management and basic customer-relationship management.
The imaginative prowess and agility of Storehub was truly visible in March 2020 when it launched Beep Delivery, an F&B delivery feature on its platform to power food deliveries and takeouts for restaurants, just 48-hours into the MCO!
As the country came to an economic halt, F&B entrepreneurs saw up to 80% decline in revenue and felt a painful pinch by the 35% fee per transaction charged by established food delivery services. However, F&B entrepreneurs managed to breathe a sigh of relief with Beep Delivery, which enabled a direct-to-consumer approach with only a 2% cut.
StoreHub provided the much-needed relief to F&B outlets, allowing them to continue plying their trade while generating critical cash flow for business survival – truly a noble gesture! Here are some pertinent advice for entrepreneurs by the CEO of Storehub:
Built a foundation and culture that is anti-fragile
Being resilient is conventional wisdom and substandard advice in these times. It is not enough to hang in there, dodge obstacles and hope that the waves stop crashing on your rock. Instead, adopt an anti-fragility mindset – like how diamonds formed. Allow the pressure of the adversity to strengthen and turn you into a force to be reckoned with.
Prepare for a resurgence
Most businesses are merely thinking of their recovery and ways to operate in the new normal. Think beyond that! As we heard from JF Gauthier, Founder and CEO of StartUp Genome (a leading research and policy advisory organisation, with a niche for tech ecosystems globally) during his Malaysia Tech Month session on 20th November 2020, it is time to think not for any particular country, but for regional and global markets. Think big, think global. Start preparing for a massive rise in demand, which will be the case when new businesses start sprouting towards the end of the pandemic phase.
Be part of #GopiSpeaks
We are merely a month away to performing a curtain call for 2020 – a year that can be crowned the undisputed champion of rapid tech disruption! Having written half a dozen articles this year on resilience and leadership, I would love to hear from my readers, within Malaysia and abroad, on their experience and lessons of leveraging digital technologies to combat COVID-19. Drop me a note at [email protected] and I might make references to your case study and learnings in my subsequent pieces.
---
Gopi Ganesalingam is a finance professional and entrepreneur spanning 30 years. He serves the Malaysia Digital Economy Corporation (MDEC) as vice president of the Global Growth Acceleration Division, empowering tech companies to rapidly expand and soar globally.
Keyword(s) :
Author Name :