Week in Review: Will funding floodgates open in 2015?
By Karamjit Singh November 21, 2014
Dr V Sivapalan says 'Yes,' citing competition between funds
Singapore investors have moved past standard questions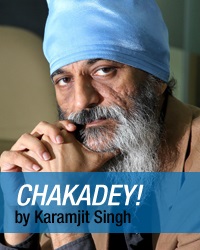 AS much as the ecosystem has developed over the past two years especially, something has been bugging Dr V. Sivapalan, chief evangelist of Proficeo, a cofounder of the Technopreneurs Association of Malaysia (TeAM), and an angel investor.

And it was over the fixation venture capitalists and angel investors have over 'domain expertise.' And he recently came across it again when an entrepreneur was turned down by an investor because he lacked this apparent magic sauce.

Sivapalan pointed out that many market disruptions have happened by companies led by those who do not come from the industry they're targeting, and therefore do not accept common dogmas and perceptions of what can or cannot be done.

He cited as examples Patrick Grove of Catcha Group, and Ganesh Kumar Bangah of MOL Global. Neither had domain expertise (real estate when it comes to Catcha's iProperty; payments when it comes MOL Global) when they started out.

Another question that rubs him the wrong way is when investors highlight the lack of a team. "Teams can be built after the entrepreneur has raised money," Sivapalan said at the DNA-TeAM Disrupt panel discussion on 'Are Investors Asking All the Wrong Questions?' earlier this week.

Collectively, it's actually a devil of an issue that has been around for at least 10 years and Sivapalan is particularly galled by it because he sees that investors in Singapore have started to move away from these two questions forming the basis of their investment decisions.

Which means, that's just one more reason for Malaysian startups to head down south for their funding needs. I am a bit more mellow on this spectre of Malaysian startups raising funding from Singapore or Singapore-based funds and perhaps moving their headquarters to Singapore because their investors want them closer, and even if they then choose to repackage themselves as a Singaporean company.

If it is okay for entrepreneurs to pivot their business models to survive and thrive, why not the origins of their company if they feel there are some advantages to that?

And if this is an important enough concern, let our policy-makers respond, and they have shown themselves to be responsive to entrepreneurs' needs.

But Sivapalan ended Disrupt on a high with his prediction that 2015 is going to be a great year for funding, going so far as to predict that even some poor businesses will get funding.

Not to be a wet blanket, but I actually disagree. I do not think it will be a great year. It may be a good year, which I would quantify as there being between eight and 12 deals in the US$300,000 (RM1-million) range and above.

For, despite the keen competition between investors to find investible companies, they will all still want to find and back a good idea and entrepreneur whom they feel can execute. That will never change. That is why I doubt any poor business is going to be funded in 2015.

Editor's Picks:

Disrupt: 'Even bad businesses will get money'

Made-in-Malaysia platform out to solve the SME tech dilemma

TM and MYTV in RM1bil digital TV infra-sharing deal

MDeC's Kamil Othman helms Finas, industry hopes raised

Startup Nanu out to disrupt the mobile VoIP apps market

From networking to the cloud: Cisco's Intercloud story

Amazon banking its future on the cloud


Previous Instalments:

Week in Review: Asking the right questions

Week in Review: Is Malaysia ready to welcome them?

Week in Review: Execution always trumps 'me too' model

Week in Review: From Norway to Singapore to Malaysia

Week in Review: It just might be 'Startup Malaysia Year'


For more technology news and the latest updates, follow @dnewsasia on Twitter or Like us on Facebook.
Keyword(s) :
Author Name :