Week in Review: Tootpay scores one for the 'old-school' boys
By Karamjit Singh March 14, 2014
Founder in his mid-40s, applies lessons from first startup
Among rare startups that sees value in Intellectual Property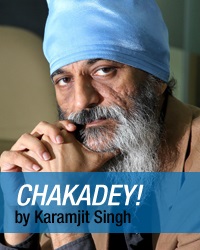 BEFORE I start on the tech news of the week, on behalf of Digital News Asia (DNA), I want to extend our prayers to the family and passengers of MH370. We hope against hope that this most incredible of disappearances also results in the most improbable of rescues.

As for the tech news that caught my attention the most, it has to be the hosting of Echelon Malaysia Satellite to pick the best Malaysian-based startup to compete in the main Echelon event that will be held in Singapore from June 10-11.

Echelon is an annual event, first held in 2009, organised by Singapore-based regional tech media outfit e27. It is designed to bring the best startups in Asia together in Singapore to pitch to a panel of judges and international investors. There will be satellite events held across Asia to pick the best from each country to head down to Singapore.

The judges for the Malaysian event ended up picking the final of the 20 startups that pitched on Monday night, Tootpay Sdn Bhd. Launched in 2010, this is a startup whose product is being used by 600,000 customers in Malaysia and Indonesia.

Focusing on the mobile banking space, Tootpay's solution involves an 'overlay chip' being placed into customers' mobile phones, allowing them to make mobile banking transaction securely without the need for mobile Internet network coverage.

The solution works on almost all phones, including entry-level handsets. For more, you can read our coverage of the event.

You can also listen to DNA's Thursday Tech Talk segment on BFM where we had Balvinder Singh, the cofounder of Tootpay, as a guest. Go here to download the podcast.

A few things stand out about Tootpay. On a personal level, I have known Balvinder since the late 1990s and admit I did a little bhangra jig with him, much to the amusement of Dr V. Sivapalan and Dakhshinamoorthy 'Dash' Balakrishnan!

Balvinder was then an active youth leader and was nicknamed 'super power' because he was involved in so many activities (he is still known as that today). He was working with a tech company focused on document management and eventually became a shareholder too.

Tootpay is thus his first startup from ideation to execution, but he has brought a number of lessons with him – with the primary one being about the importance of cash flow. You can hear more about his thoughts from the BFM podcast, with the key point being that entrepreneurs must never underestimate the critical nature of this seemingly most basic of business concepts.

Balvinder also places great importance on intellectual property and Tootpay not only has a patent filed and pending, but is talking about filing two more. As he says, "patents are tangible proof that a software company has unique assets, and investors like it too."

Speaking of investors, Tootpay is lucky enough to have a 'super angel' who invested more than RM1 million (US$305,000) into the company. But this is an investor who has known Balvinder for a long time, and was betting on him and his ability to pull together a team to execute their game plan.

But even then, the investor, who was aware of Balvinder's idea for Tootpay, only invested after the product was ready and the first customer was signed.

The lesson here is that it is always good to target a few people as potential investors and keep updating them on your progress. Chances are someone will eventually come in when they see the progress you have made.

Till then, you have to survive on your own. Balvinder was able to as he had revenue from his first software company that he invested into the development of Tootpay.

And Balvinder, at 45, shows again that some of Malaysia's most interesting and promising startups are being run by those in their 40s, "the best decade to be in" according to Hakim Karim of GridMarkets, who preceded Balvinder as the winner of last year's Echelon Malaysia Satellite. Hakim was 43 then.

Will Patrick Grove, founder of Catcha Group, soon change his tune? Grove, still in his 30s, has now turned to investing in other entrepreneurs and feels that betting on the energy and drive of those in their 20s is the best way for him to ride on the Internet wave.

Tootpay's success is yet another sign that the startup scene in Malaysia has more depth and need not rely on those below 30 for its drive and passion. See A. Asohan's older piece here for more.

Speaking of Grove, the background to his iBuy listing really drives home the point that investors, especially international ones, are much more keen on South-East Asian tech plays than any single-country play. And yes, Tootpay is looking at South-East Asia and already has a bank customer in Indonesia.

Finally, Cradle Fund Sdn Bhd was a strong presence at Echelon Satellite Malaysia, not just as the sponsor but through the fact that 10 of its Cradle fund recipients were chosen among the 20 startups to pitch.

And linked to Cradle was the fact that eight of the 20 startups were also Coach and Grow Programme (CGP) companies, a programme designed and run by Proficeo Sdn Bhd.

Our most popular story of the week was Digerati50: Making waves below the radar.

Have a good weekend and a productive week ahead.

Editor's Picks:

IP still very much relevant in digital age, but …

Celcos beware: Voice-over-data players gunning for you

Why patents are bad: Privatisation of knowledge

M-banking solution Tootpay wows 'em at Echelon Malaysia

KL-based IT automotive services firm takes on the big boys

iBuy listing reinforces value of SEA market to investors: Grove

Maxis mindset change anchored by three values: CEO


Previous Instalments:

Week in Review: Tech tales from two cities

Week in Review: We need to get behind the MaGIC CEO

Week in Review: More need to carve out time

Week in Review: When reality matches the PR

Week in Review: You are not indestructible!


For more technology news and the latest updates, follow us on Twitter, LinkedIn or Like us on Facebook.


Keyword(s) :
Author Name :