GrabTaxi's US$250mil round: The pressure is on
By A. Asohan (with additional reporting by Gabey Goh) December 5, 2014
Japanese giant SoftBank to help Malaysian-founded startup expand
SEA ecosystem validated, but pressure now on management to perform
THE news that Japan's SoftBank Corp has invested US$250 million in taxi-booking app startup GrabTaxi Holdings Pte Ltd is either the sign of a bubble building up in the South-East Asian startup space, or finally, validation of the economic potential of the region.

On Dec 4, the Japanese technology and investment giant owned by dotcom pioneer Masayoshi Son announced it would be investing 30 billion yen in GrabTaxi, which would make SoftBank the leading shareholder when it takes a 40% stake through a private placement later this month, Nikkei reported. [Update]: GrabTaxi has denied Nikkei's 40% figure, but declined to disclose the actual amount.

The deal was signed with SoftBank unit SoftBank Internet and Media Inc (SIMI).

Malaysian-founded GrabTaxi started life as MyTeksi, but rebranded when it moved its headquarters to Singapore, and began its regional expansion in earnest late last year.

With this massive sum, GrabTaxi has raised approximately US$340 million in four funding rounds this year alone, even as it seeks to stave off competition from deep-pocketed foreign players such as Uber and Rocket Internet's Easy Taxi.
READ ALSO: The delicate art of fundraising and valuations

GrabTaxi did not disclose the amount it got in its Series A round led by Vertex Venture Holdings in April this year, but it is believed to have been US$10 million. Vertex Venture Holdings is a wholly-owned subsidiary of Temasek, the Singapore Government's investment arm.

In May, it secured US$15 million Series B funding led by Silicon Valley's GGV Capital, and most recently in October, secured US$65 million in a Series C round led by New York-based Tiger Global Management.

At that time, GrabTaxi was present in 16 cities in six countries across South-East Asia, and said its app had been downloaded more than 2.1 million times, with 400,000 monthly active users, more than 50,000 drivers in its network, and two bookings made every second on its platform.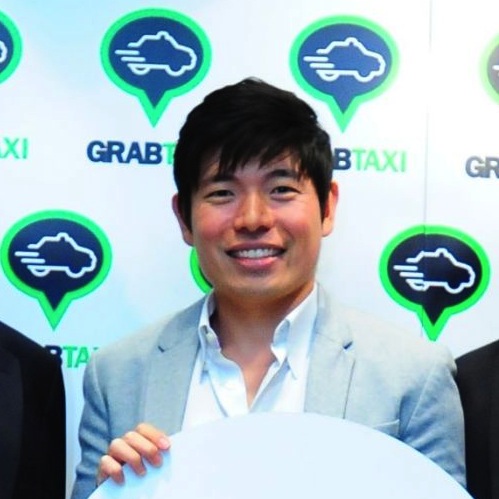 It has improved on all these fronts since October, with operations now in 17 cities, 2.5 million downloads, 500,000 monthly active users, 60,000 drivers, and three bookings every second on average, GrabTaxi founder and chief executive officer (CEO) Anthony Tan told TechCrunch in Bangkok.

As with its Series C announcement, Tan (pic) was very reluctant to give details of the investment deal and what exactly the money would be used for, only telling TechCrunch that it would go "towards fortifying its efforts in existing markets and continuing its expansion" across South-East Asia.

In a statement, SoftBank vice chairman and SIMI chief executive officer Nikesh Arora said that SoftBank will support GrabTaxi's expansion in the region, even as the Japanese company seeks to build its presence in South-East Asia and "maximise synergies" with its other Internet companies around the world.

In late October, SoftBank invested US$210 million in Mumbai-based ANI Technologies, which has also developed a taxi-booking app called Ola.

Wait, what?

While few would doubt GrabTaxi's value proposition, the amount of funding the company has managed to garner – and the distinct lack of detail surrounding this latest deal and what the official valuation is – has raised more than a few eyebrows.

As Digital News Asia (DNA) reported previously, in 2013, with much smaller staff strength and lower-scaled operations, it made a US$1 million loss.

It is not known at the moment whether SoftBank's shares will come in the form of preference or ordinary shares. Preference shares have different conditions attached to them, and in some cases, give an investor the right to be the first to exit when a certain business milestone is met, such as a public listing.

With the taxi-booking market heating up, it has now become a game of who has the most money to burn, industry pundits noted.

In this regard, GrabTaxi could easily and seriously outgun Easy Taxi, which has raised a total of US$77 million, including a US$40-million round in July. The Latin American company has been making serious inroads into South-East Asia.

New competition also came in recently, in the form of London-based Hailo, which rolled out its taxi-booking app in Singapore in October. It too has raised a total of US$77 million.

Looming ominously over all of them is San Francisco-based Uber, which after a US$1.2-billion Series D round in June, has a total of US$1.5 billion in its war-chest. While not a taxi-booking app, its ride-sharing model also threatens to disrupt the taxi industry.
[UPDATE]
On Dec 4, Uber announced that it has raised a new US$1.2 billion round of financing, with investors valuing the company at a staggering US$40billion.

In the fund-raising announcement, CEO Travis Kalanick said Uber planned to make "substantial investments, particularly in the Asia Pacific region," where it is already facing regulatory scrutiny in Thailand, Singapore and Vietnam.
[END UPDATE]


A lot is hanging on the shoulders of GrabTaxi's young CEO Tan, grandson of the founder of Tan Chong Motors, one of the largest conglomerates in Malaysia. SoftBank's Nikesh, in discussing the deal, described him as having "outstanding leadership."

This was echoed by Peng T. Ong (pic), a partner at Singapore-based venture capital and private equity firm Monk's Hill Ventures, and previously the cofounder and chief technology officer of Match.com.

"Anthony Tan is one of the best startup CEOs I've met in South-East Asia. I fully expect him to perform very well," he told DNA's Karamjit Singh.

"The investors are obviously investing in what they expect will happen with GrabTaxi, versus what it is currently doing," he said, when asked about GrabTaxi's valuation.

"We did an 'e-hailing' company at Series A in Beijing last year, and the current valuation is north of US$1 billion. E-hailing companies are exponential companies. They are very execution- and capital-dependent," he added.

Ong said that with Jakarta-based Tokopedia, an online marketplace that raised US$100 million in October, and now GrabTaxi, "It's clear that the value being created in South-East Asia is no longer small potatoes."

In May, Monk's Hill Ventures launched a US$80-million early-stage fund aimed at Asian startups.

Golden Gate Ventures founding partner Vinnie Lauria concurred with Ong on the capital and execution dependence.

"I think the money is needed – GrabTaxi is going up against 'the money machine' Uber, so it needs a lot of money," he told DNA.

"It's a 'double-down now or lose out' thing – if GrabTaxi doesn't do something now, it will lose out to Uber," he added.


Lauria (pic) ventured that with this kind of money, the Malaysian startup may be setting up to compete in other markets, although GrabTaxi's Tan himself has gone to great pains to say, in interviews with DNA and TechCrunch, that it will remained focused on South-East Asia.

"GrabTaxi is going to have to do something big and/ or different to really compete … . I think most likely what you're going to see in terms of how it will spend this money is toward leasing fleets," he said, venturing that GrabTaxi may contract with fleet operators for the vehicles, then hire drivers for its network.

"In relation to EasyTaxi, I think what Rocket Internet has done is actually proven that it is possible to raise, validate and grow in South-East Asia – that confirmation for investors would validate the insane amounts of money being raised in the region right now," he added.

The startup ecosystem and investor community are also wondering about how the equity stakes line up for early investors and the founding team, with SoftBank swooping down on its 40% share.

"I don't think early-round investors would be exiting at this stage, as it's still too early before the big hit on investment return," said Lauria.

"What's possible is perhaps non-traditional investors – such as family members – being bought out," he added.

It's a Malaysian play

One aspect that may be lost in all the buzz surrounding GrabTaxi's latest funding round is that it's a Malaysian success story, sorely needed or a country that until now, has been largely ignored by the regional and international investor community in favour of Singapore.

It would certainly make up for the troubles that MOL Global Inc, which in October became the first Internet company from South-East Asia to list on Nasdaq, but which underperformed on its initial public offering (IPO) and has faced a series of troubles since, including class-action lawsuits and having to restate the finances of one of its subsidiaries.

Don't hold your breath though, cautioned Dr V. Sivapalan, founding member of the Technopreneurs Association of Malaysia (TeAM) and director of its Policy Institute (TeAM-PI).

"I don't think this changes things that much, but it will give Malaysia a leg-up if investors realise that this is actually a Malaysian startup and not a Singaporean one," he told DNA, noting that the holding company is now based in the island-republic.

"So we all – especially the media and the GrabTaxi management team – need to shout out that it is a Malaysian company.

"Also, while it is good for the ecosystem here, it is still only one company. The investors are not looking at this from a country angle, but from a single company angle.

"The good news though is that investors in this region, including those based in Singapore, will know it's a Malaysian company, and they have already started coming up [to Malaysia] to look for deals," he added.


Sivapalan (pic) is also chief evangelist at Proficeo Consultants, which specialises in coaching and mentoring entrepreneurs in the tech ecosystem, and manages Cradle Fund's Coach and Grow Programme.

When asked what GrabTaxi should do with its newfound wealth, he concurred with Lauria's reading.

"The only reason investors are pumping money into GrabTaxi is to ensure it can completely dominate its chosen markets, and out-compete and beat its competitors like Uber and Easy Taxi – all of which have also raised truck-loads of money.

"In fact, this is now an absolute necessity because of the large sums already invested in the company.

"The more money a company raises, the higher the risk to investors – and once they have put in such large sums, they cannot afford for it to fail. Hence, they have no choice but to pump in even more money because failure would now be extremely costly.

"The game has to play out successfully for them or there will be many, many red faces among investors. So my advice to GrabTaxi would be, go dominate and do whatever it takes to be No 1 in your chosen markets," he said.

But it's not just the additional pressure of having to please investors, it's also having to deal with so many of them now: GGV Capital, Hillhouse Capital Group, Tiger Global Management, SoftBank, Vertex Venture Holdings, and Qunar.com.

"As long as GrabTaxi is growing as planned and continuing to dominate its markets, there will be no issues because this is probably the consensus game plan of all the investors," Sivapalan said.

"If it falters, then the challenge will be to manage the various opinions of all its investors. It will be very difficult for the management team, and with these large sums of money invested, the entire team's future is now wholly dependent on success.

"Failure means investors will change management. Hence the pressure on management will be tremendous," he cautioned.

Related Stories:

GrabTaxi reaffirms focus on SEA, raises US$65mil in Series C

The Uber-SPAD spat: Be careful what you wish for

EasyTaxi continues rapid ride, eyes Asian expansion

Taxi-booking startups, say 'Hailo' to more competition

Plugging the great startup drain


For more technology news and the latest updates, follow @dnewsasia on Twitter or Like us on Facebook.


Keyword(s) :
Author Name :