Week in Review: How many more Ivan Tehs are there?
By Karamjit Singh November 1, 2013
Ex-Accenture executive quietly builds RM700mil company
Out of the radar of the media and even industry peers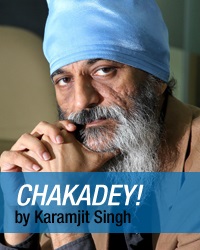 I HAVE to admit, I was a bit worried about what kind highlights this week would throw up after last week's bumper harvest of great stories.

But we were able to highlight Ivan Teh, an amazing young man who's not yet 40 and the CEO and founder of big data company Fusionex International Plc, and how he built his startup into a RM700-million company (approximately US$225-million) – in the space of seven years!

What's amazing is that he has built it totally under the radar of the media and even his peers in the tech ecosystem. I am sure, for most of you, this would have been the first time you are reading about him. I too just found out about him in August.

Makes you wonder how many more Ivan Tehs there are in our ecosystem. Teh had a choice of listing on a number of markets but chose to go with London as Fusionex already has customers in the United Kingdom and continental Europe, as well as in the United States.

While you can read the article for the full story, two things struck me most about Teh. The first was how hard he works. His first six months were 18- to 19-hour work-days, he says, including single-handedly writing the code for his software platform. Those were the adrenalin-pumping early days, and I have heard of other founders who put in the same crazy hours.

But even today, with a 400-strong organisation behind him, Teh claims to put in 15-hour days. Naturally, not all those hours have to be behind a desk as mobility means work can be done anywhere, as long as one is connected to the Internet.

The second thing that struck me is just how focused Teh is on ensuring his customers have a solution that is easy for them to use. And that, as we know, is extremely difficult to do, especially when you are playing in the big data space which is incredibly complicated.

But this desire to create solutions that are easy for the customer to use came out of his experience as a geek in two large tech companies before he moved on to a consulting company and started to learn about the business side of customers' problems.

He realised the technology solutions were too complicated for customers, hence trying to humanise technology came to be his key focus in delivering value. Even his company name, Fusionex, came from this awareness. He wants to create a fusion between business and technology to deliver a great experience for his customers.

With 2012 revenues of almost RM160 million (US$51 million), I would say he has done that pretty well.

One question I did not ask him however is if he is keen on becoming an angel investor, or if he already is one. I'll bring this up the next time we chat.

But let me also emphasise that Teh has created a strong company while serving the needs of the enterprise market. Our entrepreneurs need to be aware of the opportunities this space presents and not get caught up in the sexiness of the consumer space.

But let me now point you to some interesting Internet traffic data that MyIX (Malaysian Internet Exchange) shared. MyIX is a non-profit set up in 2006 under the purview of the Malaysian Communication and Multimedia Commission (MCMC) to oversee the operations of the national Internet traffic exchange, and to facilitate the mutual peering between local Internet service providers (ISPs) to enable a more efficient and cost-effective transmission of inter-ISP content.

To me, this means they have the best data points to share on broadband usage and traffic. While you can read the article here, when they started in 2006 (coincidently, the same year as Ivan Teh), Internet traffic was only at 288 megabits per second (Mbps). Today, this has grown to 26 Gbps just up to June 2013.

The popularity of internet banking is clearly one of the drivers too. But there are also threats lurking and our article on BolehVPN's SSL test of the banks in Malaysia vividly illustrates this.

To me the incredible opportunities outnumber the threats. It will be fun to cover the startups that try to seize these opportunities.

Finally, this week's most popular story is on What startups can learn from iMoney's meteoric rise.

Editor's Picks:
Fusing technology and business into a RM700mil company

What other startups can learn from iMoney's meteoric rise

US spying, and casting the first stone

WatchGuard rides UTM wave to growth in Asia

Gartner on how to become a 'Machiavellian CIO'

MaGIC needs right leader to work its magic

BolehVPN's exposé of e-banking security flaws in Malaysia

Previous Instalments:

Week in Review: Breaking through an impregnable wall
Week in Review: We've a darn good thing going here

Week in Review: Time to recognise Dash for what he is

Week in Review: Make the best of GES

Week in Review: What an awesome week for start-ups


For more technology news and the latest updates, follow @dnewsasia on Twitter or Like us on Facebook.

Keyword(s) :
Author Name :