Week in Review: Don't let IP issues bite you in the rear
By Karamjit Singh August 8, 2014
IP not just for large companies, needs to be taken seriously by all
Interesting moves in e-commerce space, including by Philips Malaysia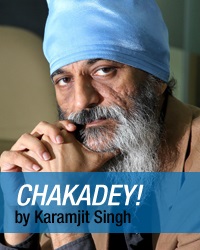 SOMETIMES, it is not the big stories that catch one's attention, and while our article on Telekom Malaysia Bhd branching into LTE will certainly be of interest to most (Digital News Asia (DNA) readers, the alleged patent infringement suit against a listed tech company and some e-commerce stories were what caught my attention.

Goh Thean Eu wrote about semiconductor test probe maker JF Technology Bhd being on the wrong end of a pending patent infringement case with US-based Johnstech International Corp.

You can read the details here yourself, but what leapt out at me was the company's contention that "US patent laws do not apply outside the United States," and that "the manufacture, use, sale and offering for sale" of its Zigma products outside the United States are not affected by this case.

That makes me a bit nervous because I know Malaysia takes intellectual property (IP) very seriously, especially in the E&E (electrical and electronics) sector where the nation has many strengths and is on the global map.

Having strong IP laws and being part of global IP treaties is a given, and the protection given to signatories of these treaties could bite JF Tech in this case. I am specifically wondering about the PCT or Patent Cooperative Treaty which Malaysia acceded to in 2006. You can read more about that here on the Malaysian Intellectual Property Organisation website.

Briefly, the PCT is an international patent law treaty, concluded in 1970. It provides a unified procedure for filing patent applications to protect inventions in each of its contracting states. A patent application filed under the PCT is called an international application, or PCT application. Naturally, the United States is also a member.

While I hope JF Tech is getting good advice from its IP lawyers, I want to highlight this to DNA readers so that they pay more attention to IP.

Don't make the mistake of thinking IP only affects large companies. In fact, there is one potential IP conflict simmering that involves a local startup and a company in Taiwan. And I can tell you, sometimes these issues are best left to the courts to decide, if they have the expertise.

It is impossible for the layman to tell whose invention is ripping whom off when both parties vigorously defend themselves and position the other as opportunists.

Meanwhile, we all know of the opportunity that exists in South-East Asia in e-commerce, and a slew of announcements in this space reveals that beyond the front end of the business, a lot of activity is going on in the background as players cement their position.

This was certainly the case of webhosting company Exabytes Network Sdn Bhd making an acquisition in Singapore, or in the case of listed Polish company InPost, entering the market in Malaysia by offering its logistics services.

Yes, even the Poles see opportunity in Malaysia's e-commerce market!

Even the Dutch do, via consumer lifestyle giant Philips Malaysia which has just launched its online store for Malaysia.

This is just incredibly interesting to me because you can imagine the arguments it must have had weighing the opportunity of an e-commerce market that PayPal Malaysia projects to be worth US$1.48 billion (RM4.76 billion) in 2014, and growing to US$1.79 billion (RM5.76 billion) by 2015 – versus pissing off its brick-and-mortar retailers which have helped it grow over the past few decades.

Our most popular story for the week was Internet censorship: You've already won, Dr Mahathir.

Editor's Picks:

TM throws its hat into the LTE ring with TMgo

Internet censorship: You've already won, Dr Mahathir

The end of HITB? No, it's a level-up

Basic security products don't cut it anymore: IDC

TIME deputy CEO Rossana quits

Enterprise mobile developers stuck in old mindset: Analyst

JF Tech confident it will prevail in US patent infringement case


Previous Instalments:

Week in Review: Lots of funding activity in SEA

Week in Review: A long and hard grind

Week in Review: MOL listing will inspire SEA ecosystem

Week in Review: Our suffering spouses

Week in Review: How you spend the money


For more technology news and the latest updates, follow us on Twitter, LinkedIn or Like us on Facebook.
Keyword(s) :
Author Name :