Week in Review: Breaking through an impregnable wall
By Karamjit Singh October 25, 2013
Soft Space wins deal from CIMB Bank, after winning 3 other banks in region
Mindset of Malaysian buyers likely to change after deal goes through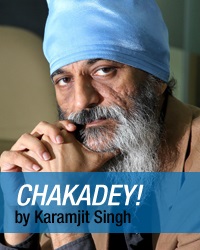 WOW. Where do I start this week? It probably ranks as among the best weeks of the year for Digital News Asia (DNA) in terms of interesting stories.

We found out that one of the original hot startups of yesteryear, IC (integrated circuit) design and manufacturing company Globetronics Technology Bhd, expects to be raking in RM450 million (US$143 million) in revenue by end-2014.

One of the world's top two smartphone makers liked a Globetronics sensor product so much that it tied them down to a three-year exclusive contract! How about that?

And just last night, we got news from Ching Wei Lee, cofounder and CEO of iMoney, that he just raised US$2 million in his Series A round. He is going great guns and will surely inspire all our other startups.

And while we were absorbing that news, we also found out that Malaysia's Aexio, which develops specialised software for telecommunications engineers, has been acquired by French firm InfoVista.

But it is not Lee's, nor Globetronic's story that I am excited about. Nor is it the US$19 million (RM60 million) venture fund that Cradle Fund is about to launch with MyEG Services Bhd. Or the US$197 million (RM626 million) property project that Ganesh Kumar Bangah just launched! (Yes, you read that right).

I am excited about that big dent Soft Space International Sdn Bhd has inflicted on that previously impregnable wall of cynicism and distrust that exists among Malaysian buyers towards software or technology made in Malaysia.

Because now, thanks to CIMB Bank adopting Soft Space's technology to roll out its mobile merchant payment system, every other bank in Malaysia is going to be asking their CIO (chief information officer) why they did not discover Soft Space first, and to start looking at other local tech startups with a higher degree of confidence when they come a-knocking with their solutions.

I think there will be a positive knock-on effect from this. And what's great is that it has happened in the enterprise space. As a previous Disrupt session by DNA had shown, this may not be a sexy space, but there are a lot of pain points that corporates have which are crying out for nimble and elegant solutions. Startups are ideally suited to deliver these solutions.

I, for one, am looking forward to cover more such stories from our enterprise startups.

I do note that Soft Space had to win business from banks in Thailand and Vietnam before it made the breakthrough here. But it has, and with one of South-East Asia's top banking groups. I am sure this is not the last banking deal you will read about from Soft Space.


I also love the fact that Soft Space is angel-funded. This means that its angel investor will have great stories to tell around the mahjong table, and surely this will attract other high-net worth individuals to look seriously into investing in tech startups.

Such is CIMB's excitement with the platform from Soft Space that no less than Nazir Razak, CIMB Group chief executive, attended the media launch (pic). An excited Nazir used phrases such as "transform the payment landscape in this country," "this is a real game-changer in our mind" and it "further cements CIMB's leadership in this whole digital space."

Hopefully, when people write the chapter of this current era of the startup story in Malaysia, they will point to this deal as being the one that finally opened the doors for local tech companies to get into the enterprise space.

Here's hoping similar startups can make even greater cracks in the wall of distrust that exists, and to witness the dawn of a new era, when Malaysian startups and our established tech companies can bid without fear nor favour.

Finally, this week's top story was Soft Space lands a Malaysian bank.

Editor's Picks:

Soft Space lands a Malaysian bank; CIMB says it's a game-changer

France's InfoVista acquires M'sian telco software firm Aexio

When the media, including DNA, let down readers

In 3yrs, the term 'big data' will disappear: Teradata CTO

TS Wong on MyEG's RM60mil partnership with Cradle

Pioneering semiconductor player Globetronics still hungry


Previous Instalments:

Week in Review: We've a darn good thing going here
Week in Review: Time to recognise Dash for what he is
Week in Review: Make the best of GES
Week in Review: What an awesome week for start-ups
Week in Review: Does not have to be 'Made in Malaysia'


For more technology news and the latest updates, follow @dnewsasia on Twitter or Like us on Facebook.

Keyword(s) :
Author Name :