Disrupt #20: Angels are from heaven, mostly
By Karamjit Singh July 17, 2014
How can entrepreneurs learn to identify the ideal angel
Why angels will or will not invest in an entrepreneur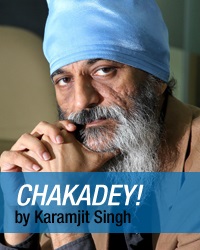 HERE'S a confession: Digital News Asia (DNA) would not have launched if our angel investor did not come in at the idea stage.

This was because the stage in our lives when we founders – me, A. Asohan and Edwin Yapp – were willing to risk it all had to be balanced by the realities of our responsibilities to our families.

We had children, ranging from the mid-teens to a six-year old, to protect and nurture; mortgages to pay; and various other commitments that do not magically disappear just because we were crazy enough to walk the path of the entrepreneur when in our mid- to late 40s.

While we were already seriously planning DNA for six months prior to going live in May 2012, the actual trigger for us to launch was the funding coming in, so we could focus 110% on the challenge ahead and not get distracted by worrying about our financial commitments.

There was a major disappointment too, when a potential investor, who knew our capabilities well, declined to be our angel. So much for the mantra that your first angel will likely be someone who knows your capabilities and will take a bet on you!

Our angel in fact heard about our plans from a trusted source and offered to invest without us asking him. How about that for confidence in us and our idea?

I am using this example of an angel investment to illustrate that there are many reasons why an angel investor will come in. For instance, Ganesh Kumar Bangah managed to get Vincent Tan to be his angel back in the late 1990s principally because of his father's friendship with Tan.

The rest, as they say, is history.

But the history of many of our entrepreneurs is still waiting to be written, and many of them are still searching for their angel investors.

To give them insights into how active angels are investing and what they really look for, our Disrupt #20 which has the theme Meet the Angels.

We have lined up two entrepreneurs, one who was part of the founding team of a travel portal in India, MakeMyTrip, that is now listed on Nasdaq; while the other actually took his listed company private in 2012 and is now ambitiously aiming to build Asia's leading big data company.


Both are also angel investors. Sachin Bhatia is in fact the angel for CatchThatBus, a Malaysian startup that recently raised over S$1 million. Meanwhile, I wrote about Bob Chua three weeks ago and his seven-figure investment into a drone startup in Sabah.

Chua (pic) is also the chairman of an early attempt to stimulate the angel community in Malaysia, the Virtuous Investment Circle. That did not really get anywhere, and you can ask Chua why.

So, do come with all your questions, or come to share your own experiences with angels at our latest Disrupt, which will be held next Wednesday, July 23 at 5.30pm to 7pm at the PJ Hilton.

And you know what that means – a Buka Puasa will follow for all participants. However, because of the size of the room, we are limiting attendance to 50 people, so do RSVP to book your spot, and I will see you next week at what should be a highly interactive Disrupt.

Our thanks goes to Ivan Teh of Fusionex who is hosting not just the venue for Disrupt, but the buka puasa as well.

I am also pleased to announce that DNA has resumed its partnership with the Technopreneur Association of Malaysia (TeAM) to co-host Disrupt. At the same time we have also partnered with the Malaysian Business Angels Network (MBAN), which is now a supporting partner to Disrupt.

To book your spot, click below:
Related Stories:

MBAN hopes for mindset shift among angel investors

Week in Review: Investors ask the wrong question

Angels with pitchforks, VCs who don't venture

A dream of angels ... investors, that is


For more technology news and the latest updates, follow us on Twitter, LinkedIn or Like us on Facebook.


Keyword(s) :
Author Name :