Disrupt#17: Leadership lessons from startups
By Karamjit Singh April 15, 2014
How does a startup founder be both leader and manager to his team?
Is the combination a recipe for disaster, or can one navigate to safety?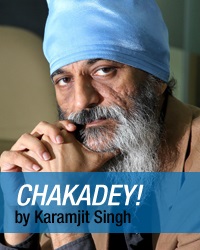 WHEN I was the tech editor with The Edge Malaysia, the management section was incubated within the pages of the tech pullout, [email protected]

As a result, I was exposed to management issues and learnt what alignment was, and why having a shared sense of purpose can be a powerful tool to forge a committed and hard-working team which bonds around a common purpose and not just because they have to do something to keep the boss off their backs.

I also wrote quite a bit about leadership and ended up becoming a strong believer in the philosophy of the servant leader, but this was only because that philosophy already matched some of the values and principles I believed in.

However, one of my great frustrations was the fact that every consultant you could think of would inevitably put a lot of responsibility at the feet of the chief executive officer (CEO). He was the chief morale, service, brand, crisis officer – all wrapped in one!

Why the heck should so much responsibility be heaped on one person's shoulders? It felt like all the consultants were just taking the easy way out.

Of course, the CEO's job is made slightly easier because most companies have systems and processes in place, and these help to forge a framework around which responsibilities and KPIs (key performance indicators) hold individuals accountable.

And CEOs do not have to worry about paying salaries, getting traction for their product, or about raising money from investors.

Interestingly, these last three points are all top-of-mind worries for founders of startups; as is being the 'chief rah rah officer' where a key mission in the early days is convincing your team there will be an eventual sense of order and calm to the chaos and helter-skelter of the present.

Indeed, what if the company actually starts growing and you start seeing headcount rise rapidly? How does one manage that? Because you surely cannot lead an organisation to be better run. That is a process you have to manage.

And if you cannot yet afford to hire the right person, you have to manage it yourself.

All these issues and more form the topic for our next DNA-TeAM Disrupt panel discussion, entitled Leadership Lessons From Startups, to be held on April 23 at 5.30pm.

We are hoping that founders and cofounders will share experiences, good and bad, of how they managed those early days of their startups, and what advice they can impart.

By early days I am thinking of the first two years. I am assuming some semblance of order starts to filter its welcome way through the organisation after that.

For a startup to still be around after two years means it is entering the critical third year where it needs to start justifying its high-growth promise or risk just becoming a company that is neither here nor there in terms of market presence. Good luck in trying to retain good staff or attract talent then.

We will hear from someone who spent 10 years building his business with his cofounder and wife. Azrul Rahim, who is also a DNA Digerati50, today is an active investor in startups and a partner in 8Capita, an early stage venture fund founded by Nic Lim, formerly of Catcha.com.

Azrul's claim to fame is cashing out of his JomSocial solution in 2012, selling it to iJoomla of the United States. His advice then to his fellow entrepreneurs was to think hard about the exit. "With hindsight, when it is time for you to move on – and the time will certainly come one day – you'll be able to get a much better value for your hard work."

Our second panellist is Aaron Gill, whose company MyTeksi Sdn Bhd was in the news and in most startup conversations around the region after attracting a substantial (by South-East Asian standards) Series A funding round.

While Aaron, head of products, and his founder Anthony Tan, declined to reveal how much, it is speculated that the amount is north of US$10 million (RM33.2 million).

MyTeksi is the name of the company and the app in Malaysia, but throughout the rest of South-East Asia, both app and company names have been rebranded 'GrabTaxi,' simply because the MyTeksi branding is uniquely Malaysian.

Aaron is really the de facto chief technology officer in GrabTaxi, but to most of the ecosystem in Malaysia, he is the face of MyTeksi. The manner in which he was brought into the picture is interesting and I think many non-technical founders can learn a lesson of two from how Tan managed to attract him in and incentivise him.

Meanwhile we are still waiting for one more panellist to confirm and will revert with that name soon as we can.

DNA-TeAM Disrupt #17 will be held on Wednesday, April 23 at 5.30pm, Plug 'N' Play Technology Garden, Level 7, The Gardens South Tower, Mid Valley City, Kuala Lumpur. To reserve your seat, click on the link below:

Related Stories:

Week in Review: Leadership lessons from Jobs, or Picard?

Disrupt: Founders are not perfect, but it's okay

Week in Review: All about founders, or the ideas?


For more technology news and the latest updates, follow us on Twitter, LinkedIn or Like us on Facebook


Keyword(s) :
Author Name :
By commenting below, you agree to abide by our ground rules.