Decisive board action needed at MDEC as speculation intensifies about CEO's tenure
By Karamjit Singh August 2, 2021
Rising speculation becoming a distraction, affecting morale
Uncertainty is hurting MDEC's reputation as tip of the spear
IT was not only me getting calls from tech chief executive officers (CEOs), asking what was going on at Malaysian Digital Economy Corporation (MDEC), concerned that heightened speculation about Surina Shukri's tenure as its CEO was hurting MDEC's ability to do its job as the key driver of Malaysia's digital economy.
Some MDEC leaders too apparently have been fielding calls from their networks, asking for clarity on the rising speculation that Surina (pic) is stepping down soon, with Aug 31 being the date most cited.
"It's terrible. Just make a decision and let us get on with the work at hand," says one senior executive who calls the speculation "draining" and "a distraction". Another says, "the noise levels are so high now – just make a decision."
While Surina's three-year contract ends on Jan 14, 2022, the continuing speculation around her tenure makes it seem likely that she may not see the end of her troubled term.
But this hinges on her leaving voluntarily and with the MDEC board believed to have accepted her terms of a severance package. I have been unable to reliably confirm what those terms are but apparently they are very fair.
Meanwhile, she has been carrying on as usual, including hosting a town hall that had leading entrepreneur Azran Osman Rani as speaker.
She has however not communicated to her team over the rising speculation on her future. But it is believed that she is waiting for official notification from the board.
There was a special board meeting held last Friday to address some pressing matters which included Surina's future. It is not clear what transpired. I reached out to at least two board members who declined to shed light on what transpired.
The regular, monthly board meeting for July is due to be held this Friday (Aug 6) as it was postponed from its original date of July 23.
My initial attempts to get some clarity from Surina were unsuccessful with my messages to her mobile not replied to last week while a phone call to her received a frosty reception. However she did communicate to me over a few messages today, prior to publishing of this article but was adamant in not wanting to be quoted on her thoughts about the current speculation.
As Digital News Asia (DNA) understands it, both MDEC stakeholders, the Ministry of Finance (MoF) and the Malaysian Communications and Multimedia Ministry have decided to call time on Surina's tenure and have even purportedly identified the next CEO, and have pressed MDEC's chairman, Dr Rais Hussin (pic, below) to act.
Yet, Rais has been pushing back, insisting that Surina needs to be given a chance. This stance has made him unpopular at MoF and the Communications Ministry.
Senior MDEC executives, current and past, concur that Rais has been very supportive of Surina. Rais repeated his support for Surina in early June when he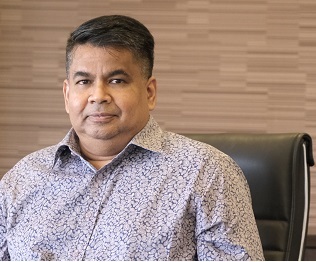 appeared on DNA's live streamed Tech Talk Friday show.
Be that as it may, the board is apparently trying to come up with a solution that will be fair to both Surina and the government.
But the board needs to act fast and be professional. As it is, DNA is aware of at least one former senior executive who was not officially told his contract was not being renewed until the very end.
Senior executives on short two to three year contracts, should be treated better and professionally and with dignity. This type of action diminishes a board.
The urgency to act decisively in Surina's case is even more important as the rising speculation is hurting MDEC's reputation and staff morale.
Already industry players allege that MDEC is moving too slowly, especially since the new and some still-being-formed policies around procurement and grants is creating a logjam at the board level.
As readers will be aware, Rais has been on a mission to enhance the corporate governance at MDEC.
A case in point for this is on the issue of giving grants as a KPMG report commissioned by MDEC earlier this year revealed many structural and governance weaknesses, with KPMG coming up with around 120 specific recommendations to enhance transparency and decision making at MDEC.
This is more so when MDEC has only recently appointed an ex-Malaysian Anti-Corruption Commision (MACC) graft buster, Mohamad Zakkuan Talib, as its its certified integrity officer.
This, according to Rais, will help MDEC "operate at a high level of governance and integrity and ensure MDEC will be able to carry out its digital mandate without favour of colour, creed or influence."
But while Rais has been touting the fact that the end result of all the changes in governance, procedures and policies will see MDEC become a more efficient, agile and productive agency, a senior executive at another agency that went through its own exercise to improve corporate governance, had already predicted to me that MDEC, in the short term, will suffer through slower decision making – an unintended consequence of tightened governance.
One glaring consequence of the slower turnaround cycle at MDEC is the fact that the agency has been very slow to spend the budget it has been allocated for 2021.
This has ostensibly made MoF upset as it means that programmes are not hitting the ground. One former senior executive has laid the cause of this on the board.
In another instance, a respected leader in the creative content space noted that the disbursement of some emergency grants that were announced last year to help the industry have not happened as the final approval lies with the MDEC board.
It has been nine months and counting the executive notes, addding that, "The previous leadership team may not have been perfect, but they knew how to get things done to help MSC Malaysia companies."
And herein lies the rub. When talking about MDEC leadership, many ecosystem players said they believe that Rais has over-stepped his authority and unwittingly undermined Surina's leadership.
Harsher critics alleged that he has taken advantage of the situation and is enjoying playing the role of de facto CEO.
But I believe the former, rather than the latter, is the case.
Notwithstanding this, Rais and the MDEC board need to quickly address speculation over Surina's position and be totally transparent about it.
This is because MDEC is still seen by many in the ecosystem to be the most important digital economy pushing agency, or as former CEO Yasmin Mahmood liked to describe its role – "the tip of the spear."
This is why so many are concerned about the current leadership situation.
We need a sharp spear and we need a strong bearer of that spear.
Related Stories :
Keyword(s) :
Author Name :