Intersection of biz & IT a 'key imperative' for 2015: HDS
By Digital News Asia December 29, 2014
Mobile explosion will require data-driven technology infrastructure
Businesses will increase compliance-related investments
THE increasingly critical intersection between business and information technology with be a "key imperative" in 2015, according to Adrian De Luca, chief technology officer of Hitachi Data Systems (HDS) Asia Pacific.

"The era of 'Business-Defined IT' is here, and the time for IT to embrace the third platform that is built on mobile devices, cloud services, social networks and big data analytics is now.

"The chief information officer must respond to these requirements and become an architect and broker of business services rather than a technology-builder focused on data centre infrastructure," said De Luca.

He cited the building of smart cities, big data in competitive industries, hybrid clouds, data driven mobility and regulatory developments as the five key trends that, combined with the local business drivers, will shape the IT landscape in the Asia Pacific region in 2015.

"As exciting new markets emerge and consumer service expectations change, some age-old companies will falter.

"The winners in tomorrow's economy will be those, that are able to transform themselves today," said De Luca.

Smart city initiatives will drive greater investment in the Internet of Things

Governments across the Asia Pacific (APAC) region, including Japan, India, China, Sri Lanka and South Korea, are embarking on smart city initiatives to tackle urban challenges, manage energy and resource consumption and prepare for further growth.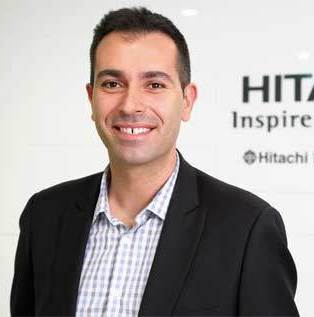 These nation-building initiatives across the region will drive significant momentum in the development of intelligent social infrastructure solutions that combine advanced analytics, the Internet of Things (IoT) and machine-to-machine interaction.

"Smart cities will require an unprecedented scale of computing, network, storage infrastructure and new software architectures, which are optimized to deal with the ever increasing volume, velocity and variety of data," said De Luca (pic).

Industries will ramp up big data initiatives to gain competitive advantage

Big data has become a key business imperative for organisations operating in highly competitive industries. For example, banks and other financial services firms are applying deep analytics on in-house data to assess borrower risk, detect churn and identify cross-selling or upselling opportunities based on spending behaviour.

According to the recent report, "The Future for CIOs: Which Way Is Up?", by The Economist Intelligence Unit (EIU) and sponsored by HDS, 10% of APAC companies have already invested in data analytics in the past 12 months, and this investment is going to increase to 12% in the coming year.

The next generation of big data solutions will not only require new infrastructure platforms to store and manage vast data lakes, but also the ability to analyse the data in real-time.

To do this, scale-out infrastructure with machine learning, business context software will need to be tightly integrated to enable rapid and predictable deployment and to ensure optimal operation.

Hybrid clouds will emerge as preferred approach for enterprise applications

As cloud platforms reach a level of functionality and mature, the stage is set for organisations to transform their core applications to leverage a mix of private and public clouds. Solutions that can integrate both platforms to deliver a seamless hybrid cloud experience will enable organisations to achieve better cost alignment while meeting privacy and compliance requirements.

Savvy CIOs have been taking the initiative to move enterprise and mission-critical applications onto private clouds and at the same time experiment with the public cloud for transient internal workloads and even customer-facing web applications. With the public cloud however, the ease with which instances can be spun up and paid for is also resulting in 'cloud sprawl'.

"This has led to concerns over whether businesses will be able to track their resources and spending effectively. The hybrid cloud can help address these issues by simplifying the interaction between public and private cloud, and enabling better management and control," said De Luca.

According to the EIU and HDS reported, 10% of APAC companies have already invested in cloud computing, but the investment is spread unevenly across the region.

The largest share of respondents that invested in cloud computing in the last year is to be found in Singapore (20%), while respondents in Indonesia and Thailand did not invest at all. For 2015, 13% of APAC companies will invest in cloud computing.

Mobile explosion will require technology infrastructure to be more data-driven

Over the past five years, IT organisations and cloud service providers have been investing in object storage technologies to protect and preserve data for longer periods of time.

A critical foundation for this is data-driven storage that enables enterprises to manage multi-tenancy, extend metadata to enable linkages to other data sets, and carry out data deduplication and compression to curb growing costs.

With data now moving through various cloud models, these capabilities also have to be made available beyond the four walls of the data centre. Enterprises have to find ways to enable intelligent and efficient remote access to applications and data, and allow information to be shared conveniently via intelligent devices while ensuring that sensitive data is protected.

Businesses will increase compliance-related investments

Governments across APAC are introducing new privacy regulations or updating existing ones. In the past two years, countries such as Singapore, South Korea, Hong Kong, Australia and New Zealand have either enacted or enhanced privacy laws, requiring compliance with data privacy/confidentiality rules.

For enterprises, this presents a growing challenge with the rapid proliferation of information from multiple platforms and channels.

"Businesses today must be extra vigilant in protecting vital customer information as they grapple with the exponential growth in structured and unstructured data within the organisation," said De Luca.

Related Stories:
EIU study: CIOs are top contenders for CEO role, but …
The 3rd Platform and the future of emerging Asean
Big data benefits recognised in Asia but potential untapped: EIU study
HDS' integrated and secure mobility technologies for 'business-defined IT'
For more technology news and the latest updates, follow us on Twitter, LinkedIn or Like us on Facebook.
Keyword(s) :
Author Name :