Fusionex targets ambitious 10fold growth
By Goh Thean Eu February 6, 2015
Sees demand for big data analytics gaining traction
Flattish net profit growth, but strong growth in other indicators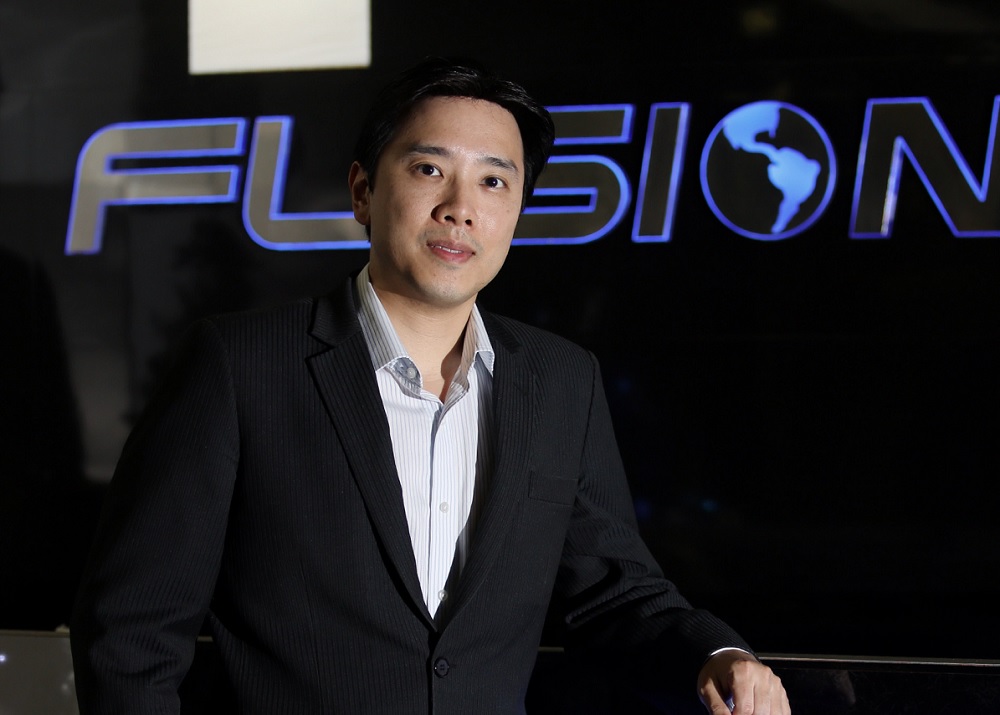 FUSIONEX International Plc expects its business to grow by multiples of magnitude over the next few years, as its big data solutions begin to gain traction.

"Over the next three years, we are not merely looking at double-digit growth," founder and managing director Ivan Teh (pic above) told Digital News Asia (DNA) in Kuala Lumpur recently. "We are targeting to grow by 10 times."

Teh was quick to clarify that this growth did not refer to revenue or profits, but is about its customer base and the traction it is seeing.

"It is not necessary revenue [that will grow by 10 times], as it depends on the size of the contract," he said.

Kuala Lumpur-headquartered Fusionex, which is listed on the London Stock Exchange's Alternative Investment Market, announced its financial results on Feb 5.

For the full year ended Sept 30, 2014, Fusionex saw a rather flattish net profit growth, edging up 2.6% to RM19.5 million versus RM19 million a year ago. [RM1=US$0.28]

For Teh, who has a 51% stake in Fusionex, the bottom-line was well within his expectation.

"We have already said that 2014 will be a year of investments. That was the year we put in a lot of effort in research and development," he said.

During the 2014 financial year, Fusionex also recorded higher depreciation and amortisation expenses, mainly due to the higher costs incurred by the purchase of computer equipment and the "commercialisation of product enhancements."

While net profit was flattish, other indicators bode well for the company, at least operationally. For the full year, its revenue improved by 28%, gross profit jumped 29%, and earnings before interest, tax, depreciation and amortisation (EBITDA) rose 17% to RM57.1 million, RM44.3 million and RM25.8 million, respectively.

Net profit or net income is total earnings after subtracting all expenses, over a specific time period; while gross profit is the difference between total revenue from a company's products and services and the direct costs of producing and selling these products and services.

A deeper look into Fusionex's numbers reveals that 83% of the company's revenue came from sales of products, while the balance was from services.

In terms of revenue contribution by region, Asia Pacific continued to be the group's largest revenue contributor with RM50.8 million (FY 2013: RM40.4 million), followed by the United Kingdom and Europe with RM12.3 million, and the United States with RM3.7 million.

"We are delighted to announce yet another year of robust growth, coupled with a set of financial results that is ahead of market expectations," Teh said in statement announcing Fusionex's results.

"This marks a new record for the company. Not only have we demonstrated excellent levels of growth but we have also proven for the second year since our initial public offer that we are growing the business in a consistent and sustainable manner.

"Our big data analytics product, Giant, is gaining significant traction with current and new clients, as well as being recognised internationally for its industry-leading technology," he added.

Looking ahead and what investors can expect

Teh, also a
DNA Digerati50
, said that 2015 will be the year Fusionex will see things coming to fruition, where the efforts it has put on developing its products will translate into sales orders.
"We were already seeing some of the signs in the third and fourth quarter [of 2014], so this serves as a very good foundation for us to see a very exciting 2015," he declared.
During its 2014 financial year, the company announced three contract wins for its big data analytics product Giant. One contract, which is for five years, involved a client in the travel, leisure and hospitality sector, while the other two wins involved the retail and aviation sectors.
"We expect 2015 to be a growth year. We are going to make some really nice announcements, very significant wins," Teh promised.
He argued that the market for big data analytics solutions has changed over the past few months.
"As far as big data analytics is concerned, we were like in a testbed or incubation environment over the past 12-18 months. However, in the last two to three months, we were already seeing some things coming into place," he said.
Although Teh clarified that Fusionex's growth target does not necessary cover revenue, he believes that revenue
is
in the position to multiply by a few times, should the company hit its customer base growth target.
"Looking at what we have in our pipeline currently, and the wins that we are aiming to secure, we are definitely targeting a strong revenue growth over the near term," he declared.
Share price performance
The company's share price, which was on a downtrend in 2014, appears to be regaining its footing this year.
So far in 2015, its share price has gained by about 30% to 380 pence, against the 290-pence level it was trading at the end of 2014.
The improvement in its share price has also increased Fusionex's market capitalisation by £42 million to £165.55 million.
[£1=US$1.52]
Related Stories:
Fusing technology and business into a RM700mil company
Digerati50: The entrepreneur who turned down US$63mil
2014 in Review: A look at 'Digerati50' stocks
For more technology news and the latest updates, follow us on
Twitter
,
LinkedIn
or Like us on
Facebook
.
Keyword(s) :
Author Name :