Telekom Malaysia in Cambodia-Malaysia-Thailand cable pact
By Digital News Asia May 27, 2015
1,300km cable system ready for commercial traffic by end-2016
To use 100Gbps upgradable technology with 30Tbps design capacity
TELEKOM Malaysia Bhd (TM) said it has signed an agreement with Symphony Communication of Thailand and Telcotech of Cambodia to form a consortium to build a Malaysia-Cambodia-Thailand (MCT) submarine cable system.

The cable system will adopt 100 Gigabits per second (Gbps) upgradable technology with a design capacity of at least 30 terabits per second. The system is expected to be ready for commercial traffic by the end of 2016, TM said in a statement.

The MCT cable system will play an important role in the business growth of the Asean (the Association of South-East Asian Nations) region, especially in telecommunication sector, it added.

"It will become the catalyst for other growing industries in Indochina that require telecommunication infrastructure," said TM executive director and group chief financial officer Bazlan Osman.

"Furthermore, TM supports and promotes any initiatives towards the success of Asean regional economic integration, specifically the Asean Economic Community (AEC), through enhanced infrastructure and communications connectivity," he said at the signing ceremony in Phnom Penh.

The approximately 1,300km cable system will link Malaysia to Cambodia and Thailand with further access to Indochina countries like Laos, Myanmar and Vietnam via terrestrial links.

International telcos that have an interest in Indochina would be able to utilise the MCT cable system, TM said.

Meanwhile, Indochina operators that ride on MCT will be able to access Malaysia as well as other Asean countries and international destinations, leveraging on TM's regional and global network coverage, the Malaysian telco giant said.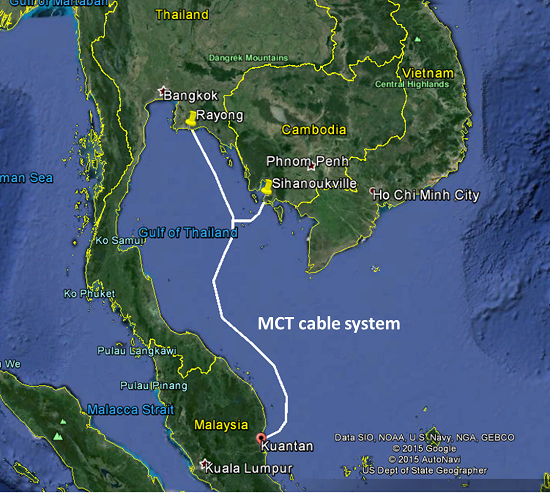 "The MCT cable will play a crucial role … by enabling faster, more reliable, and more affordable Internet access for all," said Telcotech chief executive officer Oknha Paul Blanche-Horgan.

"The connection to the region, and the Asia America Gateway (AAG) cable and beyond, will allow Telcotech to offer better solutions to our clients and help us meet Cambodia's communications needs as the country continues to develop," he added.

To date, TM owns 14 in-service submarine cable systems, which span more than 100,000 fibre-route miles around the globe, including several submarine cable routes that the company utilises to carry traffic between Asia Pacific, North America, South Asia, Middle East, Africa and Europe.

Related Stories:

TM part of 15-member consortium for new submarine cable system

TM awarded contract for '1Malaysia' submarine cable system

Global consortium begins construction of US$250mil SEA-US cable system


For more technology news and the latest updates, follow us on Twitter, LinkedIn or Like us on Facebook.
Keyword(s) :
Author Name :