Pikom unveils newly-elected council with Ganesh Kumar as youngest chairman ever
By Digital News Asia November 29, 2017
Danny Lee of Epson Malaysia was elected as deputy chairman
Chin Chee Seong will serve in the Council as immediate past chairman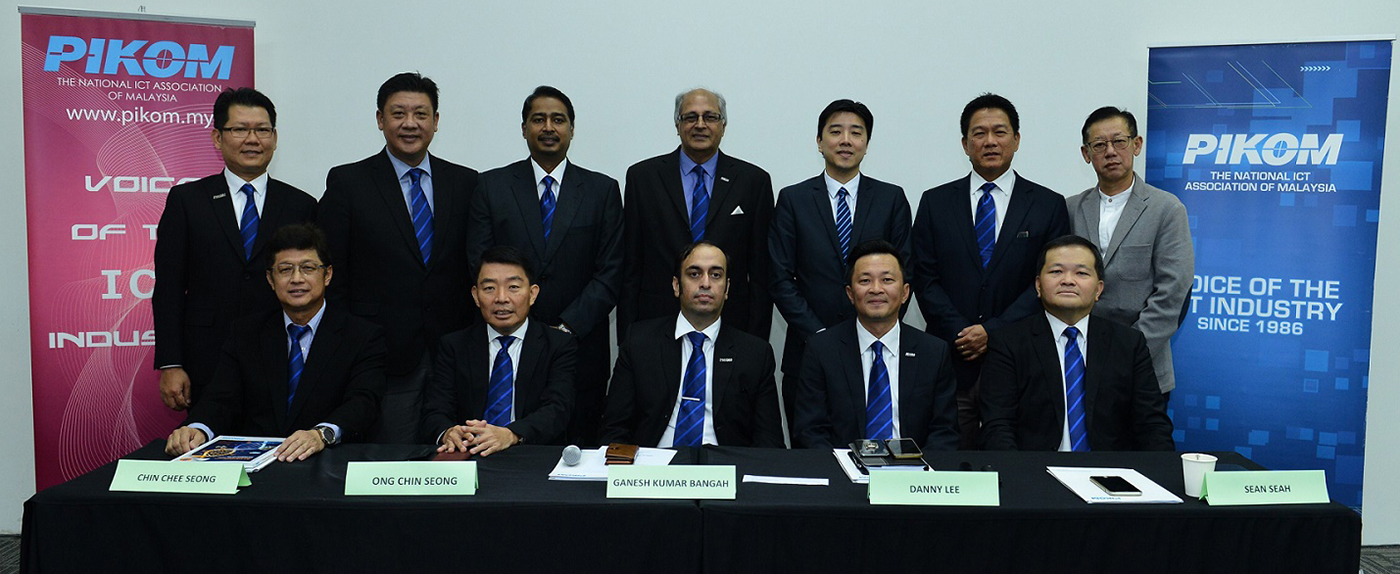 THE National ICT Association of Malaysia (Pikom) announced the appointment of its new chairman and office bearers as well as councillors for the 2017-2018 term following its recently-held 31st Annual General Meeting (AGM).
Ganesh Kumar Bangah who was previously deputy chairman, was elected as the 18th Pikom chairman in the 31-year-old history of the association. Ganesh is also chairman of e-Commerce Malaysia (an initiative under Pikom).
Danny Lee of Epson Malaysia was elected as deputy chairman while Sean Seah of Bimbit.com and Ong Chin Seong of Powerware Systems were elected as secretary and treasurer respectively.
Outgoing chairman, Chin Chee Seong, will continue to serve in the Council as immediate past chairman.
There were also six councillors who were elected to the council, of which four; Stan Singh-Jit, Dr. Dzaharudin Mansor, Teoh Eng Kee and Ong Khung Tatt will each serve for a two-year term while the remaining two, Anthony Raja Devadoss and Jeffrey Ooi will each serve for one year.
They will join Ivan Teh and Alex Liew who were elected to the council during the 30th AGM and are currently serving a two-year-term.
Expressing his thanks to members, for their endorsement and vote of confidence, the new chairman said that he will look to build on the good work of his predecessor, including driving the progress of Pikom's many chapters such as Outsourcing Malaysia, e-Commerce Malaysia as well as Pikom Cybersecurity Chapter and Venture Investment Chapter.
Also on the agenda is the continued growth of #MYCYBERSALE, particularly in increasing private sector participation towards ensuring the sustainability of the private sector led initiative.
"In this age of disruption, we will endeavour to embrace a dynamic spirit of transformation, innovation and ideas to enable Malaysia's ICT industry and the nation as a whole to embrace and leverage on the 4th Industrial Revolution – the digital age. Certainly, we will continue to play an active role as the voice of the ICT industry – advising government and other stakeholders," said Ganesh (pic, right).
Pikom's new chairman also encouraged more start-ups and SMEs to join Pikom towards staying abreast of rapidly evolving technologies, to better embrace e-commerce as a business enabler towards tapping global trade and to essentially remain competitive in the digital age.
"Be it funding, networking, international business platforms, market access, technology access, award recognition, Pikom is the gateway to these and more. We want to engage more companies and bring them into the fold so they may benefit from Pikom's unique positioning between government and industry, local and international platforms and between technology producers and technology consumers. We are certainly looking for fresh ideas from industry players towards building a more robust and competitive ICT industry across the value chain" Ganesh added.
Keyword(s) :
Author Name :