Powered by
No frills, no inefficiencies, no problem
By Digital News Asia October 11, 2016
Creating the world's most cost efficient airline with the Industrial Internet
Combines M2M, industrial Big Data analytics, to drive new levels of efficiency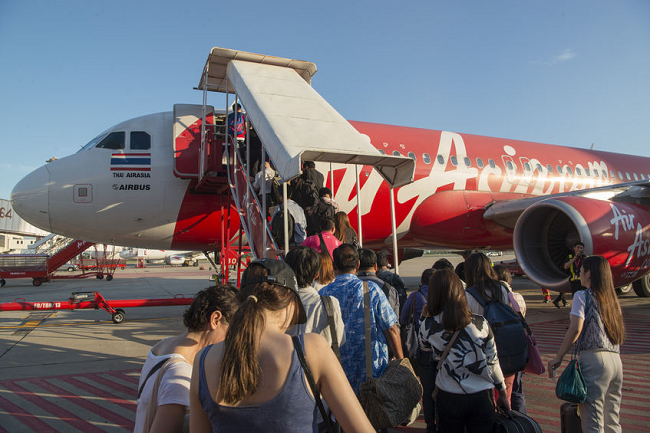 With Me Too competitors closing in, leading low-cost airline AirAsia had to do more to keep its lead as the best low-cost airline in the world that delivers outstanding value to flyers.

So it turned towards technology, specifically Big Data analytics, M2M, automation and deeper integration between all these areas. And it turned to industrial internet leader GE as well.

The results? Well, according to Jonathan Sanjay, Group Head of Fuel: "The GE Dashboard is the only analytical platform with the capability to seamlessly integrate flight data with operational, weather, trajectory correction, navigation and terrain data. This allows us to unlock the value of our data, to quickly understand complex operational problems, proactively manage costs and make informed operational decisions for every flight."

While utilising data capture and analytics software has helped AirAsia save over 1% in fuel expenditure yearly so far, the low-cost leader think the best is still to come.

WITH air traffic and passenger volume trending upwards on the backs of falling travel costs, airlines have been under pressure to diversify their revenue streams while managing operational costs. It's a balancing act that no-frills air travel pioneer AirAsia has been able to perfect while ensuring that its market leadership in the low fare sector remains unchallenged.

Challenges

Although AirAsia still claims first mover advantage in several of its markets and continues to outperform nearly all of its peers, competition has intensified as other regional airlines look to duplicate its winning formula.

With the airline using some 1.4 billion kg of fuel each year (or approximately 12 million barrels of fuel) and with fuel taking up 50 percent of its overall costs, AirAsia made fuel efficiency a priority amongst many other initiatives to manage costs and pass on these savings to its customers – the target being the bottom-line operational savings of approximately US$30 million-US$50 million (RM124 million to RM207 million) over a five year period.

Solution
By deploying General Electric's (GE) Flight Efficiency Services (FES), AirAsia combines Machine-to-Machine (M2M) communication, industrial Big Data analytics, technology, cyber security and automation to drive new levels of efficiency and productivity.

In this system – coined by GE as the Industrial Internet of Things – the FES data-driven services are used to identify ways to increase aircraft utilisation and obtain savings throughout the AirAsia network. The FES-AirAsia team also uses advanced data analytics to evaluate and qualify savings opportunities, before deploying airline and change management expertise to implement changes to operational policies and procedures.

Cost efficiency is further achieved via Required Navigation Performance (RNP); a performance-based navigation procedure that enables an aircraft to precisely fly optimal paths predetermined by a combination of modern flight management computers, GPS technology and innovative procedure design. The RNP paths reduce flight distances as well as help aircrafts navigate safely through challenging terrain and weather conditions.

Outcome
The ongoing collaboration between GE FES and AirAsia in utilising data capture and analytics software has helped AirAsia save over 1% in fuel expenditure yearly so far.

FES has enabled AirAsia to optimise climb profiles; use sophisticated statistical algorithms to plan taxi and contingency fuel requirements; optimise departure tracks; and minimise the use of the plane's Auxiliary Power Unit (APU).

AirAsia also obtained approval from the Department of Civil Aviation for single engine taxi-in and taxi-out which translates to 68 kg of fuel savings per flight – this strategy was a first for a Malaysian airline.

In addition to that, climb profile optimization saved an additional 21.24 kg of fuel on each flight, and the Required Navigation Performance (RNP) Precision Guided Approach saved 15 miles per landing.

The Future
There is tremendous potential for AirAsia to continue harnessing the power of the Industrial Internet to connect people, machines, and BDA to deliver better outcomes. In aviation, GE's integrated flight data and analytics provide insights to identify and implement sustainable fuel savings.

Its patented performance analytics combine an aircraft's flight data, weather, navigation, risk data and fuel operation to provide business intelligence for significant cost savings. And its intelligent operations provide airlines and cargo carriers around the world with services focused on improving efficiency by leveraging aircraft performance data, prognostics and recovery.
Download the full case study here.

About GE Malaysia
GE's footprint in Malaysia began in 1975 with a sales and service centre. Today, GE is present in several major locations (Kuala Lumpur headquarters and an aircraft engine maintenance, repair and overhaul Centre of Excellence in Subang) as well as key customers sites throughout the country; providing employment to over 700 employees.

All of GE's key businesses (Oil and Gas, Power and Water, Energy Management, Aviation, Healthcare, Transportation and Lighting) are present in Malaysia. The Kuala Lumpur office serves as the company's ASEAN corporate headquarters as well as the Asia-Pacific headquarters for GE Oil & Gas.

The company has been supporting the development of the nation across multiple industries and has the depth and breadth to support the different areas identified by the Government under the Economic Transformation Programme to propel Malaysia towards high income status by 2020.

GE has invested over RM1billion in Malaysia since beginning operations, investing in its future as a trusted and committed local partner, with advanced technology solutions and services.
[Beginning October, in a commercial arrangement, DNA will feature every article in a special 2015 pdf book, the Malaysian Digital Economy Corporation (MDEC) produced called, Exposing the Promise of Big Data Analytics: Case Studies in Malaysia. A link is provided at the end of each case study to download the full version.]
Keyword(s) :
Author Name :