The most interesting games of the SEA Games Awards 2019
By Tan Jee Yee November 23, 2019
Passion Republic's GigaBash won four awards and is the most promising
DeLight is set to devastate us with its story, but delight in gameplay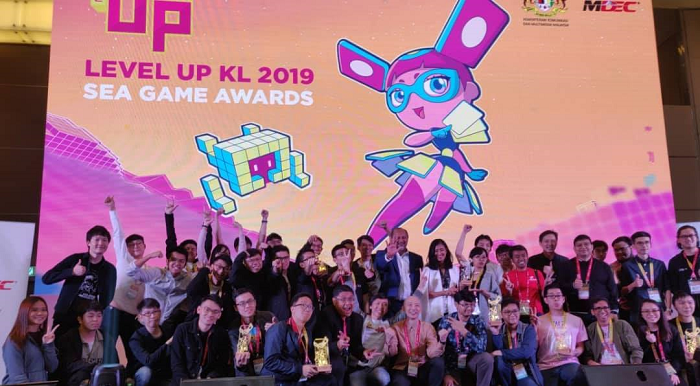 Level Up KL Biz 2019 concluded on Nov 8, as with the previous Level Up KLs, with the SEA Games Awards. Now in its third year, the SEA Games Awards is meant to recognise and celebrate the creativity, artistry and technical ingenuity of the games and developers within the Southeast Asian region.
There was certainly much of creativity, artistry and technical prowess on display during the awards. Here are five games we consider the most fascinating, if not most exciting, from the SEA Games Awards this year:
GigaBash
GigaBash, by Malaysian-based developers Passion Republic, was the most prolific game in this year's SEA Games Awards, taking home a total of four prizes – the Grand Jury Award, the Audience Choice Award, Best Technology and Best Game Design.
It's easy to see why. While not yet released in a final state, GigaBash looks and plays with a polished sheen, with dazzling colours and effects that rivals AAA titles. Also impressive is its destructive environments, which crumble convincingly (and cathartically) as the monsters you play rampage across the game's arenas.
Most importantly, it's fun – the type of party game that even the most casual of gamers can pick up, thanks to simple controls and mechanics. GigaBash is a four-player arena brawler, where players duke it out as monsters inspired by famous kaiju (read: Japanese movie monsters).
Players utilise a combination of regular and special attacks (plus throwable environments) to defeat their opponents. Deal enough damage, and a "Giga" meter fills up, allowing players to temporarily transform into a larger, faster and more powerful monster – complete with a screen-filling special attack.
There's also room for a bit of strategy. Cunning players might keep their distance and pepper other opponents with ranged attacks to chip off their health, and there's certainly no rule saying players can't gang up on the one with the higher health bar.
When to activate the power-up Giga mode is also a vital strategy – do it early and you may be able to rack up kills ahead of the rest. That, however, might leave you vulnerable against other players with Giga mode while your meter is low.
GigaBash has long stolen the hearts of the Level Up KL attendees. Here's hoping it can steal more.
When the Past Was Around
What's immediately arresting about Indonesian-based Mojiken Studio's When the Past Was Around is its distinctive, gorgeous art. The game features hand-drawn images by Brigitta Rena and Pandu Rukmi Utomo, which nicely complements its bittersweet mood. It's no surprise that this game picked up the Best Visual Art prize at the SEA Games Awards.
When the Past was Around is described as a "point-and-click puzzle game about love, moving on, letting go – and the joy and pain of everything in between." A narratively driven game, it concerns a girl and an owl-faced beast living in a surreal world consisting of disjointed rooms, apparently signifying memories and time.
Players are meant to poke around for clues and solve puzzles to unlock doors – the more you unlock, the more the girl will learn about her relationship with the beast, as well as the secrets she used to harbour. All of this is encased within the game's lovely soundtrack, courtesy of composer Masdito "Ittou" Bachtiar.
Players can already check out a short demo version of the game. The full version is expected for a Spring 2020 release, and we personally can't wait to re-enter the game's pleasant world and finally learn of the girl's story.
Retrograde Arena
Retrograde Arena is a twin-stick multiplayer shooter with a twist. Here, the bullets you fire at your opponents won't kill them – instead, walls and objects that are coloured red do.
The idea, then, is to use physics to push other players into the wall. It could be as easy as firing at them long enough, but as Newton's Third Law of Motion dictates, the force of firing a gun means you get pushed backwards as well. And red walls are everywhere.
Now things get tricky. You'd want your shots to knock the enemy into the wall, but firing willy-nilly means you risk knocking yourselves into a wall. Accuracy is a prized trait in this game, but also how well you position yourself and how you can take advantage of your surroundings in order to one-up the other five possible players you might be competing against.
Complicating things are the different weapon types that you'll pick up, each of them great for different situations, yet posing different dangers to yourself. Plus, bullets can ricochet off walls, too; and who's to say you can't use them to push red-coloured objects to crash into your enemies?
Made by Indonesian studios Freemergency, Retrograde Arena takes a tired concept and makes it refreshing again with a simple alternation of core shooter mechanics. They're more than deserving of the Best Innovation and Rising Star awards in the SEA Games Awards.
DeLight
DeLight shouldn't delight us like this – this is an emotional game, and will likely be devastating. But we're a sucker for a narratively strong game, and with DeLight winning Best Storytelling at the awards, we're sure this will leave us both in tears and in awe.
Made by Malaysian-based DreamTree Games, DeLight is a story-driven adventure game where players assume the role of Sammy as she journeys to reunite her parents in a time of war.
It's not going to be an easy journey, as Sammy is blind. Like her, the player's visibility of the world is severely limited – you can only see as far as the small circle that surrounds her. Thankfully, Sammy gets the help of a stray dog named Deli, which helps guide Sammy around rubble and soldiers.
Sammy will be able to meet and interact with different characters along the way. Players get to pick Sammy's dialogue choices, but what you choose to say will affect the story later on – a mechanic similar to (the now defunct) Telltale adventure games like The Walking Dead.
The tale is brought to life by a deceptively cute art design, and the way the world unfolds little by little as Sammy navigates it is a nice and beautiful touch. DreamTree Games intends to bring DeLight to PC and mobile platforms, though there's still no expected release date. We'll just have to wait.
VALZ
Winner of Best Audio at the awards, VALZ by Klappanome is a curious combination of rhythm game mechanics with role playing elements. Like any RPG, it's a story-driven game. This one is about a metropolis that thrives by harnessing sound. However, a "dark power" within sound has begun to corrupt the city, so you and a merry (rock) band of adventurers set off to save your homeland.
It's very much your basic RPG setup so far, except that combat is through rhythm game mechanics not unlike Dance Dance Revolution or Guitar Hero. You'll need to be able to time your button presses to the indicators on screen in order to defeat the monsters that attack you.
It's not quite as straightforward, though. VALZ lets you modify the songs you use in combat, which provides different effects and powers. The party members tagging along for the journey have their own specialised skill sets as well. By combining different members and music type, you'll be able to create a party that matches your play style.
Also unique to VALZ is its hand-painted comic art book style, which gives it a more distinctive look. The game is also already available on iOS for US$3.99 (RM16.60). If anything, this is one game you can already get your hands on.
Related stories:
Level Up KL Biz 2019: Local games development industry keeps levelling up
Malaysia's gaming hub ambitions get big boost from Sony's decision to open art and animation studio
Game Review: Days Gone is just as stiff and meandering as its zombie enemies
Keyword(s) :
Author Name :