EmTech Singapore: Conquering challenges on Earth … and beyond
By Gabey Goh January 29, 2015
'Space 3.0' defined by private sector entrepreneurship and smaller satellites
Work already underway to enable vision of a city with no need for traffic lights
THE second day of the EmTech Singapore conference started with a look at the possibilities of the, pardon the expression, final frontier: Space.

Singapore MIT Alliance for Research and Technology (SMART) chief executive officer (CEO) and director Daniel Hastings set the scene by noting that the world is now at 'Space 3.0.'

'Space 1.0' was defined by superpower rivalry between the United States and the Soviet Union, while the second phase focused on using space exploration and research to benefit mankind.

"The third space of space is marked by the growth of private sector entrepreneurship and smaller, more capable satellites," he said.

Virgin Galactic (pic above) is the most high profile private sector entity delving into space, with its mission to provide suborbital spaceflights to space tourists.

Its president Steve Isakowitz reminded EmTech attendees that Jan 28 marked the 29th anniversary of the Challenger disaster, to highlight that with any undertaking into the 'unknown,' there are risks involved.

In 1986, the NASA space shuttle orbiter Challenger broke apart 73 seconds into its flight, leading to the deaths of its seven crew members.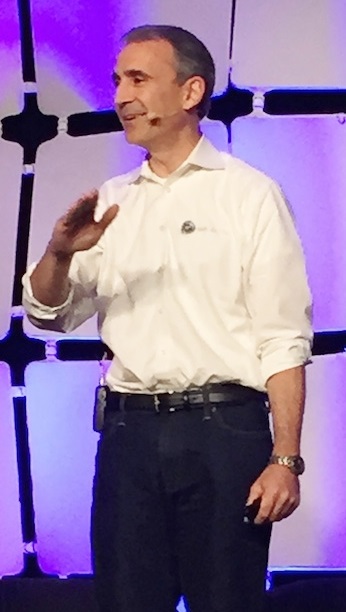 "We had our own incident three months ago, but this is the risk we take and learn from to ensure that it is safe," he said, referring to the crash of Virgin Galactic's SpaceShipTwo experimental spaceflight test vehicle on Oct 31, 2014, which resulted in the death of one test pilot.

Isakowitz (pic) said that the team remains committed to its mission, with lessons learnt around what caused the crash. Production of a new shuttle design is already underway, with plans to resume test flights by the middle of this year.

"We'll keep flying and keep testing until we're confident it is safe for all. It's a dream we want to make into reality and fact is, only 547 people in the world have been to space.

"We want to change that number," he said.

EmTech is the annual global emerging technologies conference hosted by MIT Technology Review. It has grown into a global series of events running in the United States, Spain, China, India, Mexico, Colombia and Singapore.

Digital News Asia (DNA) is an official media partner of EmTech Singapore.

Not 'if,' but 'when' and 'who'
Sharing her perspective, Bonnie Dunbar (pic), a former NASA astronaut and STEM Centre director at the University of Houston, noted that space exploration can be risky but "it needs to start somewhere or else we won't go anywhere."

"Exploration is not a question of 'if', it's a question of 'when and who'," she said.

While commercial space travel remains quite a few years away, it is the rapid development of miniature satellites that will be making its impact felt in the near term.

Kay-Soon Low, Satellite Research Centre director at Nanyang Technological University, said that unlike older, traditional satellites which are typically large, expensive to build and launch, miniature satellites offer lower barriers of entry for researchers and businesses alike to test new ideas and deploy new solutions.

In addition, the use of miniaturised satellites enables missions that a larger satellite could not accomplish, such as constellations for low data rate communications and using formations to gather data from multiple points.

"For example, the recent spate of air travel disasters has prompted us to relook the use of such installations for air space monitoring," Low said.

The opportunities offered by miniaturised satellites is also being realised by Planet Labs, a US-based startup that aims to create an Earth-imaging satellite network with open data access.

It recently raised US$95 million in funding, with participation from venture capital firm Draper Fisher Jurvetson.


Planet Labs cofounder Chris Boshuizen (pic) told attendees that if they wanted to start their own space company, "now is the time."

"When you were told that 'space is hard', you were probably lied to. The barriers to entry, thanks to advancements in miniature satellites, are lower than before," he said.

Planet Labs already has a constellation of 28 Earth-observing satellites, with plans to increase that number to 131 by the middle of this year.

"When software companies talk about launches, they don't usually literally mean rockets, but we did," quipped Boshuizen, recalling the launch of two demonstration CubeSats, Dove 1 and Dove 2, back in April 2013.

He added that the company is especially optimistic about the use of its high-resolution images in agriculture, enabling better insights into irrigation and farmland distribution.

During the panel discussion on space exploration, Digital News Asia (DNA) founder and CEO Karamjit Singh asked if Planet Labs avoided taking photos of countries such as Syria, Iran or even China – given potential sensitivities.

Boshuizen said that one of the advantages of using satellites over planes for images, is that jurisdiction ends "where space begins."

"The existing treaties give satellites flyover rights. I can't sell the photos but I can certainly take them and the licence provided to us by the US Government allows us to rake images of the planet down to one metre from the ground.

"There are advantages in situations such as disaster response where you need to have visibility, and there's also been interest from many countries.

"For example, in China we have a large number of customers and there's huge interest from the South-East Asia region as well, so the hope is to turn some of these countries into customers in the long run," he added.

Ground level: Enabling smarter cities
A city with no traffic lights? It's a possibility given advancements in big data analytics, sensor networks and autonomous driving vehicles.

Carlo Ratti (pic above), director at the SENSEable City Laboratory of MIT (the Massachusetts Institute of Technology) said that the notion of people sharing mobility wasn't feasible until access to real-time data was made possible.

He highlighted HubCab, an on-going project which is an interactive visualisation that invites people to explore the ways in which over 170 million taxi trips connect New York City in a given year.

The intended purpose is to provide insight into exactly how and when taxis pick up or drop off individuals, and to identify zones of condensed pickup and dropoff activities – a boon for urban planners, city councils and transport authorities.

In Singapore, under SMART, similar work is underway with a project called Data Collider, touted as a "new language of data visualisation."

Accessible via a web interface, it leverages distributed computing framework Hadoop for big data storage and processing, allowing visualisations from large data sets to be processed and rendered in two minutes.

With better insights into how people move around urban spaces, coupled with ongoing efforts to make autonomous driving vehicles viable, Ratti said that work is already underway to enable that vision of a city with no traffic lights.

Research is currently underway by various parties on Autonomous Intersection Management (AIM) systems, which seek to create a scalable, safe, and efficient multiagent framework for managing autonomous vehicles at intersections.

But cars are but one mode of transportation, and Ratti also showcased the Copenhagen Wheel, a bicycle wheel that stores and delivers electric energy to power a bicycle.

It was so named because the problem statement was first mooted by the mayor of Copenhagen and was first unveiled at the Copenhagen Conference on Climate Change on Dec 15, 2009.

In addition, the Copenhagen Wheel has sensors to map pollution levels, traffic congestion and road conditions in real-time – accessible and controllable via a smartphone, with the option to share that data with friends or the city authorities.

Ratti said that there were two key lessons learnt in the process of turning the Wheel from idea to reality, apart from the multiple rounds of prototypes and tests.

"Collaboration with others is crucial – in making the Copenhagen Wheel, we brought in people from across disciplines [such as] designers, mathematicians, engineers, scientist and programmers.

"The boundaries between disciplines are falling apart and you need that to really tackle these issues.

"Secondly, it is very important to take these ideas and bring them to market via the creation of startups to commercialise, so that they can genuinely make an impact outside of university labs," he added.

But underlying all these innovations and solutions to better track, analyse and plan cities is the critical need for connectivity that is not only resilient, but with an accompanying infrastructure that is able to quickly move the large amounts of data involved.


This is where David Southwell (pic), chief visionary officer at Obsidian Strategics, believes his company is playing its part.

Canada-based Obsidian, also a sponsor of the EmTech Singapore conference, provides enterprise-class, commercial off-the-shelf (COTS) devices supporting the InfiniBand protocol used in supercomputer and high performance computing (HPC) environments.

Its Longbow technology allows an InfiniBand fabric – normally a short-range network used in supercomputers and data centres – to be securely extended via optical fibre over global distances.

Southwell argued that legacy networks are no longer sustainable, with global network traffic now exceeding two exabytes per day and with continued growth fuelled in part by cloud computing and internationally distributed data-intensive science programmes.

He said that TCP/IP (Transmission Control Protocol/ Internet Protocol) and Ethernet were created more than 40 years ago, when network speeds were over one million times slower and use cases looked very different.

Citing results from tests done by the US military, transmitting data across a Trans-Pacific optical 10Gbits/s network using TCP/IP resulted in 6% of available bandwidth realised by the application.

In contrast, the same transmission using the InfiniBand protocol saw 98% utilisation of available bandwidth, he claimed.

Last December, at Supercomputing 2014, a team led by Singapore's Agency for Science, Technology and Research (A*Star) unveiled the InfiniCortex, in collaboration with Obsidian and Tata Communications.

The demonstration introduced a new architecture designed to meet the challenge of building the next generation of supercomputers and the team set records for the longest encrypted InfiniBand link running at 100Gbits/s.

Obsidian announced that its Longbow InfiniBand range extenders successfully interfaced HPC traffic with 100Gbits/s optical wavelengths, crossing the Pacific on Tata Communication's TGN-IA subsea cable, spanning in excess of 20,000km.

At EmTech Singapore, the company also announced plans for a new 400Gbits/s platform that will complement its existing offerings.

"With the Internet of Things and work being done on driverless cars, the question to ask is 'Do you want a best-efforts or a lossless network with deterministic behaviour driving these vehicles?'

"There is are advantages with this new class of networks, which is more malleable for further improvements to meet present and future demands, in comparison with networks with 40 years of legacy," said Southwell.

Previous Instalment: EmTech Singapore lifts the curtain on future technologies


For more technology news and the latest updates, follow us on Twitter, LinkedIn or Like us on Facebook.
Keyword(s) :
Author Name :